This time of year, I'm always excited when I look at my google analytics and see that people have landed at my blog by searching for "hamentashen recipe". I love the idea of people all over the world making my great-grandmother's fabulous hamentashen, the same ones my mom made with me and that I make with my girls.
The recipe is undeniably awesome, but it can be a little persnickety. So I've re-posted it, improving the directions slightly to make the experience a little more fool-proof. (Not that I'm calling you a fool, mind you.)
Hamentashen
Dough Ingredients:
2.5 – 3 cups flour (add 2.5 cups to start, and reserve the last half cup to add gradually as needed)
2 large eggs
2 tsp baking powder
1 stick butter or margarine
½ tsp salt
¾ cup sugar
Cream the butter and sugar. Add eggs. Mix. Add the dry ingredients. This is easiest to do with a Kitchen Aid or another good electric mixer. Add the last half cup of flour gradually, just until the dough holds together and is only slightly sticky. Form a ball, wrap in plastic and refrigerate for at least 15 minutes.
Prune Filling  (my great-grandmother's specialty):  ½ lb pitted prunes soaked overnight in water (about an inch higher than the prunes) then cook with a little sugar and cinnamon until very soft. Mash to break up the prunes (I sometimes puree it with an immersion blender, but it's not necessary.).  Squeeze in a little lemon to taste.
Roll the dough, and cut out circles ~3" diameter (I use a drinking glass for this.). To see how to fill and fold the pastries, watch this video from Shalom Sesame, made by the Sesame Street Workshop (Folding starts at around 2 minutes, but the whole video is worth watching.)
Recently, I've started rolling my dough in between two sheets of parchment paper and can't believe it took me over 40 years to discover this trick.
Bake at 375 for 12-15 minutes, until lightly brown around the edges.
This year the girls insisted on doing almost everything themselves. Here they are hard at work:
This past Sunday, when we should have been baking, I took my daughters and one of their friends to participate in a Purim opera at the National Yiddish Book Store. Children had the opportunity to appear as a children's chorus and a few walk-on rolls. Here are Zoe and her friend Ryan as contestants in the beauty pageant to select a new queen.
Here they are dressed as animals performing at the dinner Esther prepares for the King and Haman (who looked suspiciously like Louis C.K.)
Time to make those rice crispy-treat baskets! Chag Sameyach!
My very favorite Jewish holiday tradition, bar non, is the mitzvah of mishloach manot – preparing and delivering gifts of homemade goodies to friends and neighbors on Purim day.
This is a mitzvah which embodies so much of why Judaism is meaningful to me and why I'm sharing it with my daughters. First of all, I love to prepare food for others. Because I'm married to a man who once told me he would rather "take a food-pill" than eat dinner, I don't get a lot of satisfaction from cooking for him. But, I'm actually a good cook and baker, and I love when I can use that talent to bring joy to someone (and, yes, get a few compliments.)
I model for my daughters that food is a way to care for others in times of need. We sign up regularly (though not frequently enough) to prepare meals for new moms, members of the community who are undergoing medical treatment, and the homeless shelter.
Second of all, making hamentashen is a way to connect to my ancestors. Often, my mom schedules a visit all the way from Baltimore to help us bake, and we always, ALWAYS, make my great-grandmother's recipe.
Third of all, making mishloach manot gives me a chance to teach my children about some of my consumer values, which I believe are in keeping with the Jewish value of caring for creation.
I'm not a crafty-mama. But, on Purim, I do get a kick out of making interesting, recycled or reusable containers with my daughters for our Purim baskets. In the past we've decorated old cereal boxes and made tissue-paper bowls (you can read my post about this from last year, complete with pictures and directions.) I model for them that when we give gifts to others, or celebrate for ourselves, we don't need to spend a lot of money, nor do we need to go to the dollar store and buy a lot of cheap crap. We can make something beautiful AND avoid adding to the waste stream.
This year, my fantasy is to make edible mishloach manot baskets. Last year, the Bible Belt Balabusta came up with preztel dough baskets. I've got two other recipes in mind.
Here are some edible cookie baskets someone made for Christmas, and here are some rice-crispy treat baskets someone else made for Easter. (If we make those, I'm going to omit the handle, and use smitten kitchen's recipe for salted brown-butter rice crispy treats.) See, mishloach manot are even a chance to teach my kids about other religions!
My daughters recently came up with a new tradition that I wanted to share. They have become the neighborhood cookie fairies. Every time we try a new recipe from the cookbook Martha Stewart Cookies, which we bought Zoe for Hanukkah, we choose a few families to deliver a surprise gift of cookies to. I'm not sure who came up with the name "cookie fairies", but it's stuck. Since we aren't traditionally shomer shabbat, we often bake cookies on shabbat and after havdallah go out on our fairy mission. Here they are last night with two packages of snickerdoodles.
The Hebrew month of Adar begins next week, which means that Purim is only a few weeks away. (Which means that Passover cleaning begins in only…..oh, never mind.)
Over the next few weeks, I'll be writing about some of the ways our family celebrates this very, very kid-friendly holiday (and some of the ways we don't.)
Oh, and readers? There might just be a very special Purim related giveaway in your future. Stay tuned.
To help us all get in the holiday spirit, would you please share your recommendations for favorite Purim books for children?
To get us started, here's a re-post of an interview I did last year with Eric Kimmel about last year's release The Story of Esther.
I love Eric Kimmel. You probably think I mean that I love his books. And I do love his books. But I also love him. I had the opportunity to interview Eric a few weeks ago about one of his latest books, The Story of Esther from Holiday House. We spoke on the phone for close to an hour, but I think I fell in love with him when he first emailed me with his phone number. "Call me tonight," he wrote. "And I'll call you back. I have free long distance."
He is charming and smart and although he thinks like a writer (of course), he also thinks like a teacher. Which meant that our conversation was compelling and thought provoking for me. I came into our conversation fairly certain that children should learn Torah the way it's written, with its simple language and sparse details, and no midrash mixed in. Eric feels differently. Read our interview to find out why.
I asked Eric what challenges he faced in writing a version of the Book of Esther for children.
You grow up with the story of Esther and Purim. It's a lot of fun, but it's a very problematical text. It's not really a children's story – it's full of sex and violence. It would make a great video game. To prepare, I went back, I reread the story. The first thing you run into is that it's very complex. I had to ask myself, "What do I want the reader to get out of this story? In times of trouble, have faith, don't give up."
I pressed Eric on some of the changes he made to the traditional text. For example, in his version, King Achashversoh reverses the decree that the Jews will be killed. (In the megillah, he cannot reverse the decree, and instead permits the Jews to defend themselves.)
You cannot be absolutely tied to the text or you are going to tie yourself into knots. The details start taking up paragraph after paragraph. So I made a choice – I didn't want to end with a blood bath, I wanted to make it a story of faith. I felt I could easily get rid of the king's decree. I also glossed over hanging Haman's family – I think that's a little strong. And what would the artist draw? I always ask myself – how essential to the story is it? I'm writing for children and I assume I have a reader who may not know the original story. So, I approach it as a storyteller. This is how I learned these stories – from grandmother, in Yiddish. She may have started with the text, but she read it a long time ago. We were all over the map. 
He also talked about some of other "improvements" he made on the traditional story. Based, in part, on his experience with Playboy Bunnies. (Really.)
I loved watching Hugh Hefner's show on TV – The Girls Next Store. The Bunnies look gorgeous until they open their mouths. So, I thought, how is Esther going to stand out? In my version, she is the one who doesn't dress up so fancy. I decided to have her dress in plain clothes. The message is, be who you are. You don't need the makeup and the plastic surgery and all that nonsense. The beauty comes from within. 
Achashverosh finds she has brains and not just beauty. That's why I didn't make him a fool, because if he is, then Esther marrying him becomes almost unbearable. So I see him as well meaning, but overwhelmed. 
You know what I'm doing? I'm writing modern midrash. Because midrash continues to the present day. We are constantly reinterpreting and reinventing these stories. They are not locked in stone. I want children to learn that the stories of the Torah are great stories – they stand with the best of them – Anderson and Grimm – and it all comes down to the story.
If you're not already charmed, make sure to listen to Eric reading The Book of Esther aloud on his blog. You can almost hear him smiling while he reads it.
Eric Reads "The Story of Esther." from Eric Kimmel on Vimeo.
Last week I bought a beautiful bracelet on Etsy for my mother for her birthday, with the words Eshet Chayil spelled out in silver beads. It prompted me to finish a post I started a long time ago about this traditional shabbat song. 
My father never sang Eshet Chayil to my mother. Although my mother was certainly worthy of his praises, ours was not a traditional household. We did not gather around a shabbat table each week reciting blessings and singing zemirot, Shabbat songs. Also, my father did not know enough Hebrew to navigate this very long, complicated excerpt from Proverbs 31. (He did love to sing, however. Kris Kristofferson songs in particular.)
Eshet Chayil defines a woman of valor by enumerating a long (and exhausting) list of her fine qualities. An ancient text which has been criticized by some as sexist or hypcritical, Eshet Chayil's depiction of the ideal woman is actually surprisingly broad. While she rises before dawn to prepare food for her family, she also buys a field and plants a vineyard. Not only does she clothe her family in crimson, she also girds her loins in strength and makes her arms strong.
Some say the song is a metaphor for Torah or God. Others consider it a description of many different women, rather than one individual wonder woman. No matter the interpretation (and you can read some excellent ones in this issue of the JOFA journal), singing praises of strong, accomplished women to the matriarch seated the Shabbat table is a custom I wish were part of my family's Friday nights. (Heck, I'd like it if they'd just say thank-you for dinner once in a while.) But while my family does gather around the table every Friday night, we also don't sing zemirot. My non-Jewish husband knows even less Hebrew than my father did, and doesn't even like to sing Kirs Kirstofferson songs.
Since we aren't a zemirot-singing family, but we do use electronics on Shabbat, I've considered playing a recording of the song at the shabbat table. While this might not feel as warm and fuzzy as having my husband serenade me, it would place the song on my daughters' radar and make gratitude (to me!) part of our weekly ritual. But, somehow it feels kind of like making a birthday card for myself. A little lame.
If  I did want to try to convince my husband to sing a version of Eshet Chayil at our table, it would definitely be this one. Not only is it in English, but it's superbly cool. And it was written by my friend Alicia Rabins, of Girls in Trouble fame, who played violin at our wedding.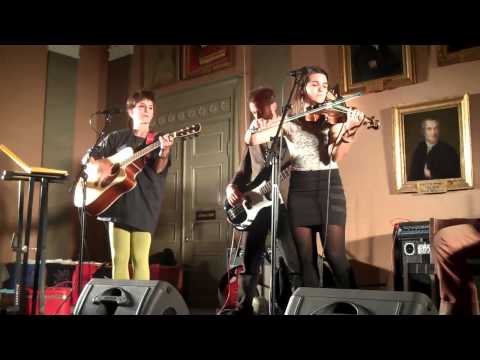 Alicia (whom I like to call Morah Chana) has graciously offered a 10% discount on downloads from the Girls in Trouble store for the month of February. Simply enter the code HOMESHUL at checkout. Enjoy! (In case you are wondering, I tried to get a coupon code for the Etsy store where I got the bracelet, but to no avail.)
Does your family sing Eshet Chayil or some other song praising the woman and/or man at the head of the table? I'd love to hear about it.
Shabbat Shalom!