One of the greatest privileges of being a kindergarten teacher in a Jewish day school is having the opportunity to teach children to recite the four questions. Unlike almost anything else I teach them about Jewish ritual, this is "real work." The candles will get blessed, kiddush will be recited, and birkat hamazon chanted with our without them. But children are needed for the Mah Nisthana. It's their gig, and they know it.
In our school, children have only a modest introduction to spoken Hebrew in the Gan, and do not learn to read and write the alef-bet until first grade. So, figuring out ways to make the Miah Nisthana meaningful to them in Hebrew has presented me with some interesting challenges.
My goals for the Gan are that they feel confident in their recitation; that they have a general sense of what the individual words mean; that they have some kind of written text to help them remember all four questions.
The first goal is accomplished by practice, practice, practice. We practice several times a day starting shortly after Purim. The second goal is accomplished by explaining the questions in English, and then working with the children to come up with hand motions that correspond to the "big ideas."  The last goal is the trickiest – the children don't read Hebrew, and I wouldn't give them transliteration even if I thought it would be useful. So, last year a created a picture chart, with symbols for the same big ideas. I wrote the symbols in the Hebrew direction to get them prepared for reading from a real haggadah next year.  The week before seder, the children take turns leading and pointing, and a small copy of the chart is included in their Gan haggadah.
An additional goal is for the work of learning the Four questions to be fun. Take a look at a video of my class practicing last week, and let me know how you think I did!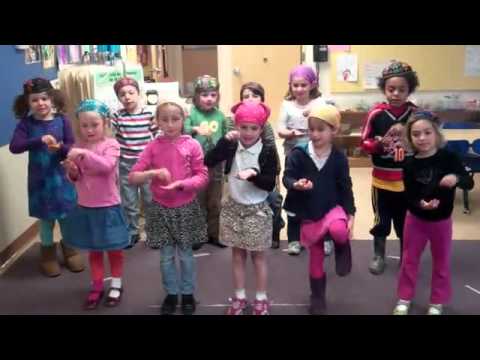 Chag Sameyach v'chasher. We'll be welcoming a new dog into our home this Passover – check out the Homeshuling facebook page if you'd like to see him.
I'm not exaggerating.
The bane of my Passover existence has been pareve baking. I cook a lot more meat during the holiday than I do the rest of the year, which means a lot more pareve desserts. Which has, up until now, usually meant margarine made from disgusting ingredients such as cottonseed oil.
Last year, I caught wind of the possibility that extra virgin coconut oil, the darling of crunchy mamas everywhere, was Kosher for Passover. Alas, I didn't catch wind of this possibility until the day before Passover when it was too late to call the OU hotline.
This year, I planned ahead and called and emailed the OU hotline. And what I learned will change your life. Trust me.
Spectrum unrefined organic coconut oil is kosher for passover when labeled OU. (No special Passover labeling.)
I know you won't believe me. I don't know why it's not in their Passover guide. But friends, I have names. And an email. The person whom I spoke to at the OU hotline was named Rabbi Geiger, and he said I could quote him.
Here is the email I got from the Webbe Rebbe (also of the OU.)
From: Webbe Rebbe <kosherq@ou.org>
To: 'amy meltzer' <xxxxxx> 
Sent: Monday, March 19, 2012 12:07 PM
Subject: RE: extra virgin coconut oil?
Thank you for contacting the OU.
 That is correct, Spectrum unrefined coconut oil is kosher for Passover.
 Please do not hesitate to contact us again should you have any further questions.
Orthodox Union Kashruth Division
From: amy meltzer [xxxxxxx]
Sent: Monday, March 19, 2012 12:39 PM
To: Webbe Rebbe
Subject: Re: extra virgin coconut oil?
Will it be labeled OUP or does it not require the P?
 thanks for your help in this-
I received this reply on Tuesday, March 20
Thank you for contacting the OU.
With a plain OU symbol.
Note: This information is valid for Passover 2012 only.
Please visit www.oupassover.org or consult our printed "Guide to Passover" for more a proper listing and other details.
Please do not hesitate to contact us again should you have any further questions.
Have a Kosher and happy Pesach.
Sincerely,
The Web(be) Rebbe
Orthodox Union Kashruth Division
For those of you who haven't used Coconut oil, it's a solid at room temperature and has a mild coconut flavor. While refined coconut oil is on everyone's list of unhealthy fats, unrefined coconut oil is generally considered  somewhere from benign to a miraculously healthy. (Here's a fairly balanced NYTimes article on the topic.) I won't take sides, I just know it's better than hydrogenated cottonseed oil. I'll be making Levana's Passover Brownies this year with coconut oil. Yum.
I'm not a haggadah junkie. I know many Jews whose shelves are overflowing with numerous versions of the Haggadah – from the traditional Maxwell House to the not-so-traditional Santa Cruz – and whose seders are an amalgam of commentaries, poems, and (alas) responsive readings, from these dog-eared, post- it covered books. Maybe it's because my family's seder is geared towards young children; maybe it's because I prefer discussion to recitation; or maybe because I think there's more than enough meaningful text to fill a seder without any extra thrown in; but I've always been of the opinion that when it comes to haggadot, less is more.
Nevertheless, when I was offered a copy of the New American Haggadah to review, I was elated. I'd just heard Nathan Englander, the brilliant writer who translated the Haggadah, on Fresh Air days before I received the book.  On the show, he talked to Terry Gross about his own background as a no-longer-Orthodox Jew with a strong yeshiva education. He described the seriousness with which he approached the project, spending years with his hevruta, pouring over every word choice to try to capture the "rhythm, clarity, communication, meaning..(and).. intent" of the original text. Listening to the few examples quoted in the interview, from his daring translation of Eloheinu, Melech HaOlam to his midrashic turn on the plague of choshech, I couldn't wait to see the rest. (Did I pique your curiousity? Check out the interview. Or better yet, the haggadah itself.)
The Haggadah is simply magnificent. The translation turns the English "side" of the service, which has always felt clunky and awkward to me ("Wherefore is this night distinguished from all other nights?") into poetry. It's a translation finally worthy of sharing the page with the Hebrew. Which is so, so important for those of us who can't engage meaningfully with the text in the original.
I could blather on about why I love Englander's translation. (In fact, I did just that when I got to go out for drinks with him after his reading at a local bookshop.) But I'm going to trust that a glimpse of one of my favorite pages will give you a far better sense of the haggadah than all my blathering. I'll also share a little bit of what I learned about these pages from interviewing Englander and the editor, Jonathan Safran Foer. (I know what you are thinking. Right?) Then, I'll tell you about the giveaway I scored for you, my beloved readers.
These two pages appear side by side, just after candle lighting, to introduce the steps of the seder:
I asked Nathan about this translation. He spoke about the tension between translating literally and capturing the artistic essence of the original. ""This is a poem in Hebrew, so I wanted it to read like a poem in English."  But, he explained, the words he chose also had to help illustrate the ceremony of the seder. "They are words, with specific meaning, but they are also touchstones – they represent actions and ideas. If you only knew the meaning of the words, that wouldn't be enough to understand. You'd still have to ask."
You can see a section of the timeline which runs along  the top margin of the entire Haggadah. According to Safran Foer, "there's been some confusion about the timeline. It's not a timeline of Jewish history, but a timeline of the Exodus story and how it's presented in Jewish history and world history. It's arguably one of the best known stories. To me, the timeline inspires a kind of awe, which I think is an appropriate reaction to the Haggadah."
On the opposite page, the illustration is actually the word Kadesh written in Hebrew handwriting dating back to 1200 BCE. Safran-Foer explained that the graphic artist, Oded Ezer, used the timeline to inspire his art. "On each page he would look at… what the timeline was referring to and researched Hebrew typography for that period. He used that as the basis for the design."
What you can't see on this page are the four commentaries that also run throughout the book, written by Jeffery Goldberg, Rebecca Newberger Goldstein, Nathaniel Deutsch, and Lemony Snicket. (Yes, that Lemony Snicket. "For the kids," explained Safran Foer. "He knows that age group better than anyone.") While they offer some interesting insights, I admittedly wouldn't recommend this Haggadah for the sake of the commentary. It's the text itself that makes this a transformative work. Which I think is more or less how it should be.
I doubt I'll be using this Haggadah at the seder I have with my 6 and 8 year old daughters, who will not swoon when they come to the translation of Tam as "The Artless One." (And wait until you see what he does with the words Barukh Hamakom.) But it's been by my bedside since I received it, and reading through a few pages a night has been part of my own spiritual preparation for Passover. (Which in past years has consisted mostly of…..vacuuming.)
Would you like a copy of your very own? (You don't even have to answer.) Little, Brown and Company has graciously offered THREE copies to homeshuling readers. (Between the interviews and the giveaway I'm beginning to think they have confused me with some other blogger.) All you have to do to enter is leave a comment below (scroll way down!) However, the winners will not be selected (at random, of course) until I have at least 100 comments. The deadline to enter is Tuesday, March 20 – noon, Massachusetts time. So, please, share a link, spread the news. Otherwise, I may never get to have a martini with a famous author again.
This time of year, I'm always excited when I look at my google analytics and see that people have landed at my blog by searching for "hamentashen recipe". I love the idea of people all over the world making my great-grandmother's fabulous hamentashen, the same ones my mom made with me and that I make with my girls.
The recipe is undeniably awesome, but it can be a little persnickety. So I've re-posted it, improving the directions slightly to make the experience a little more fool-proof. (Not that I'm calling you a fool, mind you.)
Hamentashen
Dough Ingredients:
2.5 – 3 cups flour (add 2.5 cups to start, and reserve the last half cup to add gradually as needed)
2 large eggs
2 tsp baking powder
1 stick butter or margarine
½ tsp salt
¾ cup sugar
Cream the butter and sugar. Add eggs. Mix. Add the dry ingredients. This is easiest to do with a Kitchen Aid or another good electric mixer. Add the last half cup of flour gradually, just until the dough holds together and is only slightly sticky. Form a ball, wrap in plastic and refrigerate for at least 15 minutes.
Prune Filling  (my great-grandmother's specialty):  ½ lb pitted prunes soaked overnight in water (about an inch higher than the prunes) then cook with a little sugar and cinnamon until very soft. Mash to break up the prunes (I sometimes puree it with an immersion blender, but it's not necessary.).  Squeeze in a little lemon to taste.
Roll the dough, and cut out circles ~3" diameter (I use a drinking glass for this.). To see how to fill and fold the pastries, watch this video from Shalom Sesame, made by the Sesame Street Workshop (Folding starts at around 2 minutes, but the whole video is worth watching.)
Recently, I've started rolling my dough in between two sheets of parchment paper and can't believe it took me over 40 years to discover this trick.
Bake at 375 for 12-15 minutes, until lightly brown around the edges.
This year the girls insisted on doing almost everything themselves. Here they are hard at work:
This past Sunday, when we should have been baking, I took my daughters and one of their friends to participate in a Purim opera at the National Yiddish Book Store. Children had the opportunity to appear as a children's chorus and a few walk-on rolls. Here are Zoe and her friend Ryan as contestants in the beauty pageant to select a new queen.
Here they are dressed as animals performing at the dinner Esther prepares for the King and Haman (who looked suspiciously like Louis C.K.)
Time to make those rice crispy-treat baskets! Chag Sameyach!