One of the few consistent parts of our family's observance of shabbat is to have at least one delicious challah on our dinner table. Before I went back to working full time, it was relatively easy to whip up freshly baked challah every week. Now that I'm on teacher-mom-writer schedule, it's not.
Usually, I make the dough in a bread machine the night before, and put the braided loaves in the refrigerator Thursday night for a slow, overnight rise. I take it out on Friday after school and bake it in time for dinner.
Over Rosh Hashanah, I wrote about experimenting with no-knead challah dough to churn out the massive amounts of challah needed for a three-day yom-tov/shabbat and plenty of company.
Last week, I made a batch of the no-knead dough and used about half of it for our Shabbat dinner. I left the rest of the dough in a covered tupperware and forgot all about it.
Last night, as I was preparing to load up the bread machine, I found the dough. Would it still rise? Would it still be good after a whole week in the fridge?
Based on appearances, I'd say yes.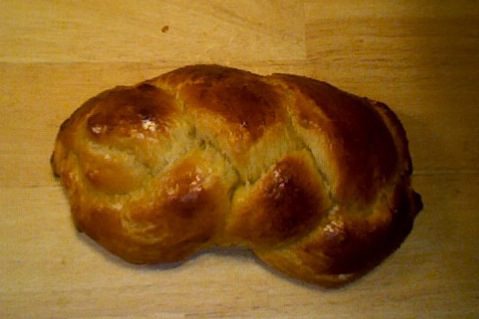 I'll let you know after shabbat how it came out. We could be onto something here.
Shabbat Shalom.
And if you are wondering why I'm back when I said I wouldn't be…stay tuned and I'll fill you in on some of the details.