Recognizing that it can be hard to find meaningful ways to celebrate trees in the middle (or, depending on the Groundhog's prediction, almost-the-end of) winter. Last year I posted 15 Other Things to Do for Tu B'shevat. I don't have 15 more, but I do have a few, just in time for the holiday, which starts on Tuesday night.
Do you remember learning "Ha-shkeydiah Poracahat" in Hebrew school? It's sort of the Tu B'shevat anthem. The song celebrates the almond trees, which are the first trees to bloom in Israel are typically covered in pink blossoms this time of year. (By the way, did you learn to sing it with the terribly unfortunate English translation – "Tu B'shevat is here, the Jewish Arbor Day"?)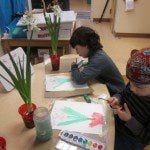 Nothing is blooming right now in Western Massachsuetts. But, the song gave me the idea to plant something that would bloom at Tu B'shevat with my kindergarten class. So, two weeks ago we planted paperwhite bulbs in our window sill. By the end of this week our class was filled with white flowers and the smell (oh, that smell…) of spring. Or soap. So, forcing bulbs is idea #1. Just make sure you can tolerate their fragrance.
Second, I have a new favorite book for Tu B'Shevat. We Planted A Tree, by Diane Muldrow and illustrated by Bob Staake is a simple poem which tells the story of families around the world planting trees. It describes the many ways trees benefit our earth without ever becoming dull or didactic, and the illustrations are just lovely. You can get a taste of this sweet book from its book trailer, but if you're anything like me you'll be distracted by the fact that the narrator really needs to blow his nose.
Last year I didn't get this craft link up until after Tu B'shevat, so I'm repeating it as #3. Faux almond trees, thanks to Creative Jewish Mom, an awesome resource for all things Jewish and crafty.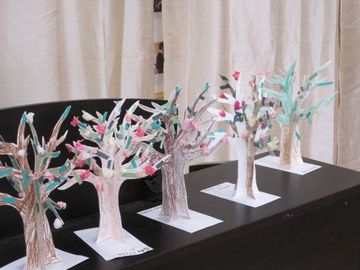 Looking for more information on the basics of Tu B'shevat? Check out my February post on Hilltown Families for a brief summary and links to more resources.