Last night, I had to exaplain to Zoe that our plans to make jelly dougnuts were put on hold because her sister was running a 101 fever. She was none too thrilled by this information. "We don't really do anything Jewish for Hanukkah," she cried. "All we do is light some stupid candles." Mind you, this is the same child who sat with her fingers plugging her ears at Bnai Jershurun this past Friday night because she was so mad that I had made her go to shul on our vacation in NYC. Nevertheless, I didn't want to dismiss her criticism too quickly. Was lighting (stupid) candles in fact the only Jewish thing we did for Hanukkah? Have I been so busy teaching and blogging that I've neglected my responsibility as a Jewish parent?
Actually? No.
For you, Zoe, a few highlights of our Jew-y Hanukkah:
We decorated our windows, in order to fulfill the mitzvah of pirumei nissa, aka publicizing the miracle of Hanukkah.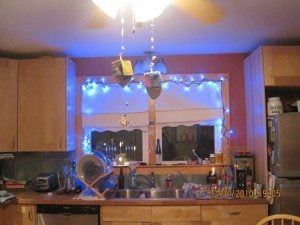 We made latkes, topped with applesauce and sour cream. (Though I didn't photograph ours, so I borrowed this shot from the public domain.)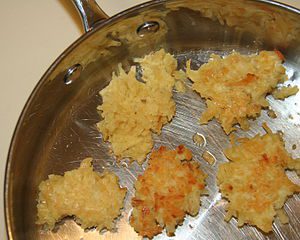 We baked Hanukkah shaped sugar cookies. (Yes, these misshapen goodies are ours.)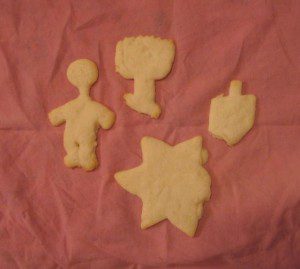 We read Hanukkah Books, including one of my favorite out-of-print classics, Grandma's Latkes, by Malka Drucker, and tare currently working our way through the less-engaging but highly-informative Alexandra's Scroll, by Miriam Chakin.
We took a family trip to NYC, which included the Jewiest of all activities (from a cultural perspective, that is) lunch on Christmas Day in Chinatown. (This was followed by a visit to the to eat pickles from The Pickle Guys on Essex St. on the Lower East Side.)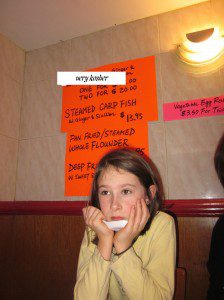 We also sang Hanukkah songs, attended a community Hanukkah celebration, and made a real, oil burning menorah: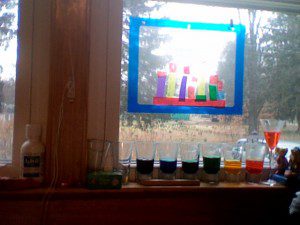 Tonight we are making an edible, but kosher (as in halachic, or legal – at least I think it will be) menorah made out of cupcakes. Here they are pre-frosting and pre-candles. We're going to cut the top off one cupcake to make the shamash a little lower than the others.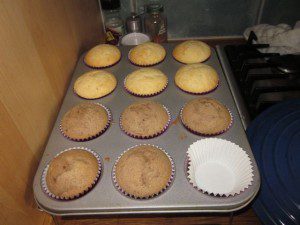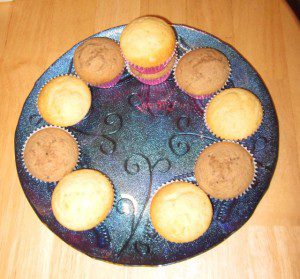 So, yeah, we did watch Miracle on 34th St and went to see the Eloise Tree at the Plaza hotel, and no, we didn't play dreidl, but I'd still wager that our Hanukkah was Jew-ier than average. We certainly did more than just lighting some stupid candles.
But if it really matters to you, Zoe, next year I'll really try to make those jelly dougnuts.