We definitely aren't the first family to celebrate the eighth night of Hanukkah by making, lighting and then eating our menorah. Google "cupcake menorah" if you don't believe me. But, that doesn't mean I'm not going to blog about it. Who ever accused me of being original?
I used Martha Stewart's yellow cupcake and frosting recipe, adding some cocoa powder to the batter after filling half the tins because the girls couldn't agree on what  kind of cupcake they wanted.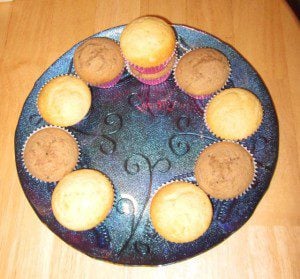 Ella and Zoe were allowed to use food coloring to make as many colors of frosting as they wanted, so long as they only dirtied three bowls. This was their favorite part of the activity (other than consuming the cupcakes, obviously).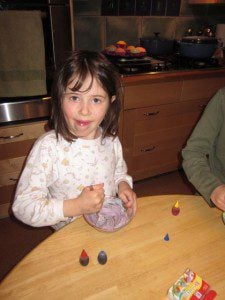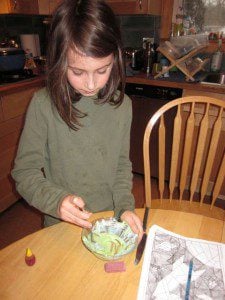 We arranged them on a shiny blue plate, stacking one cupcake on top of another for the shamash, and added the candles.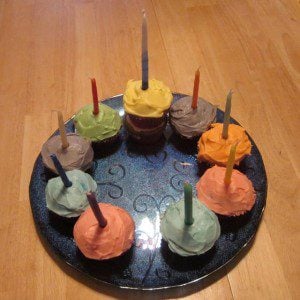 A few hours later, we lit the cupcakkiah (thanks, Marjorie…) Even though we sang the blessings, not Happy Birthday, it was very hard for the girls to remember not to blow out the candles and make a wish.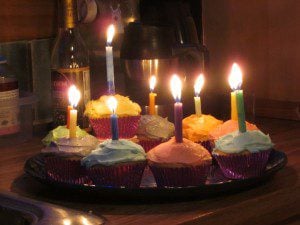 We let the candles burn through dinnner – the only downside being a bit of a waxy puddle in the middle of each cupcake when it came time for dessert.  We devoured half the menorah, and look forward to extended our holiday joy one extra night be eating the leftovers.
This is a new tradition for us, but definitely a keeper.