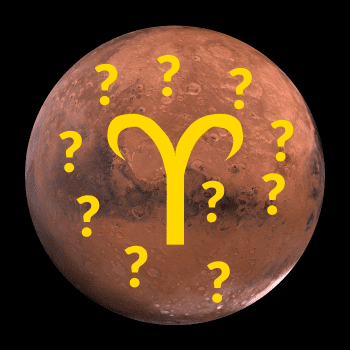 (This is part of the Mars in Aries series I will be running throughout the rest of this year. Mars is going to spend a ridiculously long time in Aries, and the more prepared you are for it, the better. CLICK HERE for the introduction to this series.)
THIS WEEK: This week Mars spans the distance from 24-25 degrees Aries. That's right: Mars is starting to grind to a halt before the retrograde. And oy, what a place to do it in!
(Wondering what the next few months hold in store for you? Write me with your date, time, and place of birth — and I'll send you a free sneak preview!)
Last week's Mars square Pluto is still in effect, and this week the potential explosiveness of that aspect lingers as we build towards the icy peril of Mars square Saturn. Given that Mercury spends the week in late Leo (trine Mars), then builds towards the trine to Uranus? You'd all better be really, really careful not to go off on a loud, angry tangent about things no one really cares about. You wouldn't want to make yourself look like a fool by needlessly shouting about

Okay, so: there's this new animated series called Star Trek: Lower Decks… and it's an abomination.
It's an animated series, and allegedly a comedy. Never mind that the "comedy" consists mostly of people shouting at each other.
Wait, you want astrology? Keep reading. I'll get back to that.
Part of the reason that Star Trek: Lower Decks is painfully unfunny is that it acts like it knows Star Trek, but it clearly doesn't. if you are the least bit familiar with Star Trek in any of its previous incarnations, imagine the following scenario:
Two crew members are walking down the corridor talking about nothing in particular. A mysterious energy increases through the solid matter and then appears in front of the two crew members. Whether for dramatic or comedic purposes, what do you expect these two crew members to do next?
A) Say something like "wow, cool, a First Contact! Let's do our best to obey the Prime Directive and not screw this up."
Or
B) Immediately tackle the mysterious energy being (how does that work anyway?) and threaten to shove it into a canister unless it performs tricks for them.
Scenario A could be played for laughs without spitting in the eye of everything Star Trek has ever stood for. Scenario B? That's what Lower Decks went with.
And that was in the first 5 minutes of the show.
Oh right… astrology. I'll get to that, but anyone who has read my work for a while or knows me knows that I have a fair amount of love and respect for Star Trek. But Lower Decks is horrible. Simply horrible.
It tries to fake its way through being Star Trek by throwing in obscure references to previous series. "Oh look, a Vendorian shape-shifter!" "Next time, try The Janeway Protocol" and such. Well I'm not fooled in the least. I'm angry. Very, very angry. Everyone responsible for this unfunny dumpster fire should be sent to the Klingon penal colony of Rura Penthe.
And now, a word about the terrible screwing that over 50 years worth of continuity got in that last episode of Doctor Who…
***
Wait… Where was I…?
Want to know how to work with the current and future energy to get maximum benefit? Feel free to write me about it!
CLICK HERE to find out how you can get a personalized, informative, life-changing consultation that will help you take charge of your life in the next year!
CLICK HERE to join the OH MY STARS Facebook Fan Page, and get exclusive content, an additional discount on a reading, and more material on blog entries!