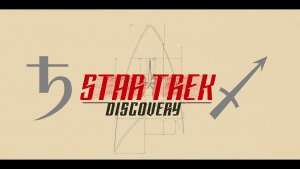 Okay, so maybe you're not a big Star Trek fan, but bear with me. I have an important astrological point to make. Then again, if you're a fan of both Star Trek and astrology, try clicking here or here when you're done reading this.

There is a relatively unknown point in the Zodiac called the Galactic Center which resides at about 27 degrees Sagittarius. It's not well understood or used very often by most astrologers, but it has some interesting attributes. Mostly it appears to be a place in your birth chart where one breaks from the usual perceptions of how life is or should be, on the large scale. Not surprisingly, it also has a strong association with Science Fiction and Fantasy.
Should we be surprised that, in the birth chart of the first airing of the very first episode of Star Trek, both Saturn and the Part of Fortune are aspecting the Galactic Center? Probably not. And it shouldn't be too much of a surprise that, as Saturn finishes up its run through the final degrees of Sagittarius between now and December, Star Trek is facing a bit of an identity crisis. But then again: aren't all our ideals being challenged somehow of late?
***
Star Trek has always been about our best and highest ideals as human beings. More than any other television show, Star Trek has been dedicated to the ideas of peaceful exploration, understanding between different peoples, and open-mindedness. Yes, Starfleet is a military organization, but for the most part its military applications have been driven more by self-defense then by aggression, and more by curiosity than colonialism. All high-minded ideals, all very Sagittarian, and all Galactic Center qualities.
Captain Gabriel Lorca of the USS Discovery doesn't seem to fit that mold. He is the captain of Starfleet's most advanced ship, which is working on a secret project that could change the course of human technology forever. It also happens that he is in command of the discovery at a time when the United Federation of planets is at war with the Klingons. He schemes, he breaks rules, and he's not afraid to roll up his sleeves and dig into some ethical dirt. He may not be the Kirk we wanted, but he may be the Kirk we need for our day and age.
And oh, there's more. Captain Lorca isn't even the main character on this show. That falls to Michael Burnham, a woman who was orphaned as a child, raised by aliens, and became Starfleet's very first convicted mutineer. She's the protagonist, but in traditional Star trek terms, she doesn't seem like much of a "hero."
Star Trek: Discovery shows us life in some very interesting times, and that's where we seem to find ourselves now. Some of you might recall that the world was in a perilous place the last time Saturn was passing through the last degrees of Sagittarius… at least as far as people with deeply entrenched beliefs about the world were concerned. After all, it was a time where the Soviet Union had fallen apart, and all of a sudden we had to think of how to get by in a world where the constant shadow of nuclear annihilation wasn't hanging over our heads. Yes, I know that sounds like a good thing. But if you weren't there at the time, you have no idea how unsettling it was having a long-standing belief like that yanked out from under you. It was a bit of an identity crisis, and one thing all identity crises seem to have in common is that they aren't a lot of fun. But they are important.
***
For those of you who are in despair about the future of Star Trek because of the astrology? Fear not. The last time Saturn was opposite the Galactic Center was in late 1987 – early 1988, right smack in the middle of the first season of Star Trek: The Next Generation, and transiting Uranus was there too. Many of you reading this may be too young to remember how terrible the first season of Star Trek: The Next Generation actually was, and how at times old school Trek fans like myself thought that it would be the end of Star Trek permanently. See what happens when you aren't objective about transits?
And for those of you in despair about the state of the world today, as opposed to merely Star Trek? Keep in mind that the world is, overall, much better than when I was a kid, staring up at the ceiling late at night contemplating being vaporized by a nuclear war set off by a misidentified flock of geese on someone's radar screen. Our world is more free and safer than ever, but the compulsion to give in to fear seems as strong as ever. Nostalgia has its charms, but it neglects both the fears of the past and the promise of the future. But if you like that sort of thing, there's always that oldies radio station, or that channel that's always running I Love Lucy, or The Orville (which is also good Star Trek in a more traditional way).
The rest of us? We'll handle Saturn for the rest of you as best we can.
Questions about your birth chart, or astrology in general? Want to know more about my big discount on readings for new clients? Write me for details!
CLICK HERE to join the the NEW Facebook Fan Page, and get exclusive content, an additional discount on a reading, and more material on blog entries!