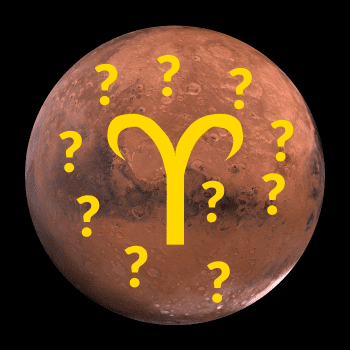 (This is part of the Mars in Aries series I will be running throughout the rest of this year. Mars is going to spend a ridiculously long time in Aries, and the more prepared you are for it, the better. CLICK HERE for the introduction to this series.)
THIS WEEK: This week Mars spans the distance from 21-23 degrees Aries. There's no easy way to put it, my friends. This week's Mars is going to be really challenging. First of all, although Mars square Jupiter was exact last week, it is still in full effect for this week. That sets up conditions where outbursts and breakdowns can be bigger and louder than usual.
(Wondering what the next few months hold in store for you? Write me with your date, time, and place of birth — and I'll send you a free sneak preview!)
Mars square Pluto is exact on Thursday, contributing to these already perilous conditions. Whereas Mars square Jupiter is acting is an amplifier, Pluto may be overbearing and overly demanding. A lot of the tension that has been going on in your life and in the world in general for most of 2020 may feel like it's reaching a peak. Breathe and remain calm. You're going to need to maintain all the peace you can this week, because by the end of it Mars square Saturn will start coming into effect too. Thoughts and prayers, everyone.
WHO WINS/WHO LOSES?: Any major planets or placements in your birth chart between 16 and 26 degrees of the Fire Signs (Aries, Leo, or Sagittarius) will feel a distinct boost. Your Air Sign placements (Gemini, Libra, or Aquarius) will receive a less obvious (but still real) shot of energy — although for Libra, it may not be that comfortable. Any major birth chart placements in or around those degrees of Cancer or Capricorn? They will be feeling some agitation.
MOON ASPECTS: Starting on Thursday evening (Eastern time) and carrying on into the day Friday, Moon in Gemini lends a gentle support to the energy of Mars in Aries. Honestly though? I wish I had more good news than that for you, because on Sunday the Moon in Cancer is opposite Jupiter, Pluto, and Saturn — putting a moody edge on the events of the week.
WHY THIS WEEK IS IMPORTANT: Mars returns to these degrees in mid- October. Take note of where the explosions and alarms happen in your life this week — and be prepared for similar themes to arise in October, with a possible resolution in the first part of November. That's right: Mars hits this stretch of degrees twice more after this before 2021. Don't you just love retrogrades?
Want to know how to work with the current and future energy to get maximum benefit? Feel free to write me about it!
CLICK HERE to find out how you can get a personalized, informative, life-changing consultation that will help you take charge of your life in the next year!
CLICK HERE to join the OH MY STARS Facebook Fan Page, and get exclusive content, an additional discount on a reading, and more material on blog entries!