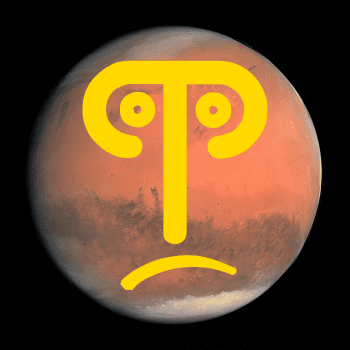 So, 2020 has been… interesting so far, hasn't it? Well… It's about to get a whole lot more… interesting. Normally the planet Mars spends roughly about a month and a half to two months in any Sign that that it visits. However, this year? Mars enters Aries on June 27th, then makes it close to the end of that Sign before retrograding all the way back to 15 degrees Aries in November. In fact Mars does not leave Aries until the second week of January, 2021.
(Wondering what the next few months hold in store for you? Write me with your date, time, and place of birth — and I'll send you a free sneak preview!)
Ever see that horror movie, 30 Days of Night? It's the one where vampires take over the town of Barrow, Alaska in the winter and run amok for a full month. In light of the condition of Mars that I described above? I am launching a new series called Six Months of Mars in Aries.
By using this analogy, I don't mean to be alarmist. Frankly those 30 Days was great for those vampires, if you think about it. For the regular inhabitants of Barrow, Alaska though? Not so much. But one thing is clear to me: there hasn't been a better time in recent memory to get to know the details of the individual placements in your chart.
-Your major placements in Aries, Leo, and Sagittarius are going to get a boost
-Your major placements in Cancer, Libra, and Capricorn are going to get kicked
-And if things really went off the rails for you in December-February under the weight of that Saturn-Pluto conjunction? You're really, really going to want to be prepared in August this year, and again in December. Really.
It's going to be a wild ride, and I'll be giving you regular updates on all the glitches and gifts as they occur, every week. And if you don't know the details of your birth chart? Click on that link below!
Want to know how to work with the current and future energy to get maximum benefit? Feel free to write me about it!
CLICK HERE to find out how you can get a personalized, informative, life-changing consultation that will help you take charge of your life in the next year!
CLICK HERE to join the OH MY STARS Facebook Fan Page, and get exclusive content, an additional discount on a reading, and more material on blog entries!