Ohhhh yeeeah!!!  Second show time!!  This show started with a big group performance of that My Chemical Romance song "Sing" that apparently gave my wife chill bumps.  That's cool, it looks like this week's contestants are a lot more diverse than last weeks.  Let's get going!
The Dartmouth Aires – The Aires rocked some Stevie Wonder and some afros!  Totally awesome.  While the arrangement, like many college groups, lacked in subtlety, it wasn't short on fun.  Their lead guy is really what made it for me.  What a soulful voice!  Good times!
The Pentatonix – This group of five picked that Katie Perry song about aliens.  I think they were really good but man the song was just bad.  Their great style really overcame that though, and the sound effects were especially interesting.  I liked it but I didn't love it.
Messiah's Men – This inspiring group came as refugees from Liberia.  They performed "People Get Ready" and it was as awesome as their outfits promised.  While the arrangement was pretty basic, they nailed it from front to back and really brought it down at the end.
Sonos – An a capella group who relies on effects pedals is a new twist, but unfortunately the group wasn't able to use those effects here.  Would have been neat to check out!  Instead they performed "Wicked Game" and while the arrangement had potential, it was really kind of a mess for the most part.  It got a bit better towards the end, but it never quite had that full a capella sound that you hope to hear from groups at this level.
At the break it was time to send a group home, and unfortunately the judges chose Messiah's Men.  You know, both of the first two seasons I pretty much agreed with the judges throughout.  This season, I've disagreed with every decision they have made.  Ah well.  At least my boys in Committed showed up to jam out for a bit.
The Collective – The Collective busted out the Adele hit "Rolling in the Deep."  It was an interesting arrangement of the song, picking some interesting harmonies and performing them well.  As a whole though, it didn't seem to quite come together.  It was really close though, hopefully we'll get to see them grow a little.
Soul'd Out – This group of youngsters were really just kind of odd.  They sounded alright but the arrangement wasn't as good as it could have been.  Still, for a bunch of high schoolers, pretty dang good!
North Shore – Every show needs a group of wily veterans, North Shore is that group.  These guys go back to the oldies with style.  While there were more intricate arrangements tonight, they were consistent and fun enough to watch.  It was nice to hear a classic doo wop group on the show.
Deltones – A college group born out of being rejected from other groups, they gave one of the more emotional performances of the opening nights.  Overall the lead vocals weren't strong enough to carry it, while the rest of the group seemed really on.  It was okay, but it definitely didn't blow me away.  Props to them for choosing a softer song for the first performance.
At the end of the night it was time to make the last elimination of this round.  It was the high school kids that got the boot.  All of these kids are really talented, but weren't quite ready yet.  I would have been happy to see them go on, but would be happier to see some of them make it back on the show in the future.
All in all, tonight's groups weren't as strong as last week's.  I'm sure more favorites will emerge throughout the competition, but right now the only groups that stick out are Delilah and the Pentatonix.  Can't wait for next week!
Follow Beliefnet Music on Twitter!
The Sing-Off is back!!!!  And so I'm back with overly-critical analysis of people who are way more talented than I am!!  Let's get it started!!
The festivities started with an epic 8 group rendition of Pink's latest hit.  It's amazing to hear a full a capella performance with that many people at once, and man they all sounded fantastic.  These big group performances are usually a disaster on American Idol and similar shows, but the arrangement here was so tight that the whole thing came off great.  Then we got to meet the judges again.  All I have to say is that Ben Folds is the jam.
The Yellow Jackets – A University of Rochester group was the first to take the stage.  They chose the song "Wavin' Flag" by K'Naan, one of our own religious rappers.  It was a part of a trip that they took to Africa, so it was a neat tie-in to who they are.  Seeing what seemed like forty mostly white guys performing a rap song was a really surreal experience, but the group really had a huge sound and tight enough arrangements.  Even so, there were moments of glory coupled with some problems.  All in all, decent enough and a big way to start the competition!
The Fannim Family – A group of eight siblings.  Wow.  That's a whole lot of kids, but now they form a great a capella group.  They performed a song called "Who Says" that I know because my wife likes it.  All of these kids could sing, but their choreography was pretty dull, and there were some pitch problems.  They got it together as the performance went along, but they won't be one of the best tonight.  It was interesting hearing all of these similar voices singing together.  They'll make it through to the next round.
Afro Blue – This hip college group had a whole lot of soul, which was a nice counter to the previous groups.  The best part was the bassist playing some sweet air bass.  Awesome!!  They had tight harmonies, exceptional voices, and the arrangement was fantastic.  This was the best group so far, and I imagine they will go far in this competition.
Delilah – Former contestants coming back isn't new for The Sing-Off, but Delilah is a whole group of them.  I honestly don't remember much about the groups that these girls came from, but I might just remember this one.  Their performance of Bruno Mars was pretty exceptional, especially considering the derivative source material.  They will be back next week.
After the four openers, it was time to announce who would be the first to leave the show.  The Fannim Family ended up getting the ax, which was surprising to me.  I thought they brought something more unique than the Yellow Jackets with a performance that was just as good.
Urban Method – This was the first a capella group on the show to have a dedicated rapper.  What a cool twist!  They did that Eminem and Rihanna song, with hoodie and everything.  I'm not sure what I was more impressed with – the lead rapper or the incredible mouth percussion.  The arrangement did get a little weird towards the end, like they needed a little bit more time, but overall I'm interested to see what they do next week.
The Cat's Pajamas – Okay, worst name ever, won't hold that against them.  These semi-older gents used to be cruise ship singers and now they do theater shows.  Pretty neat gig.  These guys definitely had the performance aspect down.  Unfortunately it just seemed a little stale after the awesomeness of hip hop rap.  It was a nice show all around though.  Gotta hand it to these guys for putting together a nice career for themselves with theater shows.
 Kinfolk 9 – A diverse LA Group with an interesting sound.  They performed that One Republic song that everyone knows.  Their lead singer had a great voice and even better hair.  Overall, the whole thing seemed rather lackluster with some less than stellar transitions.
Vocal Point – No season of the Sing-Off is complete without Mormons!  This was the first swing performance of the night, and it was extremely well done!  These guys had fun, played some air trumpet, and put it together.  All this while missing one of their members!  They even had a really unexpected breakdown for a bunch of clean cut guys, overall a really creative performance.  The lead singer lost his notes a little at the modulation, but other than that the thing was fantastic!
At the end of the night it was time to send another group home, and unfortunately the Cat's Pajamas had to go.  I could have sworn it would be Kinfolk 9, wrong again I guess!
Check out an interview with Committed, last year's winners!!
There are tons of reality shows on television.  There's dancing, singing, juggling blowtorches, and people yelling at each other.  So, why should you watch the Sing-Off?  Because it's hosted by early 2000s heart throb Nick Lachey.  Need more reasons?  Alright!
1. It's unique – A capella music isn't a new thing, but it's never been done as a reality show.  You won't ever see another show with music performed this way.
2. It takes talent – A lot of people can sing, but can they work as a group to make intricate arrangements and then perform them well?  Usually not.  Singing a capella is an amazingly difficult thing, especially at the level that these groups do it, and I guarantee that as you watch you will find yourself wondering how the groups are pulling off these songs.  Oh and did I mention the choreography?  They do that too.
3. Youthful exuberance – While the show has it's share of veterans, there are always a number of young groups who are just getting started.  Last year's winners had never recorded an album or done a tour before being on the show.  They all have a lot of fun with the show.
4. Variety – There is always a wide variety of talent on the show.  From gospel choirs, to hipster pop groups, to prepped out college boys, you will see it all.  Chances are, it will all be good too.
5. The judges – With the girl that sings that "I'm not gonna write you a love song" song replacing the girl that sang the "Don't you wish your girl was hot like me" song this judging cast just got even better.  She was always the weakest link, so I'm excited to see how things are this season.  Shawn Stockman (Boyz II Men) and Ben Folds are both industry vets who always have an interesting perspective, and who often hear things in the performances that I even miss.  I imagine that some of their commentary goes over people's heads, but as a music person I appreciate it heavily.  Oh and
I'm sure there are a ton more reasons, it's just a fantastic show.  If you haven't checked it out yet, do so tonight!!
Click here to follow Beliefnet Music on Twitter!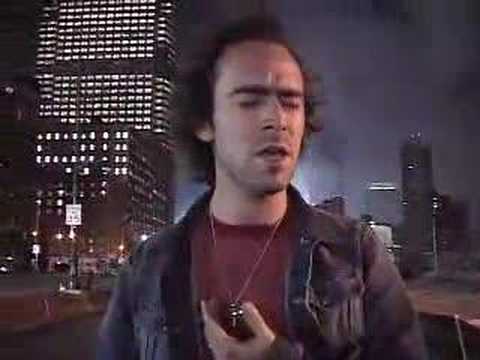 On the main website I wrote an article about Steven Rosenbaum, the director of the 9/11 video for Live's song "Overcome."  If you haven't seen it, check it out here.  I was pretty happy with it, which doesn't happen often!  As usual, there was some stuff left on the cutting room floor, so I thought it would be interesting to share it here.
This bit picks up after Steven and crew had shot the video and it was showing on MTV and VH1.  They didn't yet know if it was alright for them to do it, and the response to it was unprecedented.  Steven described it in great detail.  Enjoy!
"Then 2 or 3 more days went by, and I remember people in the office asking "did we have permission to do that"?  Since it wasn't our music, and I said "you know what, I don't care, I had to get it out, I had to say it."  So, three days go by and I get a call from the manager of Live, and "I said here it comes, you know we're going to sue you."  Their manager paused for about 4 seconds, and he said "we're just so honored that you used our music."

"Another week goes by and he calls back and he says they want to shoot a video using the footage in LA, and I said "no."  He said "Let me get this straight you can use our music but we can't use your footage?"  I said "If Ed wants to record a song about the trade centers he has to come to NY."  He called back an hour later and "alright we're going to be on a plane today."  He flew to NY, we walked down the West Side highway and we brought a boom box so that he could sing to the pre-recorded music.  There were people from the label and us, just this big group of people.  We got as far as the sanitation trucks [near Ground Zero], and the police officer stopped us, and said you guys don't have press credentials.  [After some negotiating] Ed, me, my wife who was filming, and one other were allowed in.  He left behind all the handlers, all the agency people." 

A few minutes later we are standing with the buildings in the background in a place that people weren't allowed to go at that point.  In front of the burning smoking ruins Ed sang the song a capella.  It was incredibly haunting, incredibly beautiful.  You know, it is one of those stories 9/11 is a terrible, terrible thing.  Nobody would wish that it happened, but in addition to that, I met some amazing people, Ed, he's one of them.  He was really frankly thankful that I called him out and said don't sit on the west coast.  He did the right thing, got on a plane, and it wasn't a time when people were looking forward to air travel."
Really powerful stuff!!  Thanks again to Steven Rosenbaum for being generous with his time and extremely helpful.  Great guy!!