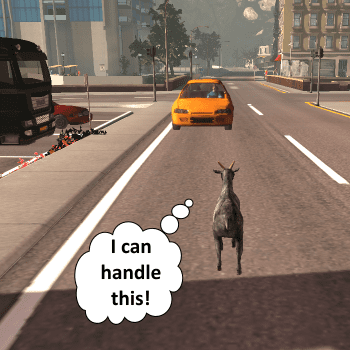 (Wondering what the next few months hold in store for you? Write me with your date, time, and place of birth — and send you a free sneak preview!)
Mars is now in Capricorn, and will be there until March 23rd. This is excellent news for those of you who enjoy head-butting things. Mars is the planet that rules (among other things) head-butting, so as you can well imagine Capricorn is the sign of Mars' exaltation. This means that, all else being equal, Mars does its best work while in Capricorn.
But is that necessarily a good thing? When it comes down to how this affects people on an individual level, that boils down entirely to the aspects that Mars will make to the various points in your birth chart between now and its entry into Aquarius.
What I find particularly interesting about the tour of duty Mars is going to be making this year through Capricorn is this: Mars in Capricorn 2020 divides up into two very different but important time eras. The first part is a lot like the usual stuff you'd read about when Mars passes through a certain Sign, except with a certain elevated risk factor. That's because between now and March 2nd, Mars is going to be what we call "out of bounds."
I'm surprised that, having logged over 900 blog entries here, I still haven't written much about the concept of out of bounds planets. Fortunately, the one time I did, it was specifically about Mars being out of bounds. Click here and have a look at that if you like. Otherwise, just take my word for it: Mars out of bounds means that Mars is likely to behave in a more erratic or less predictable manner.
Here are the major aspects for Part One of Mars in Capricorn 2020. The exact date is listed, but will be in effect for about a week before or after. Unlike most times I do this sort of thing, I'm going to include the degree placement for Mars, and there's a very good reason for this.
LISTEN UP PEOPLE: everything Mars in Capricorn does for (or against you) in 2020 will be revisited somewhere in the last half of this year, when Mars enters Aries on June 27th and spends an astounding six months in that Sign, which it rules. So, for example, if Mars at 3 degrees Capricorn is conjunct you natal Venus, then Mars will be square your Venus in late June/early July. You'll want to take note of what happens during that conjunction, because you'll be experiencing a more-difficult version of that same transit later this year. And yes: that includes the degrees in you chart affected by this year's notorious Saturn-Pluto conjunction.
***
Feb 21, 2020 Mars trine Uranus (3 degrees Capricorn)
This aspect can provide a lot of creative energy. You'll likely find that you are able to approach your goals with renewed enthusiasm. That's great, except that it also means that…
Feb 21, 2020 Mars square Chiron (3 degrees Capricorn)
…there's also a greater chance that you'll step on someone's emotional toes (including possibly your own) while you're stampeding towards your destination.
Feb 24, 2020 Sun sextile Mars (5 degrees Capricorn)
Energy and enthusiasm. This might be a good time to start a new exercise routine.
Feb 25, 2020 Mars conjunct South Node (6 degrees Capricorn)
You've heard of a "blast from the past"? You could be experiencing this now, in terms of the people and conditions that you have long-standing and/or karmic connections with. Getting kicked out of the nest and learning to fly on your own can be scary — but eventually, it's necessary.
Feb 26, 2020 Mercury sextile Mars (Mars at 6 degrees Capricorn)
Get your words and your ideas out there! Heck, shout them!
….Okay, that's enough shouting now. We hear you.
March 2, 2020: Mars Out Of Bounds ends.
NEXT TIME: The most important (?) Mars transits of 2020.
Want to know how to work with the current and future energy to get maximum benefit? Feel free to write me about it!
CLICK HERE to find out how you can get a personalized, informative, life-changing consultation that will help you take charge of your life in the next year!
CLICK HERE to join the OH MY STARS Facebook Fan Page, and get exclusive content, an additional discount on a reading, and more material on blog entries!