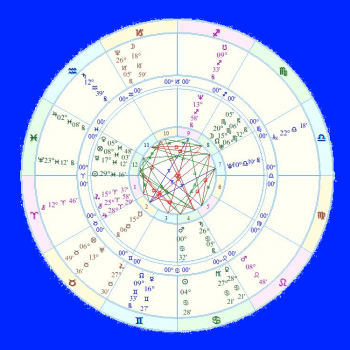 Derek Chauvin has been sentenced to 22 and a half years for the killing of George Floyd. Chauvin was born March 19, 1976, time unknown, Oakdale Minnesota. Even without a time of birth, we can see that there were some pretty serious transits happening for Chauvin at the time.
(No matter what transits are happening, how they play out in your life depends on your individual birth chart. Write me with your date, time, and place of birth — and I'll send you a copy and a free sneak preview!)
The planet most closely associated with matters of justice is Jupiter. In Chauvin's birth chart Jupiter is at 28 degrees Aries. That is significant because transiting Pluto is in a close square to that point, at 26 Capricorn. This, in and of itself would indicate that this was going to be a time for some bad legal news on Chauvin's part.
Any major event is set off by more than just the big transits, and there are some smaller and faster transits involved here that acted as the trigger. First of all, transiting Venus in Cancer was also square Chauvin's natal Jupiter, and at the time of sentencing was conjunct the local Midheaven. We don't normally think of Venus as being a planet that brings "bad news" for someone, but in a pile-up of transits like this, it can be a definite contributing factor. Also noteworthy is Uranus conjunct his South Node. The Nodes are a representation of "karma," and that can be for either an individual or as a family — or perhaps even as a society and culture. And with transiting Uranus only a degree and a half off the conjunction of Chauvin's South Node, we can make a case that "past karma has caught up with like a lightning bolt" — as Uranus tends to do.
Finally. the transiting Moon was approaching the conjunction to Pluto, sealing the deal, astrologically speaking.
Will this have a larger effect on America in general? It might. You see, the United States of America is now within about a degree of its Pluto Return. That to me sounds like an opportunity to face certain long-standing issues around… among other things… how law enforcement (and America in general) deal with race relations.
And believe me… these things need to change. As I know from personal experience: bad things can happen when an innocent person is in the wrong place, at the wrong time, while wearing the wrong skin color.
Want to know how to work with the current and future energy to get maximum benefit? Feel free to write me about it!
CLICK HERE to find out how you can get a personalized, informative, life-changing consultation that will help you take charge of your life in the next year!
CLICK HERE to join the OH MY STARS Facebook Fan Page, and get exclusive content, an additional discount on a reading, and more material on blog entries!