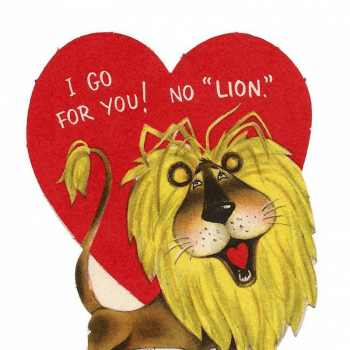 June 27th: "Love The New Neighborhood!"

Venus enters an exciting new apartment complex, filled with desirable swinging singles. Romantic high jinks ensue.
June 28th: "The Way To The Heart Is Through The Stomach"
(Venus quincunx Jupiter) Venus has a first date with Jupiter and everything is going great until a sense of competitiveness over who can have more fun kicks in. They enter a pie eating contest and end up throwing up on each other. Mop and bucket high jinks ensure.
(No matter what transits are happening, how they play out in your life depends on your individual birth chart. Write me with your date, time, and place of birth — and I'll send you a copy and a free sneak preview!)
July 7th: "Netflix And Chilly"
(Venus opposite Saturn) Venus goes on a date with an older and more established gentleman who unfortunately is incredibly boring and isn't enthusiastic about any of her interests. At least he paid for the lobster. Lying about phone numbers ensues.
July 8th: "Nutty Buddies"
(Venus square Uranus) Excitement, fireworks, explosions! Who's gonna pay to clean up this mess? Unintended consequences ensue.
July 13th: "Waking The Neighbors"
(Venus conjunct Mars) Venus hooks up with her old flame, Mars and things get hot and heavy as they always do. They eventually end up not being able to find anything to talk about. And those things end up the way they usually do. Regrets and dehydration ensue.
July 16th: "Dude Where's My Cargo Pants?"
(Venus quincunx Neptune) Despite the disaster on the date with Jupiter, Venus agrees to date his cousin, Neptune. Neptune has a drinking problem. By the end of the episode so does Venus. Hilarity and liver damage ensue.
July 22th: "Once More With Slightly Different Feelings"
(Venus, opposite Jupiter) Venus decides to give Jupiter one last chance. It ends up in both a pie eating contest and too much drinking. Hilarity and a ticket for drunk and disorderly ensue.
July 21: "Rules Strictly Enforced"
(Venus enters Virgo) Venus enters rehab and swears not to get so carried away next time she's in Leo. Twelve Steps ensue.
Want to know how to work with the current and future energy to get maximum benefit? Feel free to write me about it!
CLICK HERE to find out how you can get a personalized, informative, life-changing consultation that will help you take charge of your life in the next year!
CLICK HERE to join the OH MY STARS Facebook Fan Page, and get exclusive content, an additional discount on a reading, and more material on blog entries!