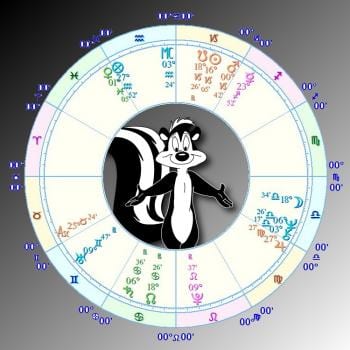 Another celebrity has had their career derailed thanks to either their own misconduct and/or "Cancel Culture": in this case, I am referring to serial boundary-crosser Pepe LePew.
It was recently announced that the star of numerous cartoons, who made generations laugh at behaviors that would (now, in the real world) have gotten him fired and/or arrested dozens of times over for various sex-related offenses, will not be featured in any future Warner Brothers productions. This came after years of bad behavior "hiding in plain sight," as was the case with Bill Cosby and Marilyn Manson.
So: why does something like this continue for years until it reaches an invisible threshold value and the scandal hits the fan? The answer is: the astrological transits.
(No matter what transits are happening, how they play out in your life depends on your individual birth chart. Write me with your date, time, and place of birth — and I'll send you a copy and a free sneak preview!)
Pepe LePew was "born" on January 6th, 1945. That's when his first animated short was released. The chart I've posted for 2:15 PM is speculative, based on —
(If you don't care for stories about deep astrological research, feel free to skip the next paragraph)
I've done some research into movie matinees in early 1945 on the East Coast, which is where the first public viewing would have happened. January 6th was a Saturday, and although matinees at the time started somewhere between 11 AM and 2 PM in that era, they never started with just the headline movie. There would be coming attractions and newsreels and a cartoon and an episode of a serial (probably, in this case, Chapter 11 of Mystery of the River Boat starring Lyle Talbot). The headline movie was likely Hollywood Canteen, a star-studded variety film starring Joan Leslie, Robert Hutton, and Dane Clark, with cameos from The Andrews Sisters, Joan Crawford, Betty Davis, Eddie Cantor, Sydney Greenstreet, Jack Benny, Roy Rogers and Trigger…
Whew.
Anyway, Pepe is having a lot of tough transits right now. Transiting Saturn is now exactly opposite his natal Pluto at 9 degrees Leo. That transit, even without knowing the Houses involved, is going to cause some serious disruption.
Speaking of Saturn transits: a Pepe LePew feature film was announced in October 2010, to be written by Max Landis. The project stalled in development for years and seems to have been dropped after allegations of… wait for it… sexual misconduct committed by Max Landis. October 2010 was when Saturn in Libra was conjunct Pepe's natal Neptune. Talk about Saturn crushing your dreams!
In addition to the Saturn transit, transiting Neptune is square Pepe's natal Mercury (confusion around his message?), and on the morning the pivotal New York Times opinion piece that started all this was released, the transiting Moon was opposite Pepe's natal Saturn. This is consistent with either a Capricorn or Aquarius Midheaven, as Saturn is the ruler of Capricorn and the traditional ruler of Aquarius. See? Astrology: it keeps on working.
And here's some irony for you: according to Deadline, Pepe had one scene in the upcoming Space Jam sequel that was edited out… but in that scene, LeBron James (!) schools Pepe on the importance of "consent." Maybe Pepe got cancelled too soon.
Also: as of yet, there is no word as to whether or not Gonzo from The Muppet Show has sought treatment for his serious alektorophilia issues (look it up).
PS: If you do in fact like stories about "deep astrological research," try this…
Want to know how to work with the current and future energy to get maximum benefit? Feel free to write me about it!
CLICK HERE to find out how you can get a personalized, informative, life-changing consultation that will help you take charge of your life in the next year!
CLICK HERE to join the OH MY STARS Facebook Fan Page, and get exclusive content, an additional discount on a reading, and more material on blog entries!