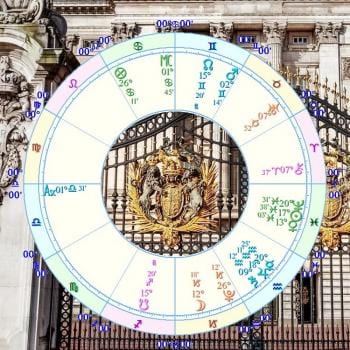 I have written about the Royal Family here before, especially around the subject of the breakdown of the Royal Family. Click here for my observations about Queen Elizabeth the Second, click here for how her chart relates to that of Meghan Markle, and if anyone cares about him anymore? Here's Prince William.
At 7 PM Eastern time tonight, CBS will release an interview with Prince Harry and Meghan Markle, conducted by Oprah Winfrey. There's been a lot of hype go into this so far, but we must be cautious. Everything involving the Royal Family is subjected to hype and/or gossip (REPORT: QUEEN FURIOUS AT KATE MIDDLETON'S NEW HAT, KICKS CORGIS). Nonetheless, there are real indicators that tonight's interview is going to raise a serious Royal Stink.
(No matter what transits are happening, how they play out in your life depends on your individual birth chart. Write me with your date, time, and place of birth — and I'll send you a copy and a free sneak preview!)
Although this is not something I normally do, I'm going to go out on a limb and make a prediction about the consequences of tonight's interview, based on the transits some members of the Royal Family are having.
Queen Elizabeth
Elizabeth was born April 21, 1926, 2:40 AM, London England. Here are her transits at the time the interview airs:
The Moon at 12 Capricorn will be within less than a single degree of the exact opposition to her natal Pluto. In Elizabeth's birth chart, Pluto is the ruler of her Saturn, Midheaven, and (by whole sign Houses) the 11th House. Normally a lunar transit only triggers something minor and/or temporary, unless it is paired with other bigger transits.
That's exactly the case here. Her Ninth House is ruled by Mercury at 4 degrees Aries. Chiron is conjunct that point now, so one could make a comment about "her legal functions as queen being wounded," or something like that. But again, that's pretty small potatoes.
Bear in mind that this is all happening with transiting Uranus approaching the square to her natal Moon, which is at 12 degrees Leo. The Moon is also the ruler of Elizabeth's Seventh House, denoting marriage and partnerships. Pay attention to that, because I'll come back to that in a bit.
Finally, by annual profections, Elizabeth is now in a Tenth House year. Her Tenth House (career) is ruled by Venus, and Elizabeth is having her Venus Return. This certainly indicates there will be an emphasis on her career somehow… but you have to admit the Venus Return doesn't sound that bad, does it? Let's ask Demi Lovato about that…
Prince Charles
Prince Charles, next in line to the throne and father to both Prince William and Prince Harry, was born November 14 1948, 9:14 PM, London England. He is currently experiencing transiting Jupiter opposite his natal Pluto. That planet is the ruler of Charles's Fourth House. This has a lot to do with both parents and stability in general. Charles is currently in a first House year by annual profections, and he has Pluto in the first House. Therefore we need to pay more attention to transit involving his natal Pluto.
None of these factors are inherently terrible, but put them together and there's not much good happening here.
Prince William
Prince William (born June 21, 1982, 9:03 PM, London England) is in a relatively unique astrological situation, as most people born around that time find themselves in now. He is having both his Pluto Square and his Neptune Square at the same time. Transiting Mars is exactly quincunx his natal Midheaven today, and when the interview starts the transiting Moon will be square his natal Mars and Saturn in Libra. Mars is the traditional ruler of his Midheaven, and Saturn is the ruler of his Second House. Could this indicate a jolt to both his career and possibly his income?
Prince Philip
Queen Elizabeth's husband was born June 10, 1921 at Mon Repos, Corfu, Greece. We don't have a confirmed time of birth for him so I won't be looking too hard at his transits. However I would note that he has recently had heart surgery, and transiting Jupiter is now square his natal Moon, and Saturn will be making the same opposition within year. I won't speculate further without a confirmed time of birth, but if you look at the spousal and parental transits mentioned in previous paragraphs? I'm concerned.
So, my prediction about the effects on the Royal Family from tonight's interview with Harry and Megan? On a scale of 1 to 10, where one is "nothing really," and 10 is "Princess Diana's legendary interview with Martin Bashir in 1995"?
I'm scoring this one at somewhere between nine and 11. Stay tuned, Royal watchers!
Want to know how to work with the current and future energy to get maximum benefit? Feel free to write me about it!
CLICK HERE to find out how you can get a personalized, informative, life-changing consultation that will help you take charge of your life in the next year!
CLICK HERE to join the OH MY STARS Facebook Fan Page, and get exclusive content, an additional discount on a reading, and more material on blog entries!