Suppose you have an important message to send, and Mercury is retrograde. Should you wait? Ideally, you probably should. Life doesn't always work like that though, and whether we're talking astrology or otherwise, in life you have to play the hand you are dealt. If you have to send an important message during a Mercury retrograde, there are other factors to be taken into consideration.
If the nature of the message is Mars-related… something involving cooking or cutting things or perhaps anger… then having a strongly-placed Mars at the time you send it is important. That's not good enough though. Mars in Scorpio is a strong placement, but if it is not receiving any major aspects from any other planet, then it will tend to act in an unpredictable manner.
If the message has something to do with, let's say, religion then you'd probably want to have a strongly placed Jupiter at the time you sent that message. Jupiter trine Neptune is a nice touch, but keep in mind that even a good aspect from Neptune can make things a little muddled.
Mostly though, you probably wouldn't want to try to send that very important message when Mercury was both retrograde and conjunct Saturn. And you certainly wouldn't want to do it when both Mercury and Saturn were on the local horizon.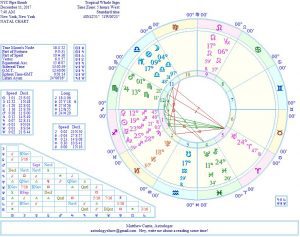 All the factors were in play this morning at 7:40 AM in New York when Akayed Ullah set off a pipe bomb in an underground walkway near 42nd street and 8th Avenue, in protest of recent Israeli actions in Gaza. The bomb went off and injured four people including Ullah himself, but was far from the success that he probably wanted it to be.
Maybe Mercury retrograde isn't so bad a thing all the time, after all.
Questions about your birth chart, or astrology in general? Want to know more about my big discount on readings for new clients? Write me for details!
CLICK HERE to join the OH MY STARS Facebook Fan Page, and get exclusive content, an additional discount on a reading, and more material on blog entries!