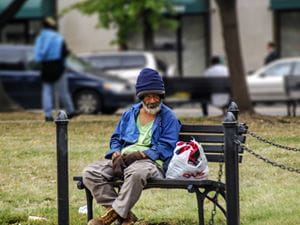 Artem Avetisyan/Shutterstock.com
People come into the United States from all over the world to find freedom and to uncover enough wealth to raise their families. Many come from poor regions where they believe that the country doesn't struggle with poverty. As one of the world's wealthiest nations, this is simply a fallacy. And the numbers can attest to the fact that poverty is a pervasive problem America, but we don't like to admit it. We would like to think that the poor only dwell in third-world countries, but there is no denying it, poverty is a pervasive quandary in America. An estimated 43.1 million Americans lived in poverty in 2016, according to the United States Census Commission. "The 2015 poverty rate was 1.0 percentage point higher than in 2007, the year before the most recent recession," Hunger in America reported.
"An estimated 43.1 million Americans lived in poverty in 2016, according to the United States Census Commission."
There are things to consider as being the main causes of poverty in America--the size of the Middle Class is shrinking and high-paying jobs (factory work) are leaving the U.S. The growing population can't be supported and the increase of the aging population all contribute to the problem as well. How can this happen? America spends more per person on social welfare than Europe does and poverty is still an issue. Sen. Bernie Sanders (I-Vt.) said poverty in America is a problem that we need to reduce. "We have more people living in poverty today than almost any time in the history of this country," he said. He was right, but first, let's get more information. What do we know about poverty? Here are 7 facts on poverty to think about.
Today's poverty looks different.
The trend of poverty sounds pretty grim, but there is more to this story. Most people who are poor own computers, have cars and have bigger living quarters than a lot of people in other countries. "The poorest Americans today live a better life than all but the richest persons 100 years ago," the Heritage Foundation reported. People defined as poor by the government also owned cars and had cable television.
More people are in debt.
Lower-income households are falling and they are falling into greater debt. More Americans owe more than what they own. Additionally, in order to pay bills, people get car title loans at the rates of 300 percent of annualized interest. These places prey on people who are debt and are in a low-income bracket. Notice where all the checking cashing places are? They are in the low-income areas.
Single women are impacted.
Poverty rates are highest for families headed by single women, particularly if they are black or Hispanic, the National Poverty Center found. Most of these women have children and without the additional income from a spouse, they are at a greater risk of poverty.
Child poverty is costly.
The National Center for Children in Poverty found that childhood poverty is costly. The U.S. spends 500 billion dollars a year to take care of these children. There are an estimated 15 million kids living with families below the poverty threshold. Families need to make twice of what they earn to support their children. "Child poverty rates are highest among black, Latino and American Indian children," the center found. The number of children living in poverty in the state of California increased to 30 percent from just 2007 alone. But the in the South the news is worse. Poverty rates for children are the highest in Mississippi with 23.2 percent, New Mexico is at 19.6 percent, Louisiana is at 14.3 percent, followed by Alabama, which has a rate of 16.98 percent. The lowest rate of childhood poverty is New Hampshire.
The aging population is at a greater risk.
Older adults struggle to keep up with rising housing costs, rising health care bills, rising utility costs and don't have enough in savings to carry them through. Some can't even keep their heat on and don't have enough food to eat. There are over 20 million Americans who are over the age of 60 and they are living below the federal poverty level due to being on a fixed income. There are an estimated 6.4 million seniors living in poverty in America and it is on the rise. The Justice in Aging is a national non-profit legal advocacy organization that fights senior poverty. They found startling truths regarding America's aging. By 2030 there will be 72 million seniors living in poverty in America. One reason is because the average worker doesn't have enough opportunity to save for retirement due to the lack of pensions. They also reported that 1 in 5 seniors approaching retirement has no retirement savings at all. "Homelessness among seniors is projected to increase 33 percent by 2020," the organization said. This is expected to increase to 100 percent by 2050.
More Americans are on public assistance.
There is an estimated 49.1 percent of all Americans who need help from the government. The Supplemental Nutrition Assistance Program (Snap) feeds 1 in 7 people, according to Bloomberg news. This is despite the economy rebounding after the 2008 recession. The average SNAP recipient "earned a net monthly income of $335 dollars. With food stamps providing $150 dollars to $170 dollars per person a month, this could be trouble for those struggling to find work," the site reported.
Feeding America helps the impoverished.
Feeding America is one of the largest organizations in the nation that work to help people who are food insecure. They work with other charities and the government as well to help reduce the stress of poverty. To get a glimpse of what the organization does they provide 46.5 million people annually, including 12 million children and 7 million seniors based on their income. Most of the people that Feeding America serves are below the poverty level that is set by the federal government.
Poverty is a problem that needs to be challenged and eradicated. As we move forward all of us can do our part so everyone can enjoy the American dream. It can be donating foods or donating items to a reputable charity. You can hold your own food drive at school or at work to make a contribution. You can look beyond the stats and find people in the community that need help. Most of the time you don't need to go far to find a person who is struggling.