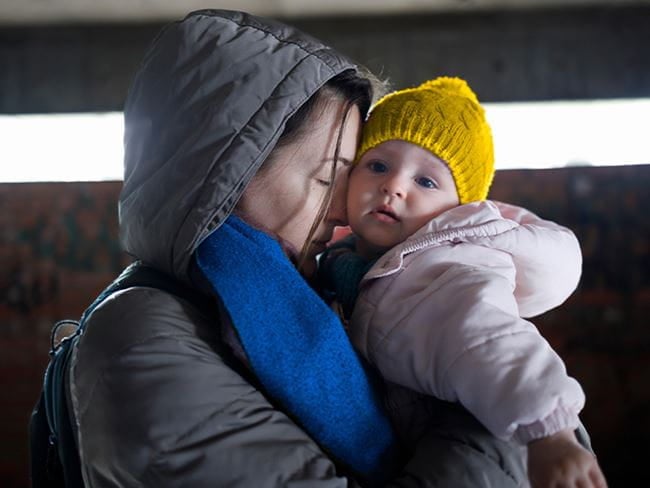 Shutterstock.com
In war-torn Ukraine, miracles are happening in the face of devastation and violence, and despite the fear and chaos that grips these communities every day, people are finding hope and peace through prayer. Amidst all the destruction, there is a sense in the people that God is still present and is doing amazing things. There are stories of answered prayers and miraculous healings coming out, giving testimony to the power of faith in even the darkest of times. Those in Ukraine who are suffering are finding comfort in knowing that they are not alone and that God's healing presence can be felt throughout their land.
Throughout the conflict in Ukraine, people from all religious backgrounds have come together to pray for a peaceful outcome. Though there have been many disheartening setbacks, there have also been moments of light that have given them hope for a better future and outcome. One example was when a group of Ukrainian priests proclaimed that they were going to start celebrating mass in bomb shelters. Despite the damage and destruction above ground, the shelters were packed with worshippers, all coming together to give thanks and pray for peace.
Since the beginning of the Russian military intervention in Ukraine, religious buildings have been among the main targets of attacks. In spite of this, however, an unexpected silver lining has risen above the destruction and violence. A number of churches in eastern Ukraine have chosen to sing instead of giving into fear.
This brave act of defiance has not gone unnoticed. Countless videos and photos of churches singing while under attack have been shared on social media, with many people hailing them as examples of resilience in the face of adversity. In a time when it seems like darkness is engulfing the country, these churches provide a ray of hope, showing that Ukraine will not be defeated. So far, the Russian military has failed to silence the voices of these brave churches, showing that faith can overcome extreme adversity when needed.
Since the outbreak of war in eastern Ukraine, the people's prayers have seemingly been answered for many caught in the middle of the conflict. Many people report that they have felt God's presence and protection throughout the war through acts of kindness and small miracles.
Groups of nuns in both Poland and Ukraine have opened their doors to refugees and continue to provide spiritual care and shelter for those in need. Over 1,000 convents are helping refugees in any way that they can, with medical, material, and psychological help. Upwards of 2,400 families have found shelter under the roofs of convents, and the impact that these nuns are having does not stop there. They have put themselves on the frontline to provide hot meals, blankets, clothing, and hygiene products. They are also coordinating assistance for refugees, and in particular, the Polish nuns are helping refugees to find jobs through employment centers.
The current conflict in Ukraine has also been branded as a miracle by the Ukrainian Greek Catholic Church. This is in consideration of the fact that the Ukrainian army is fighting against the Russian military and has been able to defend their country for so long. Although the Russians have more troops and better-equipped soldiers, the Ukrainians have been able to use their political and diplomatic resources to gain support from other countries.
The Ukrainian military has also been able to make use of modern technology, like drones, to some success against the Russians. In spite of these few advantages, however, the Ukrainians are still fighting an uphill battle, and are welcoming any support they get.