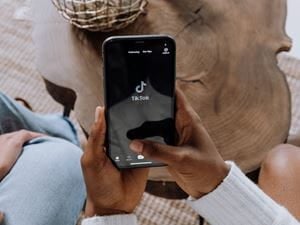 Pexels.com
Television news used to be the first place people would look for current information. However, a recent survey has shown that people turn to TikTok and other social media platforms instead of traditional news outlets. The Reuters Institute for the Study of Journalism conducted its annual Digital News Report, which stated that people pay more attention to influencers, celebrities, and social media personalities than journalists on social media.
Reuters Institute Rasmus Nielsen said there's no reasonable explanation for expecting people born in the 2000s to suddenly prefer old-fashioned broadcast, print, and websites simply because they grow older. Almost 94,000 adults participated in the survey, and less than a third said they liked their stories selected for them to get news.
However, people still would rather an algorithm choose their news. Now, younger audiences rely more on their favorite influencers to act as a filter to help highlight the information of the most relevance, which can be good. It facilitates a new angle on the significant stories each day. However, it can be harmful in that the news they discuss and present is based on the personal bias of each influencer, which is arguably a less transparent process than mainstream media outlets.
Traditional journalism versus TikTok.
However, it still depends on your perspective. For the most part, journalists uphold integrity standards in their reporting to limit the influence of personal bias and present critical information within their updates. Still, many news outlets have increasingly leaned into more controversial opinions and viewpoints because that works best with social media algorithms: you'll generate more engagement and reach with a headline that says something controversial instead of a balanced report on the latest news.
Many new outlets weaponize this tactic and seem to employ partisan opinions as an essential element in their coverage to maximize reader response and get people to share and comment, prompting more clicks. This approach works, but this approach likely turned many younger consumers away from mainstream coverage. At the same time, the increase in TikTok use overall means that, one way or another, they're going to get some news content there anyway.
Is TikTok a reliable news source?
In just two years, TikTok as a news source for regular users increased from 22 percent in 2020 to 33 percent, ranking TikTok in fourth place behind Facebook, Twitter, and Reddit. Only two other social media platforms, Twitch and Instagram, reported growth as a news source among regular users since 2020, but both increases were minimal.
However, a significant issue with accessing news from social media has been the accuracy of the information, especially election information. TikTok recently launched an Elections Center to "connect people who engage with election content to authoritative information," including information on where and how to vote, with identification marked to the midterm elections. The social media platform also initiated new policies making political and government accounts be verified, and any campaign fundraising is prohibited.
Despite a growing presence as a news source and restrictions on political messaging, TikTok appears to have no safeguards to prevent false political information. A test conducted by the Global Witness and the Cybersecurity for Democracy team at New York University found that TikTok failed to detect 90 percent of the twenty political ads with false or misleading claims about the midterm elections. The test found that Facebook approved many blatantly accurate or false political messages. On the other hand, YouTube could reject all the false political ads. Furthermore, YouTube suspended the channel that posted the test ads.
How to avoid misinformation on TikTok.
TikTok users prefer citizen journalism over mainstream media outlets or professional journalists. Citizen journalism is when public citizens collect information about a news event and share it with the public. It's become increasingly popular during the Russia-Ukraine war, as soldiers post videos and diaries from the battlefield and upload them to TikTok. Citizen journalism on TikTok gives some users the sense that someone experiencing an event firsthand will accurately report on it, including details that mainstream journalists would leave out.
Still, experts warn that citizen journalism on short-video platforms like YouTube, TikTok, and Instagram can easily mix information with misinformation, creating a confusing blend of fiction and fact. According to a NewsGuard investigation, almost 20 percent of videos covering pressing world news topics contained misinformation. These topics ranged from gun violence and COVID vaccines to U.S. elections and the Russia-Ukraine war. AI-powered deepfakes, Photoshop, and very convincing figureheads can contribute to the spread of misinformation on social media.
It can be time-consuming and challenging to fact-check and reverse image search every video and photo you see on TikTok to ensure accurate information. To fight falling prey to misinformation, experts suggest checking your biases: Does the content solidify your prejudice against a group of people? The content's ability to produce an emotional response in you could throw off your ability to think objectively. You can also check the account that posted the information. Is the account new with a few followers? Does it only post controversial content? If the answer is yes, you should be skeptical of the information.
Sometimes, people online engage in "rage-baiting" or "rage farming," which occurs when a creator intentionally posts content that will annoy or upset their viewers. Rage-baiting adheres to the saying that "all publicity is good publicity." Even if someone's content upsets people, it gets people talking and brings the creator money and views. If you visit someone's page and only post highly upsetting content, they're probably rage-baiting to get attention. You can block their account to ensure their content doesn't appear on your feed.
You may visit online news sources less often, but it can be helpful to check with a trusted news source when you encounter news you're unsure of. Check if other news sources report a specific incident or event to verify it happened. It's up to you to decide which news sources you trust, as almost all significant new sources have biases. However, hidden biases are what you want to avoid. News without hidden biases is free from unsubstantiated claims, personal opinions, and flawed logic.
TikTok may be gaining popularity as a news source, but it doesn't hurt to check other news sources and their reporting to see if the two match up.