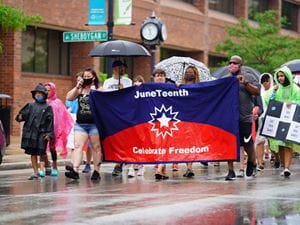 Aaron of L.A. Photography/Shutterstock.com
Soon, Americans will celebrate Juneteenth, commemorating the day when the last enslaved people in the U.S. learned they were free. Black Americans have recognized the end of one of the United States' darkest chapters for generations with joy in the form of street festivals, parades, cookouts and musical performances.
Sadly, the U.S. was slow to embrace the change, but President Biden signed a bill passed by Congress to make Juneteenth, or June 19th, a federal holiday in 2021. As many people learn what Juneteenth is about, the holiday traditions face new pressures, like political rhetoric condemning efforts to teach Americans about the nation's racial history and companies using the holiday as a marketing ploy and people partying without understanding the past. Here's the history behind Juneteenth and how it became a federal holiday.
The origins of Juneteenth.
Juneteenth celebrations started with slaves in Galveston, Texas. President Abraham Lincoln's Emancipation Proclamation freed them in 1863 but couldn't be enforced in many Southern states until the Civil War ended in 1865. Even still, some white people who profited from slavery were reluctant to share the news. In a 1941 interview, Laura Smalley recalled that a man she called "old master" came home from fighting in the Civil War and didn't tell his slaves what happened.
Smalley said that the master didn't tell them they were free, and they kept working for six months. Then, on June 19thth, they were set free, and that's why we celebrate Juneteenth. News that the Civil War ended and they were free reached Galveston when Union Maj. Gen. Gordon Granger and his troops came to Galveston on June 19, 1865, after Confederate Gen. Robert E. Lee surrendered to Union Gen. Ulysses S. Grant in Virginia.
Granger delivered General Order No. 3, which states, "The people of Texas are informed that, in accordance with a proclamation from the Executive of the United States, all slaves are free. This involves an absolute equality of personal rights and rights of property between former masters and slaves, and the connection heretofore existing between them becomes that between employer and hired labor."
Six months later, slavery was permanently abolished when Georgia ratified the 13th Amendment. The following year, the now-free people of Galveston began celebrating Juneteenth, an observance that's continued to spread worldwide. Events include parades, concerts, and readings of the Emancipation Proclamation.
The definition of Juneteenth.
Juneteenth is a mix of the words June and nineteenth. The holiday has also been called Freedom Day, Juneteenth Independence Day, Emancipation Day, and Second Independence Day. Celebrations started with speeches and church picnics and spread as Black Texans migrated elsewhere. Most states now have celebrations honoring Juneteenth as a day of recognition or holiday, like Flag Day.
Juneteenth is now a paid holiday for state employees in New York, Texas, Virginia, Nevada, and Washington. Hundreds of other companies also give their workers the day off. Opal Lee, an activist and former teacher, is credited mainly for rallying others behind a campaign to make Juneteenth a federal holiday. She strongly remembers celebrating Juneteenth as a child in East Texas with food, music, and games. In 2016, Lee walked through her hometown of Fort Worth, Texas and other cities before coming to Washington, D.C. Soon, politicians and celebrities began lending their support. She was one of the people standing next to President Biden when he signed Juneteenth into law.
The evolution of Juneteenth celebrations.
The national reckoning over race, starting with the 2020 murder of George Floyd by police, created the opportunity for Juneteenth to be the first new federal holiday since 1983 when Martin Luther King Jr. Day was created. The bill was supported by Sen. Edward Markey of Massachusetts and had 60 co-sponsors, a display of bipartisan support as lawmakers fought to overcome divisions that are still smoldering three years later.
There's currently a movement to use the holiday as a chance for education and activism, with community service projects to discuss racial disparities and education panels on topics like healthcare inequities and the need for green spaces and parks. Like most holidays, Juneteenth has also had its fair share of commercialization. Museums, retailers, and other venues have capitalized on it by selling Juneteenth-themed party ware, T-shirts, and ice cream. Unfortunately, some marketing has misfired, prompting a social media backlash.
Holiday supporters have also tried to ensure that Juneteenth celebrators remember why the day exists. Dee Evans, national director of communications of the National Juneteenth Observance Foundation, said the country might have been freed from the British in 1776, but all people weren't deemed free. Juneteenth is when the entire country was set free. There's also a feeling to use the day to honor the sacrifices made for freedom in the United States, especially in these politically and racially charged times.
What started as an informal freedom celebration by locals in Galveston eventually spread into a broader commemoration of the end of slavery as Black people in Texas moved to other states. Many Black people celebrate Juneteenth with parades, parties, and gatherings with friends and family. Texas became the first state to make Juneteenth a state holiday in 1980, and all 50 states recognize Juneteenth in some way.