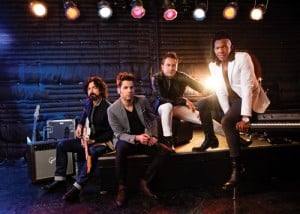 Watching Michael Tait backstage before a performance with The Newsboys is a fascinating experience. The legendary front man has an infectiously charming habit of engaging nearly everyone in his path. Tait might not always look you in the eye but it's not because he's being aloof. On the contrary, the attention-challenged singer is usually on high alert for another opportunity to make someone smile while fully locked in on the person at hand.
Having personally observed his pre-concert routine on numerous occasions dating back to 1991 (when dc Talk opened for Michael W. Smith) and later in 2001 (when he led the band simply known as Tait), it's quite possible that Tait has the same amount of energy (perhaps more) than when he was breaking down walls within the Christian industry alongside musical partners Tobymac and Kevin Max.
These days, Tait is equally adept at commanding the attention of 20,000 kids of all ages. And with recent hit singles like "We Believe" and the title track to the film God's Not Dead (in which The Newsboys made a significant cameo), Tait has no plans of slowing down anytime soon.
In this Whole Notes interview, Tait talks about what led to his connection with The Newsboys, how he maintains his energy, and why God's Not Dead was such an important film for this generation:
Chad Bonham: It still seems a little surreal that you've been a part of two of the biggest Christian recording acts. In a nutshell, how did the Newsboys gig come about?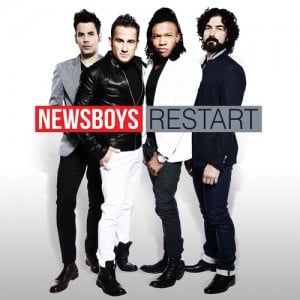 Tait: I needed the Newsboys desperately and they needed me desperately. (Former lead singer) Peter (Furler) was just worn out. He wanted to stay home for a while. So when I came in, Peter was the one who handed me the baton. He told me to take it and run with it. I've loved every second of it. God has blessed this band, in spite of me and in spite of my weaknesses.
Bonham: Where do you get your energy to keep performing at such a high level night after night?
Tait: Good question. I feed off the crowd a lot. I love to see their faces, singing the words. I feed off their emotions. I want to give that back to them. I want God to speak through me to the crowd. I want to get them excited about their faith. I always want to give it my heart and soul.
Bonham: How do you answer the skeptics that say it's unlikely for a young person to be spiritually impacted in a large concert setting like an arena tour or a Winter Jam event?
Tait: From my vantage point, I know that God uses the band in those settings. There's a song we do called "Home." It's about my mom dying. There are a lot of people that come to our shows who have lost a loved one and they know what I'm feeling when I sing that song. We have another song called "We Believe." That's a powerful song. In those moments, we can feel it. I always encourage the crowd to make that song their creed and then we worship together and give glory and honor to the Creator and the master of the universe. I know that song connects with people. I can just feel it. So I think it's quite possible for people to be impacted in those times.
Bonham: As you got to spend some time getting to know Lecrae during Winter Jam, what are your thoughts on his rise in popularity in both the Christian and general markets?
Tait: Lecrae wants to share his past. He wants to share his heart with people. But trying to reach people on both sides is a very tricky and treacherous trail. I've told him that. You've got to be careful. At the end of the day, he is human. But he has a solid foundation. He has a very sweet heart.
Bonham: After so many years doing this, are you compelled to reach out to guys like Lecrae and other young artists and give them advice on how to avoid some of the pitfalls that come with being a part of the music industry?
Tait: I enjoy that so much. I really do. I'm proud to be that guy. When a young artist asks me a question, I want to do what I can to give them an answer if I have it within me. I know what I know. I won't make up stuff. But if it's something I've been through, I'll share my experiences and tell them the truth.
Bonham: Why is a movie like God's Not Dead so important for this generation?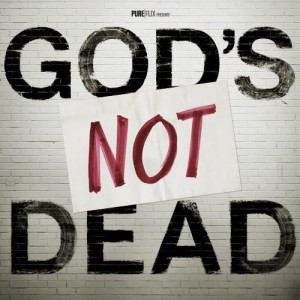 Tait: We need to use outlets like this to help people's lives intersect with Christ. For us, it was an opportunity to take the band out of the arena and out of the church youth group and get into the movie theater where kids can go with their unsaved friends and loved ones. That is powerful. That was the goal of this movie. It's about a college student fighting for his faith in a pretty dark environment, which isn't unlike what's really going on these days. This is the time. We need to shine our lights the brightest in these situations. We're in that day. It's getting darker and darker out there. We need to shine brighter and brighter.
Bonham: Before we wrap up, I want to make sure you remember that I didn't ask you about when dc Talk is getting back together.
Tait: Thank you for that! I'm pleasantly surprised. (laughs)
Bonham: It's probably the first or last question you usually get.
Tait: Every time! Every time! (laughs) I've learned to roll with whatever comes my way. I don't mind the questions. I'm just blessed to be doing this after all these years.
Keep up with the latest from The Newsboys by visiting the official website HERE.