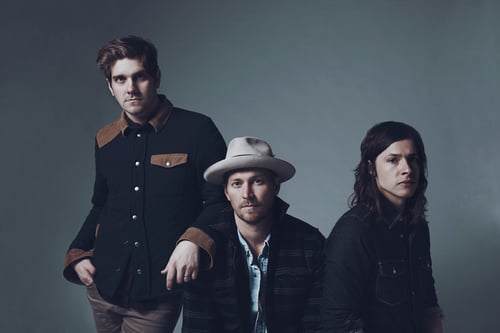 Bear and Bo Rineheart's lives could have gone a lot of different directions. Bear was a star football player at Furman University and was talented enough to pursue a career beyond his college days. Bo appeared in the film Radio and was on the verge of accepting a recurring role in the television series "One Tree Hill."
But having been raised on a church campground in South Carolina where their artistically gifted parents were the caretakers, it seemed only natural that their love of music would dictate the path they would collectively walk. While many might have assumed the Rinehart's band NEEDTOBREATHE would head towards the Christian market, it was actually a unique opportunity from Atlantic Records in 2006 that pushed them headlong into the mainstream.
Since then, NEEDTOBREATHE has released five critically acclaimed albums, has toured with Taylor Swift and appeared on major television programs including "The Tonight Show," "Late Night with David Letterman," and "Conan." NEEDTOBREATHE has been equally embraced within the faith community where the band has won 10 Dove Awards and placed numerous singles on the Christian radio charts.
In this Whole Notes interview, lead singer Bear Rinehart talks about changes the band has gone through over the years, why they have been embraced in multiple markets, and how a rift between him and his brother Bo nearly destroyed it all:
Chad Bonham: How much have you guys changed from the earliest days of NEEDTOBREATHE and in what ways do you feel like you're still the same?
Bear Rinehart: We've gone through some serious changes throughout our career for sure, but I think it's all been a process of trying to get back to who we really are as people. The Outsiders was a record that was kind of a peek into who we are. I think this new record (Rivers In The Wasteland) is the most vulnerable that we've been. It's probably the most true to who we are. I don't know why it's so hard for us to shed some of those layers, whether its production or things that are surrounding the band. But I really think that this record is what we're all about and I do think it's similar to how we grew up and what it would be like if weren't trying to make records and if we didn't have the mics turned up.
Bonham: I've never seen anything like what's happened with this band. Like no other artist, you guys were immediately embraced in both the general and Christian markets and you've been able to play music wherever you want to play without dealing with much criticism from either side. Have you ever been able to figure out how that happened?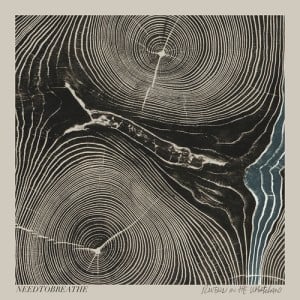 Rinehart: We've been very fortunate in that way. There are a lot of bands that made that possible. Switchfoot was one of the bands that paved the way for that to happen. They fought some battles that we didn't have to fight. We're thankful for that for sure. It was really intentional, in terms of how we approached the early part of our career from a business standpoint. We got offered a lot of Christian contracts when we first came out and we turned those down because we wanted to make sure we set it up the right way and give ourselves a chance to be able to do everything we wanted to do. We made some mistakes along the way. I'd be lying if I said we did it all right. It hasn't always gone according to plan, but at the same time, we've been really fortunate to do what we set out to do, which was make music for as many people as possible. We wanted kids who were like us to enjoy our music, but we also wanted their friends to like our music too. We wanted people that would never go to a Christian store or go to a church to listen to music to be able to get into our music. That's what we set out to do. I think we've been able to keep that dream alive. God put that on our hearts and it's been His plan, which has been amazing to be a part of.
Bonham: You've been pretty open recently about some struggles you and your brother Bo have gone through while working on music and touring together with the band.
Rinehart: It got pretty intense there for a while. We had talked ourselves into believing that it was actually good that we were fighting. It was competitive. We were writing songs. He would write a song and I would try to beat it with another song. It just got to be almost a joke. It was two leaders of a band that were trying to be right all the time. It was really childish when you look at it. In the thick of those things, because our priorities had gotten screwed up a little bit, it made sense to us somehow. The process for making this record was huge for us. We were able to take some time off and look back at the situation. It drove us back to a place where we were ready to quit. We were over it. If this was the way it was going to be, we weren't enjoying it anymore. It was tearing up our family relationship. That's not how we got into this. We got into this because we loved every second of it. We got into this because we love each other. This couldn't be our identity. We do it because God gave us this gift, but it can't be more important than anything else. So we started backing up from that and it's changed everything about how we do things. Our relationship has never been better. There's a song on the record called "Brother." It has a line that says, "Let me be your shelter." We just want to defend each other. We want to be there for each other.
Bonham: But it wasn't like The Police back in the '80s when Sting and Stewart Copeland were getting into fistfights during TV interviews before they broke up.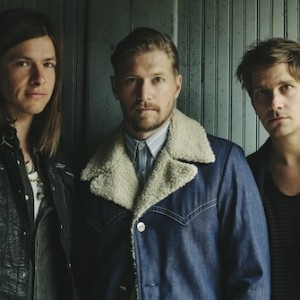 Rinehart: No, it really was like that. It had gotten so bad. We got to the point where we were in different dressing rooms on the last tour. And it's just childish. I can say it in a laughing way now, but it really speaks to how dark of a place we were in. Just like the first track on our record says, we were in a wasteland. "I'm the first one in line to die when the cavalry comes." That's the way it felt at the time. We titled the album Rivers In The Wasteland because we felt like God put a river into our relationship and something had to be done and was done. It was something new and refreshing that God did. He revived us from a dying place. It was a miracle. It really was. It took us a year to make that record that should have taken us three weeks to make. We had all the songs written and next thing you know it's a year later. It just showed what kind of place we were in when we started. It was a God thing. He broke through and changed everything.
Bonham: Anyone can be fulfilling their calling and walking out the path God laid out for them and still somehow wind up getting lost. Is that what happened to you guys?
Rinehart: Definitely. We felt like we had hit the bottom. We felt like we had really messed things up. What you're saying is true. There were a lot of our friends and some other artists that saw us during that time and they would come to us and tell us how our music had impacted them. So God can use you regardless of what you're doing. He can still work through you. That's just a picture of God's grace throughout this whole thing. Even in our darkest times, God was still ministering through what we were doing in an incredible way. He chose not to take this thing from us, which is absolutely unbelievable to me. This process has felt like an absolute gift. We feel incredibly blessed to do what we're doing.
Bonham: After what you guys went through the last couple of years, was it important for this new record to be stripped down and transparent?
Rinehart: I think it was, but I also think people sometimes give us too much credit when they listen to our record and think about the forethought that goes into how a record is going to end up. A lot of times, a record, when you're writing it, is so raw. A lot of the songs are written during those tough times. We were amazed at the end of the process how God put this record together. It was almost prophetic in a way. You know what you're writing about because you're in the situation, but you don't necessarily see the end of the situation and how it's going to tie itself up. Some of the tracks at the beginning of the record are in a really dark place and at the time, to be completely honest, I didn't know what the purpose of putting those songs down was. I just knew that's where I was. That's the real power of the record. It was a real journey being documented. I think you can hear that in the songs. It keeps us humble for sure. It makes us know that we don't have all the answers. God allowed us to finish the process, but it was like He was reminding us that we have to trust Him moving forward. We had to learn while we were making this record. Our best records have been made that way. We couldn't see the end of it before we started and we didn't know how it was going to wrap up.
To keep up with the latest from NEEDTOBREATHE, check out the band's official website: www.needtobreathe.com