When needtobreathe first hit the scene in 2006, I had the chance to interview lead singer Bear Rinehart about the band's beginnings and how he and his brother Bo were impacted by their unique childhood experiences. Now, after steadily growing into a general market force, needtobreathe is walking through huge doors that include last year's touring stint with Taylor Swift and regular television appearances on shows like "The Tonight Show with Jay Leno," "The Late Show with David Letterman" and "Conan."
But the Christian industry has also embraced this artistically pleasing band from South Carolina with six Dove Awards and three more nominations for 2012. Here's that 2006 interview with Rinehart:
Chad Bonham: Tell me about your upbringing.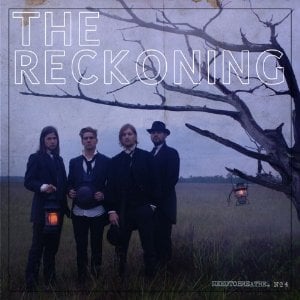 Bear Rinehart: Bo and I grew up in the boonies in a town called Possum Kingdom, South Carolina where my parents were the caretakers of a youth camp. So many kids came over the summer. It impacted who we were culturally. Even though we were in the South, kids came from all over to the camp which was a really good influence. It was a very diverse group of kids. It definitely impacted how we saw the world and how we related that to music.
Bonham: How did being around the youth camp environment impact you?
Rinehart: It's such a meaningful time for people. It's almost like half the people you meet got saved at Christian camp. It was a powerful time to see people's lives changed in a matter of a couple of days or a week. That was also a positive influence on us.
Bonham: Talk about your parents' music background and how that impacted your music.
Rinehart: My mom was a piano teacher and my dad traveled with country artists and southern gospel artists like Roy Clark, Glen Campbell and the Gaithers. He was actually on the old show "Hee Haw." So music was important. It wasn't just something you did for entertainment. I think we really learned to appreciate music in that way. We also learned a lot from our dad when we working on getting record deal. He told us we needed to get our degrees before we could go travel full-time.
Bonham: Tell me about your football playing days at Furman.
Rinehart: At school there was a big triangle between academics, football and music. Academics definitely took the back seat. I did finish school and everything was fine but we have lots of stories from college. Football had to be my number one priority because it was paying for school but I would leave games sometimes on Saturday and drive three hours to play a show that night. The guys at Furman allowed me some leeway. They were all understanding of the long hair and the way I dressed. Football practice would end around 7:30 p.m. I drove an hour to Seneca to practice with the band. We'd practice from 8:30 until 2 in the morning, then I'd drive back to school, get up for workouts at 5:30 in the morning and then crash before going to classes.
Bonham: What are your thoughts on the Christian music industry and why did you opt to pursue a mainstream deal?
Rinehart: We grew up in the Christian market. We have nothing against it. We like it. If anything, I think it was a risk going into the Christian market even though we had a secular deal. We're just being who we are. We're all Christian guys. Those kinds of things come across in the songs. Without us having an agenda, I think these songs naturally flow out of us. These are things we really believe. Hopefully those things do come across on the record. The point of this band is not to fulfill some sort of Christian agenda or a sub-culture agenda. That's not what we're trying to do. But it doesn't take very long for people to figure out that something's different. Hopefully that will be the kind of testimony that this band has. I think that's the only way to be relevant in the secular market today. A lot of people do want to believe in something but they can smell inconsistency a mile away. They totally see through that.
Bonham: How does co-writing with your brother make a difference in the final product?
Rinehart: It's been a big benefit for us because we're not soft on the songs. We went into this record with 60 songs and we got it down to 11. It's a knockdown drag out but usually that's what separates the good songs from the not-so-great ones. I always tell the band, it's easy to make a good song great. It's impossible to make a bad song good. That process is made a lot easier for us because we're so hard on the songs.
Bonham: What is the general theme that tends to come out of your music?
Rinehart: I would say its encouragement. We always feel like one decision can change your life and you can make that decision at any time. It can happen this minute. Everybody makes decisions everyday that affect their life in a negative or positive way. Those decisions really do have big affects even if they feel like their small and now's the time to make that decision.
Bonham: Is there any concern that you will get labeled as the "Christian rock guys" out there on the road in the mainstream venues?
Rinehart: There's always a more artistic and a smarter version of you that you're always worried about meeting. All of us are intelligent guys. We didn't get into this by being idiots. We are cultured. It is a little different when people do get to know us. Hopefully they see that we have thought these things out. Hopefully we're culturally relevant and we're not just walking around oblivious to what's going on in the world and using a bunch of Christian clichés.
Keep up with the latest from needtobreathe by visiting the band's official website HERE.