Click "Like" to share this with your friends!
It's hard to believe, but in a few short months, David Crowder Band will be no more. The wildly popular modern worship band will end its 15 year existence to pursue individual projects and move into new eras of ministry.
Somewhere along the way, while working on its final project (set to release in January), the band messed around in the studio long enough to make its first (and presumably last) Christmas record, Oh For Joy. With that in mind, Whole Notes had a chance to catch up with David Crowder to talk about this "accidental" collection of songs, what he loves about Christmas and some of his favorite Christmas memories and traditions:
Bonham: Most artists at this juncture in their career would have released at least one if not multiple Christmas projects by now. It seems like strange timing to do this at the end of the band's journey. Was it something you felt compelled to scratch off the "to do" list?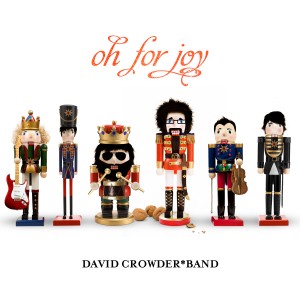 Crowder: It was legitimately accidental. We thought we could avoid the whole thing. It's just inevitable. Any band that has any sort of longevity, and even if you don't, it's just inevitable that you're going to do a Christmas album. We were starting to get stuff ready for this last record. We started writing and had an outline we were going to use to follow. We were headed out on tour the first of this year and put together a mobile studio so we could start tracking stuff and get a start on things. We pulled all the stuff into the green rooms or set it up in the hotels and that kind of thing. We found that every time we were dialing up sounds and getting things ready to go, we'd start to play Christmas songs because it was still towards the front of the year. There was still a chill in the air. It was probably 62 (degrees) outside and it seemed festive. Songs just started popping out and before we knew it, we had enough material and we thought, "You know, if we just spent a little time, not much at all, we've already got an album made." So we went ahead and did it. The funny thing was, we were getting calls from EMI and the powers that be: "Hey how's that album coming along." We were like, "Well (laughs), we've got a Christmas album to send you." They were very surprised and it wasn't in their album release schedule at all. It was pretty funny.
Bonham: What do you love about Christmas?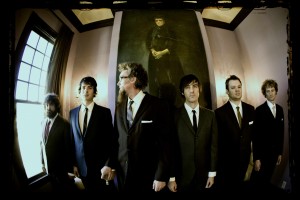 Crowder: I blame the collegiate background I come from, but we're around a lot of people that are, just by nature, skeptics. We live life with a bunch of skeptics. They're very suspect of tradition and Christmas is one of those things that's very easy to poke fun at—Americans and our consumption—and really get down on the whole season because it's so consumption driven. The thing I've reclaimed out of the whole thing is that here we are and we spend so much time and energy and money and oftentimes overextend ourselves to communicate something so simple as, "I really care about you. I really love you. I'd like to get a gift for you. I've thought about it for a while. Here's what I came up with. I hope it's surprising and satisfying in a sense." Underlying the whole thing, the thing that needs to surface is exactly that. There was this gift that was conceived and was thought of and that we all needed. Then after 500 years of silence in the scriptures, suddenly this thing arrives and it's not at all what we thought it would be, but gosh, it's exactly the thing we find necessary and changes the way we live. There's a bit of that I've been able to reclaim. I also think the overarching theme I find so compelling about not just the season but our faith as a whole is hope. To me, everything hinges on hope. That's what makes our life different than people who aren't sharing a similar faith. There's this expectation and hope that no matter how bleak things are or what this life has brought you, there's something better coming. That's the beauty of the season, for me anyway. Out of the silence, it was broken by something as compelling as the Christ.
Bonham: Take me back to in time to when David Crowder was six, seven years old. What is one of your favorite Christmas memories?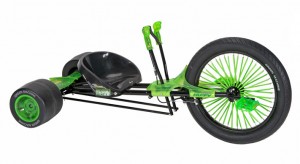 Crowder: Hands down—and talk about consumption (and I didn't even know that word at the time)—it was when I got into my living room in Sleepy Hollow in Texarkana, Texas, and there was what's called a Green Machine, which was like a Big Wheel on steroids. This thing was laid back. It was like one of those reclined bikes with your feet out in front of you and wheels out front. That thing, oh my goodness, I got that thing outside and I can still remember. It was freezing outside. My friends thought I owned that block, and I did for like two days. It was incredible.
Bonham: Do you have a favorite new Christmas tradition?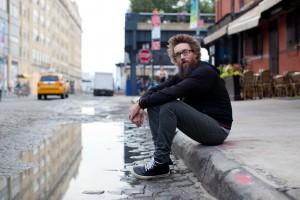 Crowder: I do have a new tradition that (my wife) Toni and I started when we shared our first Christmas together. We got married in March and then Christmas rolled around. Neither of us had grown up in a home where you could get a real live Christmas tree. So we went to this little Christmas tree lot down by Lowe's and we picked us out the most gorgeous tree ever. We took it to the house and we were living in a tiny little duplex at the time and it didn't fit. It was too big, and we loved it. It was monstrous for the room and just perfect. We had like all of six ornaments on it and just looked pristine. We get to the end of the Christmas season and we cannot bring ourselves to take the tree down. This thing stays up until literally March again. We were looking at each other one day on the couch and the tree is just dead and I say, "We really need to throw this thing out." We start getting into this discussion about the mess it's going to make when we take it out of the house. We're both right. It's going to be a massive cleanup. I finally talk us into it and I get her to help. We're squeezing this dead tree through the front door. All manner of nonsense is falling off it. And looking out right in front of our porch, we see the tree trimmers are on the street trimming all of the trees above the power lines. Wouldn't you know, there's a wood chipper right on the back of this truck. We walked this thing right out of our house and into the back of this wood chipper that we've asked permission to use. So our first tree is going to die an immediate death. And so right at the last second, I asked the guy, "Would you mind shaving off the bottom off the trunk of this tree?" He cut off a little sliver of it and we labeled it "Our first Christmas." And ever since, we've always taken the bottom little sliver off of the tree and we keep track of our trees throughout our life. Every year, I'm most excited about getting the last sliver of the tree.
Stay tuned to the latest David Crowder Band news by visiting the official website HERE.