Click "LIKE" to share this with your friends!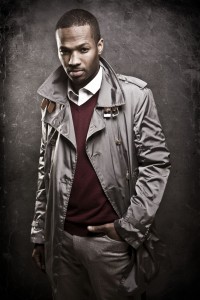 For nearly a decade, Deshon Bullock has been a mainstay of Tobymac's ridiculously talented and equally energetic band affectionately known as The Diverse Citizens. Of course, fans know him better as the dancing, rapping, singing, hat-wearing, back-flipping guy who shares the stage with fellow band members Gabe Real and Nirva Ready.
But moving forward, Shonlock hopes to become known for a solo career that's in the process of taking off and reaching heights unknown. With an impressive resume previous to his days with Tobymac that includes work with the late Aaliyah, Arrested Development and Grits, the multi-faceted artist has already made significant waves with hits songs like "Something In Your Eyes" and "Hello."
In this Whole Notes interview, Shonlock opens up about his spiritual conversion, how working in the mainstream urban music industry shaped his career, why it's taken so long for his first full-length record to be released and how he hopes to be part of a revolution in the Christian market:
Chad Bonham: Did you have any sort of spiritual upbringing when you were a kid?
Shonlock: My mom would drop me off at my grandma's house on the weekend and she would take me to church on Sundays but I never really had a relationship with God. It wasn't something that was real to me at that age.
Bonham: How did you get into the urban music scene?
Shonlock: I was young and ambitious and had the gift of dancing. I tried out for different things and the gift opened doors for me. There was a thing on the radio that said they were holding tryouts for a crew to dance with R. Kelly's new artist named Aayliah. So I went to the citywide audition and I made the second audition. And then I started flying back and forth between my hometown of Chicago and Detroit. I was a senior in high school and everybody was talking about it, so it was pretty crazy.
Bonham: When did things start to change for you spiritually?
Shonlock: One of my friends that I hung out with, he never said he was a Christian but we kind of knew he was. He ended up moving to Nashville and ended up managing Grits. He came back from Nashville and he asked me to come out and work with them. He came at an angle and I didn't know it was a Christian hip hop group. So I went out there and did the work and did some stage choreography for them. That's how I met Knowdaverbs and he presented the Gospel to me over a period of time. It changed my life right there. He was telling me these things I'd heard before, but he brought me back to where I needed to be. It was an amazing thing. I had a façade like most hip hop guys where everything is tough and hardcore. It kind of broke down that whole façade. It was an interesting moment. I'm crying and I'm trying not to cry and I'm laughing because I'm crying. It was so weird, but it was amazing.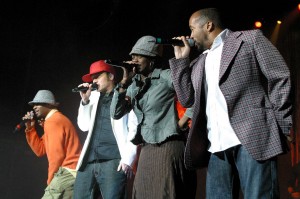 Bonham: It's interesting how you started your Christian music journey with Grits who started out as dancers for dcTalk and then you eventually ended up dancing and singing with Tobymac.
Shonlock: Yeah, I was with Toby for nine years. I think (my work with Grits) is what drew (his group) to me—my experience as a hip hop dancer and choreographer. They appreciated that and wanted to bring it into what they were doing. It's very interesting how it all linked together. The story is crazy because even before I was really saved, I was in Grits video for the song "All Fall Down." I had gone back to Atlanta for a period of time and I wasn't really living a Christian lifestyle but there were people who recognized me from being in that video. It was like God was continuously reminding me. It was the weirdest thing. It kind of followed me around.
Bonham: Did being around Toby and the band during those early days of your faith walk help you to grow spiritually?
Shonlock: Oh man, yeah definitely. The biggest difference came through my friendship with Knowdaverbs. He was a young guy who was into the same kind of music style I liked. He was into the same hip hop culture. I'd never seen anything like that with a young guy. My friends at that age were trying to drink and smoke and go clubbin' and that was the thing. So to see someone who was actually living the Christian walk at that age and still enjoyed the music and the art forms that I enjoyed was really cool and I thought, "Man, I can really do this." (Former Grits DJ) Ric Robbins was really firm and solid in the Word. That made a big impact on me and helped me get into the scripture. And when I got to be around Toby a lot more, that helped me with the industry stuff and things to do and things not to do and how to handle different situations and people—making sure there's both ministry and respect for the art form. There are some people who don't believe in entertainment if you're a Christian artist. But I think it's a good thing for it to be entertainment at the same time. People are more open to receive something from you when they're already interested in what you're doing.
Bonham: Can you point to any experiences from your time in the general market that have helped you bring something different to your work as a Christian artist?
Shonlock: I think the main thing was professionalism and being a perfectionist and mastering your craft. When I went into those auditions, a lot of those dancers were like 5-5, 5-6 or 5-7. Me being a little taller—I'm almost six-feet—I had to match the levels of those other dancers. My instructors were sticklers about movements and really trying to make sure that everything was precise. That was one of the things that really stuck with me.
Bonham: Is it just as exciting to go on the road now as it was when you first started traveling with Toby or does the grind and being away from home ever start to wear you down?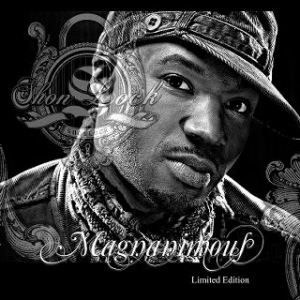 Shonlock: For me, now doing more of my own solo thing, it's been crazy. When I go out with the band, it's fresh. When I was first going out with Toby, I was eager to get out there and dance. Toby was the first guy who offered me the microphone and the opportunity to say something. He was one of the first people to recognize that I could sing and rap at the same time. When I was with Toby, I did my own EP called Magnanimous and was selling it around and by the end of that tour I had sold over 15,000 CDs. First it was a test to see if it was something for me. It was a confirmation for me that it was something I could do. It took a while to get to a full understanding of complete ministry. I really just wanted to show people the gift that God had given me. A lot of times it was just to entertain, but when I got the opportunity to tour with Skillet and Toby and be an opening act, that's when I started to feel a pressure and a burden to use that platform to say something that edified the Body instead of just entertaining the Body. That right there is where a major shift came in what I do and the balance of entertaining and doing ministry came together. It's been amazing to do a lot of shows on my own and experiencing how it feels to share the Gospel and lead someone to Christ through the music. That's one of the most important things we do.
Bonham: There's been so much talk about what's been going on with your solo career and why it's taken so long to finally see a full-length label release out there. What's the story behind the lengthy delay?
Shonlock: After I did that CD that sold 15,000 copies, record labels started to come after me. Everybody wanted to sign me and I was eager and excited. I ended up signing my first deal with Word Records. It wasn't the right fit. God had something different for me, but at the time I was just excited to get my music out. They didn't understand my music and the direction I wanted to take it. I really wanted the label to push me to more than just the CCM market. I wanted to be in the Gospel market and I wanted to be in the general market so I could affect more people all around. They weren't interested in that. So we decided to part ways and they shelved my record and I sat still for a couple of years and just tried to reevaluate if this is what God wanted. I thought it was but it just took time. There was some learning that needed to happen. I needed to find out what my goals were and what my mission was. After some quiet time and just seeking the Lord, He brought some people to the table that understood where I was trying to go. It was weird because I got a call out of the blue asking me if I still did music and they told me I should check out this label in Atlanta called Arrow Records. So I prayed about it and did some reading and I gave them a call. God told me I was going to be signed to their label before they knew. When I called them, I could just feel like something was going to go down, but they weren't signing anybody at the time. So I went from there and just waited. They saw my show and they saw me with Toby. And then they came back and said, "What do you want to do?"
Bonham: What was the process that led to the songs for this new record?
Shonlock: I looked at some things that were supposed to be on the Word release and revamped them and I got some new producers. There was a growth in me musically between the EP I produced and the new songs for Never Odd Or Even. At first I just did straight-up rap. Even though I could sing, I didn't really mix anything and I wasn't really into rock. But after my experience of being around what it's like live and on-stage, it was just crazy. And when you grow in music, things just change. As I matured, the things that I liked influenced the music I wanted to make. That's why I ended up with an album that's so eclectic. You have some acoustic vibes. You have some pop vibes. You have some stuff that's rock and guitar driven. It was learned a lot about myself.
Bonham: What are some of the songs on the record that you've seen resonate with your audiences?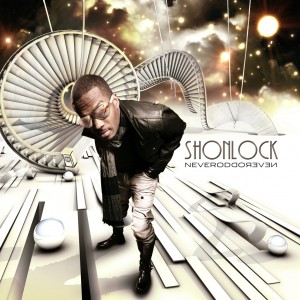 Shonlock: "Something In Your Eyes" has really taken people in. I thought it was a cool song but I didn't know it would be as big as it is. It was #1 for a month straight and people are always talking about that song. But another song that people seem to like is the song "Scarred." It's a parallel between a relationship with a person and your relationship with God and how sometimes you fall short in your relationships with people and how that affects your relationship with God. It's a pretty intense song. People ask me all the time if it was based on something personal and it's not. But it was written from the standpoint of people going through relationships that didn't really work out. "Cheers" is another one. There are a lot of people that have experienced alcoholism in their family. My situation was with my mother. "Cheers" is a song that ministers to a lot of people that understand that struggle. I was young when I saw my mom go through that and the song talks about how it affected me and how in hindsight I affected her through that process and how she was restored. Those are a few songs that people dig. They may not all end up being radio singles, but they are impacting people.
Bonham: How much of your experience with your mother are you able to use in your testimony to reach people?
Shonlock: I think all life situations are built for you to be able to share. What you share about how you've overcome in some area in life, it helps someone else believe that they can make it through whatever situation. You can give them some insight into how to pick up the pieces from whatever's been broken.
Bonham: What do you think your role is going to be in helping diversify the Christian music industry and what else needs to happen for that kind of revolution to happen?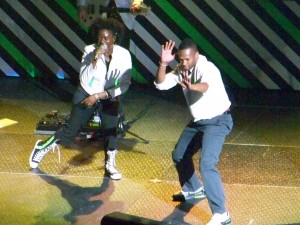 Shonlock: A lot of the (Contemporary Hit Radio) stations are pushing us out there and I definitely need to give a shout out to all of them for really making the turn. There aren't as many of those stations as there are (Adult Contemporary) stations. So when you think about it, if you do a #1 song on the CHR chart, you reach maybe 400,000 people. But if you do an acoustic AC song that sounds similar to Chris Tomlin or Brandon Heath, those stations reach four million people. What's happening in the industry is there are a lot of people that are trying to make those types of songs because it gets them exposure to a whole lot more people. It kind of sucks because you get a lot of people that sound cookie-cutter. What probably needs to happen is there needs to be more CHR stations and some of the AC stations need to give the younger people some of that platform. Either way, it's going to happen on its own. When you think about people like Lecrae, he doesn't have any radio play. It just shows you how bad the kids want it and how bad the people want it. Without any radio success, he's selling a lot of records. He's doing a lot of concerts. He's selling out concerts on his own and doing two concerts in one spot. People want to hear that kind of music. His ministry is on point too. It's an unstoppable force. But it's going to happen. It might not get all of the spotlight in the Christian market, but if it doesn't, the mainstream market is going to take notice of it and it's going to happen over there. I just really wish that we would embrace the people and different music styles over here early because it's going to blow up either way. And once it happens in the mainstream side, then all of the Christian people are going to be like, "Oh yeah, we supported them. That's our group." But it happens like that. The same thing happened with P.O.D. It goes big in the mainstream and all of the sudden the Christian market wants them to headline all the festivals. It's a balance, but people just have to keep at it and God's going to open doors. You can fight it or you can make your own way.
Stay up on the latest news from Shonlock by visiting his official website HERE.