Click "Like" to share this with your friends!
If you haven't heard about Marc Martel—the latest YouTube sensation—you are increasingly becoming a part of the minority among Internet users. Check out this video in case you haven't seen the incredible performance:
What many of the four million or so to watch his entry into the Queen Extravaganza contest may not know is that Martel fronts a veteran Christian rock band called Downhere and has been doing so for the better part of 10 years. You can check out a recent music video from them a little later on in this interview.
Earlier this week, Whole Notes had a chance to catch up with Martel to talk about the unexpected response to his rendition of "Somebody to Love," his appearance on "Ellen," what his band thinks about the overwhelming notoriety he has received, and what would happen should he be selected for the 2012 summer tour:
Chad Bonham: How have people inside the Christian music industry and the Christian community in general reacted to your sudden rise in popularity?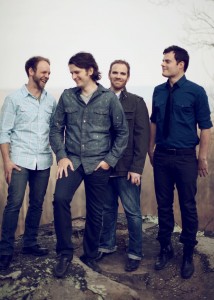 Marc Martel: I've been blown away by how supportive everyone's been. As soon as this started to blow up, I started getting a little anxious. "Oh no. What are people going to think?" But there's been so much support from the Christian community. People are telling me they're praying for me. They're proud of me. They're thankful for the things I've said in the mainstream media. I have to give the glory to God for that. I am not the spokesperson for the band. Jason (Germain) has always been the guy with something to say. But I've talked through, with him, how to handle the tough questions and I think it's an amazing opportunity for the Gospel.
Bonham: We've seen in recent years where bands like P.O.D., and Switchfoot weren't as popular in the Christian industry until after they experienced mainstream success. There's a good chance that your situation will cause some people to take a second look at the band. Would you meet any newfound support with cynicism or with an understanding that this is all about divine providence?
Martel: It's easy to get jaded about that whole thing, but what are you going to do. You're a musician and you live and die by people responding to your music. It's a business just like anything else and if people don't like your music, that's kind of your problem. I'm trying to take that whole thing with a grain of salt. If the Christian community responds to our music better because maybe we gained a little more credibility in the mainstream then, it's not ideal, it's not fun, it's not sexy, but I'll take it. I'm the worst critic about music myself. I hardly ever, every like something the first time I listen to it. So I've got to put myself in other people's shoes. And Downhere's sound doesn't sound like what's popular in Christian music. We've got a little bit of criticism lately that our sound is maybe a little bit dated because maybe I sound like Freddie Mercury. But I can't change that about myself. People just seem to like more of the Baritone, nice soft voice these days. That's not me. I just keep doing what I'm called to do and hope that it's enough.
Bonham: What was your first introduction to Queen and how long have you been a fan?
Martel: Of course I always knew "We Will Rock You" and "We Are The Champions" and all those. But my real introduction to Queen the band and knowing who they were was the movie Wayne's World like a lot of people in my generation. I bought a couple of their greatest hits albums and really got into their music over the last 10 years. But yeah, I'm a fan.
Bonham: At what point did you figure out that you had a strong vocal resemblance to Freddie Mercury?
Martel: People have been saying that for about seven or eight years now—that I sound like Freddie Mercury—no matter what I do. Even when I try to not sound like him, someone will say, "Hey, has anyone told you that you sound like that guy from Queen?" I guess I just have the same vocal structure or something. I can't escape it.
Bonham: Did you enter the Queen contest with any expectations?
Martel: I tried to present myself as much "as is" as possible. That's kind of how I went into this whole thing mentally. I tried to keep my expectations really low and not try to hype myself up at all or psych myself out—even down to not cleaning my room. It was really intentional and I really just wanted to sing the song and not dress up or do my hair or anything. I did leave the mustache though.
Bonham: What has been the band's reaction so far?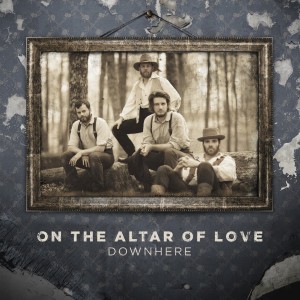 Martel: They are so pumped about it. We've been looking for, as a band, a way to broaden our borders and think outside of the Christian music box a little bit and not be so dependent of Christian radio. That's always been a little bit of a struggle for us. We have had some success, but we've always been a band that's been under the radar. That makes it so we have to work a little harder. The band is loving it. This Queen thing is not really interfering with our schedule anyway. It works to our advantage. Any good that comes out of it is going to help Downhere.
Bonham: It was fun watching your appearance on "Ellen" and seeing your wife's excitement.
Martel: It's been a crazy year for the two of us. We got married last November so it's been a huge adjustment year for both of us. It's been beautiful. We have a great relationship. We're loving being married. And if this had happened eight months ago, it probably would've been a lot tougher on us because we were really newlywed and kind of finding our rhythm. But this is happening at a really good time. And my wife is such a huge "Ellen" fan. She was over the moon when she found out I was going to be on the show.
http://www.youtube.com/watch?v=-FMlDcEOjF0
Bonham: How do you feel about the new album and where it positions the band as you hopefully are getting fresh sets of eyeballs looking your direction?
Martel: We've always been the band that's not afraid to appropriately, I believe, point fingers within the church and point out problems that we all run into and the traps we all fall into, especially as Christians, and using this alien language that no one outside the church can understand. This was actually an album where we decided not to do that. We cranked out something that's more joyful than other music we put out in the past. It's more positive and it's focusing on the excitement of discovering who God is; like the song "Let Me Rediscover You." I'm so glad I wrote that song, especially now that we have more of a national platform for people to hear a song like that so God can be revealed in a fresh, new way.
Bonham: What was the inspiration behind that song and how do you hope it impacts listeners?
Martel: I think my mom said it best when she first heard the song. She said, "Oh this is the perfect song to start my day with." She's a very dedicated morning devotions person. She reads her Bible every morning. And I think the song is kind of a morning prayer. "God let me discover you in a fresh new way because You are eternal. There's so much about You that I don't know." It's a humbling prayer that allows God to speak into our lives and blow away our expectations of how He works and who He is. The song is kind of inspired by the second verse in the Bible where the Spirit of God is hovering over the waters and creation. To me, it's a beautiful picture, and at the same time it's so mysterious. What does that even look like?
Bonham: It seems like you guys enjoy playing off the fact that you have two lead singers with differing vocal tones.
Martel: Yeah, we are definitely two distinct writers in the band. We love to write parts for each other. That sets us apart a little bit, us having two lead singers with such different styles. When they come together, it kind of creates a whole new thing.
Bonham: I was interviewing Matt Maher last week and your story came up in the conversation. One thing he said about you was how unaffected you seemed to be by all of the craziness surrounding this whole situation. Do you feel unaffected by what's happening and if so, how are you managing it?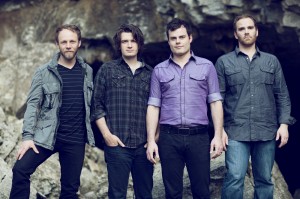 Martel: The thing is, we've all seen what fame does to people. We've all seen how long it lasts. I kind of feel like I know what to expect. It's not going to last for a long time, and probably this hype thing, I wouldn't be surprised if no one's talking about it in a week. And I'm totally okay with that. I feel like I have a pretty good way of looking at it. I know how limited and how fleeting fame is, so I just try not to get excited about it, honestly. I think my wife wishes I was more excited about it. She's the kind of person who doesn't hide her emotions at all. I probably need to be a little more excited about it than I've actually shown.
Bonham: For the guy who's fought the comparisons to Freddie Mercury, you've got to think this situation shows that God has a pretty good sense of humor.
Martel: Absolutely, and I think the last 10 years have been a preparation for me to be able to handle this. I don't think I could've handled this 10 years ago. God's moving in this very obviously.
Bonham: If you win this contest and get the chance to tour next summer with the Queen Extravaganza, how would you expect God to use you to impact others?
Martel: Obviously I would be working for Queen and obviously I'm not going to be preaching on stage or anything like that. I really believe that any influence this would have for the Gospel, God is going to be handling that. All I can do is be faithful with my gift, be faithful with anyone I talk to and let love be my guide and just be gracious with people. God will take care of the rest. I really believe that.
To stay up on the latest news from Downhere, visit the band's official website by clicking HERE.