Click "Like" to share this with your friends!
Building 429 and Leeland to co-headline "Sounds of Hope" Tour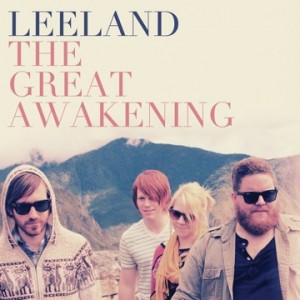 Provident Music Group label mates Building 429 and Leeland kick off the 30-city "Sounds of Hope" Tour later this week along with special guest Royal Tailor. The tour launches on September 22 in Paris, Texas and continues throughout the fall until its conclusion on November 13 in Mequon, Wisconsin.
In partnership with Food for the Hungry, the tour will feature three bands with 2011 album releases. Earlier this year, Building 429's title track "Listen to the Sound" found its way to the #1 spot on Christian radio while Leeland's latest, The Great Awakening, goes to retail tomorrow. Royal Tailor's album Black & White has spawned the hit song "Hold Me Together" and has poised the pop/rock band to be one of the industry's next big things.
" We're really excited about going on the road because during the days we're going to have prayer meetings with people in the community and cry out to God," Jack Mooring told Whole Notes. "We're excited about what the next few months hold as we walk this record out."
Keep up with the latest from Building 429 by clicking HERE.
For Leeland news, visit the band's official website HERE.
And stay up on Royal Tailor by clicking HERE.
To read the Whole Notes interview with Royal Tailor, click HERE (Part 1) and HERE (Part 2).
You can also read the Whole Notes review of Royal Tailor's Black & White by clicking HERE.
Check back later this week for the Whole Notes conversation with Leeland, and next week we'll have a recent interview with Building 429 lead singer Jason Roy.
Upcoming Releases (September 20)
NEEDTOBREATHE – The Reckoning (Atlantic/Word)
Big Daddy Weave – The Ultimate Collection (Word)
Matt Maher – The Love In Between (Essential/Provident)
Rita Springer – The Playlist (Integrity/Provident)
Various Artists – Word: Six Decades Of Hits (Word)
Leeland – The Great Awakening (Essential/Provident)
Jamie Grace – One Song At A Time (Gotee/Provident)
Jeremy Riddle – Furious (Vineyard/New Day)
Gungor – Ghosts Upon The Earth (Brash Music)
Thrice – Major/Minor (Universal/EMICMG)
Victory World Music – Shake Heaven (independent)