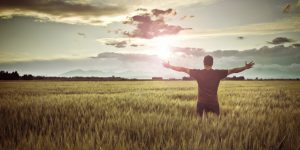 If you have ever found yourself in need, you know what it is like to want, not to mention, long for clarity in your life. All you can think about is getting through the valley of the shadow of death, and wanting it to be over. You want it to be over so that you can breathe again, right? How many times when you go through a valley do you start to feel as though the darkness is suffocating you? If you answered yes to that question, you are not alone. Many of us have felt that way. Are you in a time of great need right now?
You know that there will be dark times in your life, but you also know that those dark times will end. You might be stuck in the darkness for now, but His joy will always return to your heart. Think about it like this, whenever you go through a hard day at school or at work, you know that the troubles of that day will end when you get out of that class for the day, or when you head home from the office for the day.
How many times do you think that you just can't wait for a specific task during the day to be over? Rather than dwelling on how much you want it to be over, say to yourself, "I'll use this as fuel to get through my day, no matter what it brings me." After work, or after school I'll get to (name something that you want to do.)
Or you can use something the thought of seeing your significant other, family member, or best friend after a long day at work or in school as fuel to get through any trouble at work or at school. Tell yourself that you can get through the issues and then you'll get to spend time with the people you love. It might just inspire you to work even harder to accomplish your goals for that day.
Whether it's rewarding yourself with a Starbucks drink for persevering through a hard class, or a hard day at the office. Maybe you reward yourself by watching a funny movie or TV show at home and just relaxing on the couch with your favorite food. There is nothing wrong with having downtime after a long day. It is something we all need to give ourselves. We need that time to rest and recoup. Not to mention, unwind after a long day.
What do you d to get through those hard days? Do you start your day by reading God's word or do you jump right into the responsibilities that each day throws at you? It can be very difficult to remember to schedule alone time with God n the midst of your busy day, but remember, God always wants to hear from you, no matter what you might be doing. It can even help your day start off better if you start it with God tie. No one is saying that you have to get up at 4 a.m. or even 5 a.m. to devote two or three hours to God before you go to work. However, if you choose to devote two to three hours to spend with God, that's great too.
Here are some Bible verses that can help you get through your day.
John 16:33 "I have told you these things, so that in me you may have peace. In this world, you will have trouble. But take heart! I have overcome the world."
John 17:13-18 "I am coming to you now, but I say these things while I am still in the world, so that they may have the full measure of my joy within them. I have given them your word, and the world has hated them, for they are not of the world any more than I am of the world. My prayer is not that you take them out of the world but that you protect them from the evil one. They are not of the world, even as I am not of it. Sanctify them by the truth; your word is truth. As you sent me into the world, I have sent them into the world. For them, I sanctify myself, that they too may be truly sanctified.
2 Corinthians 12:9 "My grace is sufficient for you, for my power is made perfect in weakness."
Philippians 4: 12-13 "I know what it is to be in need, and I know what it is to have plenty. I have learned the secret of being content in any and every situation… I can do everything through him who gives me strength."
2 Thessalonians 3:3 "But the Lord is faithful, and he will strengthen and protect you from the evil one."
Deuteronomy 31:6,8 "Be strong and bold; have no fear or dread of them, because it is the Lord your God who goes before you. He will be with you; he will not fail you or forsake you. Do not fear or be dismayed."
2 Thessalonians 3:16 "Now may the Lord of peace himself give you peace at all times and in every way."
May these verses help remind you that spending time with God will only strengthen your relationship with Him. May you turn to Him and embrace His strength in your moments of need.