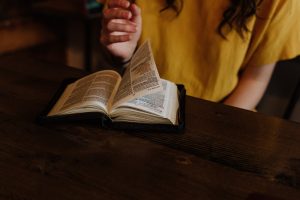 What do you do to combat your anxiety? Do you exercise, swim, blast rock and roll music or any type of music? Do you sing, watch a funny TV show or watch your all-time favorite movie for the 1,000th time? Have any of those things actually helped calm you? Have you ever prayed during an anxiety attack? Did it help you refocus on the bigger picture in your life, that you're blessed even if you feel like you're sinking? How about reading the Bible in the midst of an anxiety attack? Reading the Bible can be a hard thing to do especially in the middle of having an anxiety attack. However, here are some Bible verses that you can read and remind yourself of, in case you need them.
Luke 12:22-26 " Then Jesus said to his disciples: "Therefore I tell you, do not worry about your life, what you will eat; or about your body, what you will wear. For life is more than food, and the body more than clothes. Consider the ravens: They do not sow or reap, they have no storeroom or barn, yet God feeds them. And how much more valuable you are than birds! Who of you by worrying can add a single hour to your life? 26 Since you cannot do this very little thing, why do you worry about the rest?"
Psalm 27:1 "The Lord is my light and my salvation—whom shall I fear? The Lord is the stronghold of my life— of whom shall I be afraid?"
Psalm 55: 22 "Cast your cares on the Lord and he will sustain you; he will never let the righteous be shaken."
Deuteronomy 31:6 "Be strong and courageous. Do not be afraid or terrified because of them, for the Lord your God goes with you; he will never leave you nor forsake you."
Isaiah 41:13-14″For I am the Lord your God who takes hold of your right hand and says to you, Do not fear; I will help you.  Do not be afraid, you worm Jacob, little Israel, do not fear, for I myself will help you," declares the Lord, your Redeemer, the Holy One of Israel."
Psalm 118:6-7 "The Lord is with me; I will not be afraid. What can mere mortals do to me? The Lord is with me; he is my helper.  I look in triumph on my enemies."
1 Peter 5:6-7 "Humble yourselves, therefore, under God's mighty hand, that he may lift you up in due time. Cast all your anxiety on him because he cares for you."
Philippians 4:13 "I can do all things through Christ who gives me strength."
Philippians 4:6-7 "Do not be anxious about anything, but in every situation, by prayer and petition, with thanksgiving, present your requests to God. And the peace of God, which transcends all understanding, will guard your hearts and your minds in Christ Jesus."
Psalm 34:4 "I sought the Lord, and he answered me; he delivered me from all my fears."
Psalm 34:7 "The angel of the Lord encamps around those who fear him, and he delivers them."
Psalm 56:3 "When I am afraid, I put my trust in you."
Jon 14:27 "Peace I leave with you; my peace I give you. I do not give to you as the world gives. Do not let your hearts be troubled and do not be afraid."
2 Timothy 1:7 "For the Spirit God gave us does not make us timid, but gives us power, love, and self-discipline."
1 John 4:18 "There is no fear in love. But perfect love drives out fear because fear has to do with punishment. The one who fears is not made perfect in love."
Psalm 94:18 "When anxiety was great within me, your consolation brought me joy."
Isaiah 43:1 "But now, this is what the Lord says—he who created you, Jacob, he who formed you, Israel: "Do not fear, for I have redeemed you; I have summoned you by name; you are mine."
Proverbs 12:25 "Anxiety weighs down the heart, but a kind word cheers it up."
Psalm 23:4 "Even though I walk through the darkest valley I will fear no evil, for you are with me; your rod and your staff, they comfort me."
Joshua 1:9 "Have I not commanded you? Be strong and courageous. Do not be afraid; do not be discouraged, for the Lord your God will be with you wherever you go."
Mathew 6:34 "Therefore do not worry about tomorrow, for tomorrow will worry about itself. Each day has enough trouble of its own."
Isaiah 35:4-8 "Say to those with fearful hearts, "Be strong, do not fear, your God will come, he will come with vengeance; with divine retribution, he will come to save you.5 Then will the eyes of the blind be opened and the ears of the deaf unstopped. Then will the lame leap like a deer, and the mute tongue shout for joyWater will gush forth in the wilderness and streams in the desert. The burning sand will become a pool, the thirsty ground bubbling springs. In the haunts where jackals once lay grass and reeds and papyrus will grow. And a highway will be there; it will be called the Way of Holiness it will be for those who walk on that Way."
Hopefully, all of these verses can and will help your anxiety lessen. My prayer is that anxiety disappears for you completely.