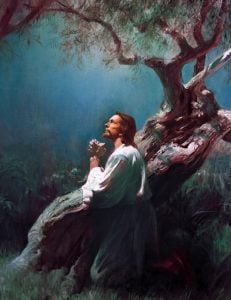 Remember the story of Jesus being tempted by Satan while He was fasting in the wilderness?
Mathew 4: 1-11 says, 1 "When Jesus was led by the Spirit into the wilderness to be tempted by the devil. 2 After fasting forty days and forty nights, he was hungry. 3 The tempter came to him and said, "If you are the Son of God, tell these stones to become bread." 4 Jesus answered, "It is written: 'Man shall not live on bread alone, but on every word that comes from the mouth of God.'5 Then the devil took him to the holy city and had him stand on the highest point of the temple. 6 "If you are the Son of God," he said, "throw yourself down. For it is written:" 'He will command his angels concerning you, and they will lift you up in their hands so that you will not strike your foot against a stone.'[c]"7 Jesus answered him, "It is also written: 'Do not put the Lord your God to the test.']"8 Again, the devil took him to a very high mountain and showed him all the kingdoms of the world and their splendor. 9 "All this I will give you," he said, "if you will bow down and worship me." 10 Jesus said to him, "Away from me, Satan! For it is written: 'Worship the Lord your God and serve him only.'11 Then the devil left him, and angels came and attended him."
Jesus was again tempted by his own disciple Peter, twice. He actually called Peter Satan because he said that Jesus would never go to the cross. He said straight to Jesus' face, "never Lord. This will never happen to you." Jesus replied, "get behind me Satan!"
The whole story is found in Mathew 16:20-23:" From that time on Jesus began to explain to his disciples that he must go to Jerusalem and suffer many things at the hands of the elders, the chief priests and the teachers of the law and that he must be killed and on the third day be raised to life. 22 Peter took him aside and began to rebuke him. "Never, Lord!" he said. "This shall never happen to you!"23 Jesus turned and said to Peter, "Get behind me, Satan! You are a stumbling block to me; you do not have in mind the concerns of God, but merely human concerns."
That's a pretty bold claim to make and I'm sure it got Peters attention as much as it does anyone who reads that story and hears it told in church. The fact that Jesus was comparing His disciple to Satan and his henchmen or minions, if you will, is a scary thing to think about. He was telling Peter that he was trying to tempt him to not go to the cross and not die for all of our sins. Then as if the first time of Jesus telling Peter to not tempt him to not go to the cross wasn't bad enough, during the visit to the mountain for Jesus transfiguration Peter again attempts to delay Jesus going to the cross by telling him that he will put up three shelters. One for Jesus one for Elijah and one for Moses. They surely must have been celebrating seeing Jesus in all His glory. Who wouldn't be completely stunned if they saw something like that? They literally saw Jesus get transformed into the triune God before their eyes.
Anyone of us would fall to their knees in awe at that sight. It would be wrong if we didn't fall to our knees in the sight of our heavenly father and at the sight of Jesus. He let the disciples see that sight as a privilege. He also told them not to tell anyone what they saw on the mountaintop. How hard that must have been for them to not tell anyone what they saw. But the amazing and ironic thing about Peter wanting to build the three shelters was the fact that He wanted to stay on the mountaintop, not only to enjoy the view and be a witness to one of the coolest things to ever see, (Jesus' transfiguration). He also wanted to delay what was going to happen. He wanted to delay Jesus having to go to the cross. He was excited and told Jesus that it was good for him, James and John to be on that mountaintop. He may have never thought that he was acting selfishly though either. When we want to stay and enjoy something, whatever it may be, it hardly ever crosses our minds that we are acting for ourselves and not for the good of others around us.
Peter probably didn't even mean it in that way either. He probably just wanted to stay there with Jesus longer. But then again, after witnessing something that awesome, I think we can all agree that we would want to stay up there on the mountain with Jesus too. After all you can't go up on Mount Sinai and not come back down a changed person.
The fact is that Jesus let them see that sight in order to change them. Think about your life. What sight has Jesus let you see that has changed you?