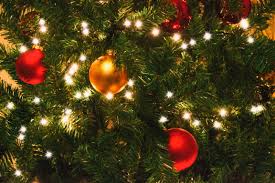 As Christmas comes around again this year, it is important to remember the reason for the season. Jesus is the main reason for the season and the true spirit of Christmas. Without Jesus, there isn't a reason for the season. Jesus came down from Heaven and gave himself for us selflessly. He was born humbly, and we can learn a thing or two from Him. We can learn to love others as much as He loves us. We can learn to be as humble as He was and is. We can also learn to be as kind-hearted as He was. We can learn how to be better people and how to be there for the sick, homeless and others that are in need. We can give to charity and help out at church. We can also help our families decorate their trees and their houses.

Sing the songs that mean the most to you during Christmas. Don't care who hears you. Sing your heart out and enjoy yourself. Make fun of the funny Christmas songs such as the "12 Pains of Christmas". Have fun singing the songs by yourself or with a choir or your friends. Don't be afraid to belt out one of your favorites.
God loved us enough to send Jesus to save all of us. No one loves us more than He does. The spirit of Christmas is the spirit of love that we should carry in our hearts all year round. We should carry love and faith in our hearts and in our lives every day. Instead of being so stressed out about the season and everything it does to us and causes us to do, we should keep our eyes focused on God.
Focusing on the true reason for Christmas- Jesus and His birth should be the main focus for this season every year. Focus on the blessings that you've gotten throughout the year instead of thinking about how much you have to do or how much money you have to spend. When you focus your energy on being positive then it is hard to be negative. Wouldn't you rather find something to be thankful for during this season instead of being upset about everything in life? Figure out what you're thankful for.
Christmas is supposed to be a time of celebration and of peace. The true celebration of peace and Earth, through the coming of the Savior Jesus Christ. There should also be peace in our hearts and our minds and within our families.
No matter how hard the holiday season may be for people, remember to encourage them to look back on the good memories they have had with those who have passed on and gone before them. Missing people during the holidays is very common and it is completely natural to feel depressed during some of the season. But don't let anyone wallow in sadness because life is too short for that. Remind people who are grieving the loss of someone they love, that the person is waiting for them at the gates of Heaven. Remind them to live their lives in memory of the person they lost. Remind them to have fun in honor of the person they've lost. Tell them they can have fun during this season to honor the person's memory and keep the person's memories alive. If you know that person who passed on, tell the person who is grieving something special that you remember about them. Remind them that they will see them again and that they're loved by God and you and the others around them.
Have fun with everyone in your family instead of stressing over who is hosting Christmas dinner. Instead of being stressed out about the gift-giving, buying, baking cookies, and decorating our houses for Christmas, go have fun with all of those things this Christmas! Spend time with people playing games and getting to know your family more. Sing some Christmas carols and take Christmas pictures and kiss under the mistletoe. Read the Christmas story and make it a tradition. Watch A Christmas Story as part of the tradition and drink hot chocolate by the fireplace. Talk about your favorite memories of Christmas past.
Switch off on who reads it aloud at every Christmas. Go around the tree and have everyone say something they are thankful for. Also, another idea is having everyone pick out their favorite Christmas activity, whether it is spending time with loved ones, the fond memories you have with family and friends who have passed on or baking cookies, or just listening to Christmas music while sitting by the fireplace. Go around the room and have everyone say what their favorite song is during Christmas and why. That way you not only get to talk to others in your family, you also get to learn more about each other. You can even ask what everyone's favorite Christmas cookie is and why.
Bake cookies while listening to Christmas carols. Keep the Christmas spirit alive while having fun. Decorate the tree and the house without stressing about it. Decorating and baking cookies and buying gifts shouldn't stress you out so much. If it does, it's time to take a step back and take the time out of it. The Christmas season is supposed to be fun.
Christmas is all about surrounding yourself with the people who mean the most to you and the people who love you back. Make the most of it. Have fun with your family during this season of love, and giving. Make this a Christmas you'll never forget and cherish forever.