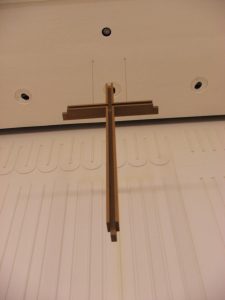 What are you focused on this Christmas? Are you focused on buying your family members gifts, or on baking the cookies for your company's big holiday party? Are you focused on getting your house decorated so you can beat your neighbors in a competition for who has the greatest Christmas decorations? Are you stressing over the fact that you agreed to host Christmas this year and now you realize that you don't have enough supplies or money to pull it off? Are you worried about how your relatives will react when they see your house? Or are you worried that your friends and family will hate the gifts you bought them? Are you spending more time obsessing over what to get your friends and family as gifts instead of spending time with them during this season?
Why are you even worried about any of that? The true spirit of Christmas is never about the buying presents or decorating our houses for the holiday, or even having the biggest company party. Nor is it about impressing your friends and family with how many decorations you have. It also isn't about impressing your friends and family with the gifts you buy them. Rather, it is about spending time with the people you love and remembering the true reason for the season: Jesus's birth. Jesus is the true spirit of love and the true spirit of Christmas. We should always remember how He humbly came down from Heaven and was born to save us from our sins.
We should be teaching our kids and our families about Jesus with excitement in our hearts. We should be reminding ourselves and our kids that Christmas isn't just about getting gifts, but rather it's about celebrating Jesus's birth and what He came to Earth for. We should be spending this time making memories with the ones we love instead of stressing about the holiday and the rush it brings into our lives. We need to take a step back and remember that even though this holiday comes ever year, we should try and make it as memorable and as special as possible for everyone.

You don't need to be as obsessed with or completely focused on the material aspects of the season of Christmas. Rather start focusing on Jesus and the joy He brings to this world and to everyone round you. Tell others about how He has impacted your life, whether it is to someone you just met on the street, or someone in Bible study or at church or someone in your family. Sit around the Christmas tree and tell your family how much you love them. Go around the room and listen to what others say they're thankful for.
Jesus thought only of us when He came down from Heaven and was born of the virgin Mary on Christmas day. He thought of us selflessly. He wanted to save us from ourselves. It's time we take a step back and remember the true meaning of Christmas. Jesus lies within our hearts, in our souls and our minds. We pray to Him all the time, but when was the last time we remembered Him as the true meaning of Christmas? His love and humbleness and sacrifice was all for us. Not for Himself. He was sent to save us from ourselves. He gave us the ultimate gift of salvation through knowing Him. He said no one can come to the Father except through Him.
We need to start living for Him not only during the holiday season, but in every area and in every season of our lives. He lives within us, so why not live for Him and witness for Him? Spread His word during this holiday season. Spread His joy to others in need. Give to charity instead of spending all your money on gifts. Donate to the church you are at, instead of buying gifts. Put your hope in Jesus. Turn your heart, soul and your mind, not to mention, your focus on Jesus as your savior, this Christmas. It's time we thanked Him for coming down to earth, 2,000 years ago. It's time we thanked Him for His sacrifice on the cross at Calvary. It's time for us to think of others instead of being so into ourselves. If Jesus can do it, so can we. So, it's time for us to stop being so selfish and remember that He is the true reason for the feeling and spirit and the season of Christmas itself.
Focus on making memories with your loved ones and sharing the love of Jesus, instead of focusing on how stressed you are during Christmas time. Remember, without Jesus, there literally would be no Christmas.