GOOD NEWS ARTICLE #3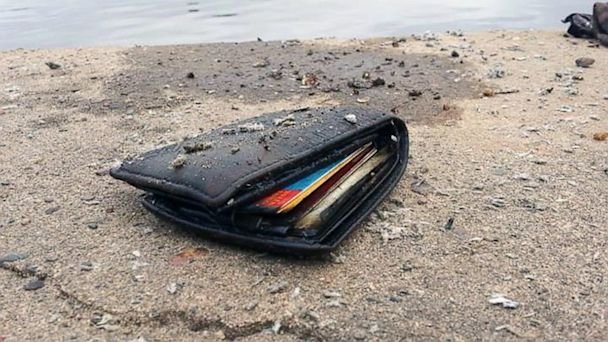 Joshua Woods, of La Crosse, Wis., fishes at his favorite local spot along the Black River every chance he gets, and after his most recent big catch, he's not sure why more people don't throw their line in the water there.
"I was dragging it in and I wasn't even sure what it was at first," Woods, 31, told GoodMorningAmerica.com. "It just looked like a dirty old sock, but it had stuff in it. I opened it up and I couldn't even believe it. It was a wallet."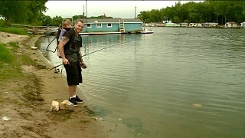 The mystery wallet immediately piqued Woods' interest. Without missing a beat, he took a picture of the wallet by the riverbank and posted it to his Facebook page along with a few details about the contents inside, all in hopes of eventually tracking down the original owner.
"Right away I'm thinking, 'Whose wallet is this? Who even puts wallets in socks to begin with?'" he said.
Fortunately, a driver's license and several credit cards were still inside and remarkably intact for being underwater for so long.
"The ID was still in it, and I knew it was a La Crosse address so I figured it was somebody local, so I should be able to find him," Woods explained. "I tried Googling the name and found too many people, but as soon as I posted the information from his ID on Facebook, I had three people messaging me saying, 'I'm friends with him, I know him.' It was easier than I expected."
The social media site helped connect Woods with the wallet's owner, Jesse Gomez, who still lives in La Crosse, and couldn't believe his eyes when he saw the photo of his long-lost belongings.
"He put my first name, middle initial and last name along with my address on Facebook, and it ended up getting the word out that day," said Gomez, 30. "I never go on Facebook but I'm so glad I did that day."
Gomez still remembers the exact moment the wallet was stolen three long years ago.
"I was DJ'ing a karaoke, and I was stepping away from the booth to get myself another beverage," he said. "I set my wallet on the table and went to get the next singer up on the stage. It was less than two minutes, and my wallet was gone. Someone had stolen it."
The thieves, who Gomez have since located and pressed charges against, maxed out all his credit cards, ruined his credit, and to this day, he is still trying to fix his identity.
"We were able to find out who it was, sue them and do the civil thing, but we were never able to find the wallet," Gomez said.
Until now, thanks to a very lucky fishing day.
"He took it upon himself to give the wallet back," Gomez said of Woods' good deed. "It's so weird that someone would find something like that in the river, but I'm glad he did."
It's safe to say Gomez has learned his lesson about leaving his wallet behind while he quickly runs to get another cocktail.
"It was pay day the day my wallet was stolen," he said. "I had just cashed my check. That was the most expensive drink I ever bought."
But to find out how this fish tale all started, you have to rewind almost three and a half years.
"Came back to the counter to get my drink and realized my wallet was gone, looked everywhere, wasn't there so we ended up reporting it stolen right away," said the wallet's owner Jesse Gomez.
Thieves swiped Gomez's billfold at a Karaoke gig he was working in 2010.
"It was payday that Friday so I had some money in there for sure that I didn't get to spend, but I also had credit cards in there, my social security number was in there, my driver's license was in there," said Gomez.
Now, fast forward to July of this year.
"I'm getting done with work, everybody's wanting me to look on Facebook because there's an important page I need to look at," Gomez said.
Woods said that "right away, I took a pretty awesome picture of it, posted it on Facebook."
"The very first thing I took a look at was a picture of a wallet and I didn't put 2 and 2 together because I currently have an active wallet," said Gomez.
But it didn't take long for it to sink in what he was looking at. "I'm just like, crap that's my wallet. I was just definitely shocked, I'm like you've got to be kidding me, this is not happening that you guys found my wallet."
"He was pretty excited, he didn't think he'd ever see that wallet again," said Woods.
And all that led to a meeting between the two where Woods hand returned the wallet to its rightful owner. Two strangers tangled in the line of one unusual catch.
"He was just a great person," Gomez said. "It's good to know there's still a lot of good people left in this world, wanting to do the right thing and try to help somebody out."
The truth is, however, there was a time years ago when Woods admits he might've had to think twice about returning the wallet. "I was in prison for 10 years, forgery and crimes like that. I probably would've seen if any of them credit cards worked instead of giving it back. I know a lot of people are proud of me for that," said Woods.
And even though the contents of the wallet are now expired and worthless, both will have a story to tell that's priceless.
"I'm still going to keep it (the wallet) as a little memorabilia thing, just to say hey, I got a story for you," Gomez said.
Gomez is still dealing today with the fallout of having his wallet and identity stolen three and a half years ago, but he said things are slowly but surely returning to normal.
He and his wife own a beauty salon on La Crosse's southside and have offered Woods free haircuts for life for finding the wallet.
Woods, who works at a tattoo shop in Onalaska, has offered to hook Gomez up with some tattoo work anytime he needs it.
BUT THIS ISN'T THE END OF THE GOOD NEWS!
THE BEST AND MOST COMPLETE GOOD NEWS OF ALL COMES NEXT!
† FROM KING JAMES BIBLE †
PSALM 118

[Psalms 118:1] O give thanks unto the LORD; for he is good: because his mercy endureth for ever. [4] Let them now that fear the LORD say, that his mercy endureth for ever. [5] I called upon the LORD in distress: the LORD answered me, and set me in a large place. [6] The LORD is on my side; I will not fear: what can man do unto me? [7] The LORD taketh my part with them that help me: therefore shall I see my desire upon them that hate me. [8] It is better to trust in the LORD than to put confidence in man. [9] It is better to trust in the LORD than to put confidence in princes. [10] All nations compassed me about: but in the name of the LORD will I destroy them. [11] They compassed me about; yea, they compassed me about: but in the name of the LORD I will destroy them. [12] They compassed me about like bees; they are quenched as the fire of thorns: for in the name of the LORD I will destroy them. [13] Thou hast thrust sore at me that I might fall: but the LORD helped me. [14] The LORD is my strength and song, and is become my salvation. [15] The voice of rejoicing and salvation is in the tabernacles of the righteous: the right hand of the LORD doeth valiantly. [16] The right hand of the LORD is exalted: the right hand of the LORD doeth valiantly. [17] I shall not die, but live, and declare the works of the LORD. [18] The LORD hath chastened me sore: but he hath not given me over unto death. [19] Open to me the gates of righteousness: I will go into them, and I will praise the LORD: [20] This gate of the LORD, into which the righteous shall enter. [21] I will praise thee: for thou hast heard me, and art become my salvation. [22] The stone which the builders refused is become the head stone of the corner. [23] This is the LORD'S doing; it is marvellous in our eyes. [24] This is the day which the LORD hath made; we will rejoice and be glad in it. [25] Save now, I beseech thee, O LORD: O LORD, I beseech thee, send now prosperity. [26] Blessed be he that cometh in the name of the LORD: we have blessed you out of the house of the LORD. [27] God is the LORD, which hath shewed us light: bind the sacrifice with cords, even unto the horns of the altar. [28] Thou art my God, and I will praise thee: thou art my God, I will exalt thee. [29] O give thanks unto the LORD; for he is good: for his mercy endureth for ever.
READ ALL "3 GOOD NEWS STORIES FOR 9-11-2013" – WATCHWOMAN ON THE WALL SERIES

Sept.11,2013 – 3 Good News Stories #1: "Never throw away an old pair of pantyhose…"
http://blog.beliefnet.com/watchwomanonthewall/?p=28035
*

Sept.11,2013 – 3 Good News Stories #2: Teen Returns Money His Father Allegedly Stole From Elderly Woman
http://blog.beliefnet.com/watchwomanonthewall/?p=28040
*
Sources Read More:
http://www.channel3000.com/news/la-crosse-man-reels-in-unusual-catch-on-black-river/-/1648/21774844/-/8036r0/-/index.html
http://gma.yahoo.com/blogs/abc-blogs/fisherman-reels-wallet-stolen-3-years-ago-211415018–abc-news-topstories.html?.tsrc=metropcs