Good Dog! Snitched on ill-treatment of his beloved family member and sent babysitter to jail!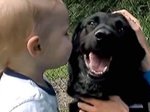 ↓To view video, click large arrow in center below↓
A loyal and protective dog helped alert parents to an abusive baby sitter in South Carolina.
According to WCSC, which originally reported the story, the dog began exhibiting aggressive behavior whenever the baby sitter, 22-year-old Alexis Khan, would approach the couple's then 7-month-old son, Finn.
By this point, the baby sitter had already been employed by the family for five months. The parents, fearing the worst but not wishing to act presumptuously, hid a camera phone between the couch cushions.
Their worst fears were quickly confirmed. Finn's father, Benjamin Jordan, recounted the details to WCSC:
"It started with cussing," Jordan said. "Then you hear slap noises and his crying changes from a distress cry to a pain cry. I just wanted to reach through the audio tape, go back in time and just grab him up."
"To know that five months I had handed my child to a monster, not knowing what was going on in my house for that day," said Jordan.
Khan was arrested several weeks later. Confronted with the audio made by the parents, she reportedly confessed. She was later sentenced to one to three years in prison. She will also have to register as a child abuser and will not be allowed to work with children in the future.
The Jordans told WSCS that their child is doing fine and shows no lingering effects of the abuse. They also gave thanks to their dog.
"Had our dog not alerted us to the trouble, had my wife's instincts not said we need to make something happen, it could have been Finn that was killed by the baby sitter. You never know," he said.
Last year, another heroic dog thwarted a kidnapping at an Indianapolis home. In 2011, a dog in the Philippines jumped in front of an out-of-control motorcycle, keeping the bike from hitting nearby children and losing its snout in the process.
Calvin's Commentary: Thank God that this evil babysitter was caught, stopped and prosecuted! Another great reason to have a dog. They are not only man's best friend, they are a kid's best pal – and in this case, their only protector. While there is no better nurturer of a child than his/her own mother, sometimes it is just impossible for a mother to care for her own children! Alas, motherhood is a career, the highest calling on Planet Earth and should never be denigrated or looked at as less than. In today's anti-Biblical, anti-family, anti-Christian society, money and careers are put far ahead of motherhood. That's sad and it's wrong. If you are a full-time, stay-at-home-mom, hats off to you! God can more than make up for whatever extra money mothers can make working outside the home. Be proud to be a mother! Obey God and do what women are called to do naturally. May God bless you parents, both mothers and fathers, you're called to remember always: (1.) Proverbs 22:6 Train up a child in the way he should go: and when he is old, he will not depart from it. (2.) Ephesians 6:4 And, ye fathers, provoke not your children to wrath: but bring them up in the nurture and admonition of the Lord. [King James Version]. Take those children to church every Sunday, pray with them, teach them the Scriptures. It is the best protection you can give them – and enjoy your time with them. The time they are little passes by so quickly. I know. My two are long ago grown. Summertime with my kids are some of the best of memories that I recall. Helping them all winter with their school work reminds me of how close we were. They tell me that they still remember me teaching them about Jesus and what joy it brings to my heart to hear their praises. How warm my heart feels remembering every moment with them. Take a million pictures! You will treasure them!▬ Donna Calvin ▬ Thursday, September 12, 2013
Read More at source:
http://news.yahoo.com/dog-helps-alert-parents-to-abusive-babysitter-164358493.html;_ylt=AlryZUVprwoVZO1sdkGrkVMJVux_;_ylu=X3oDMTJhaTJ2MTNyBG1pdANBVFQgMyBTdG9yeSBKdW1ib3Ryb24gSG9tZSBDYWNoZWQEcG9zAzE3BHNlYwNNZWRpYUF0dFdpZGdldHJvbkFzc2VtYmx5;_ylg=X3oDMTFkcW51ZGliBGludGwDdXMEbGFuZwNlbi11cwRwc3RhaWQDBHBzdGNhdANob21lBHB0A3BtaA–;_ylv=3