BULLYING TAKES ON A WHOLE NEW MEANING!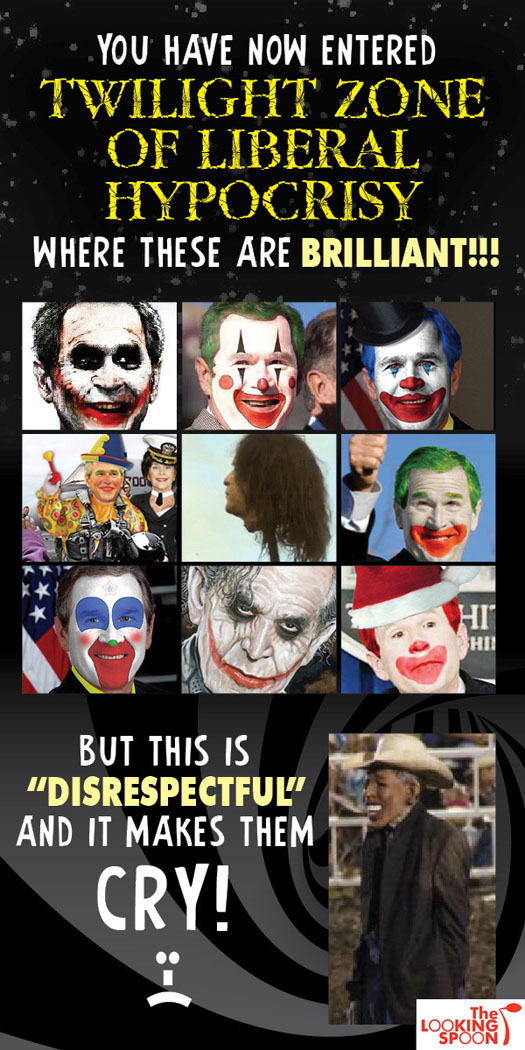 Rodeo Clown Gets Gored For Mocking Obama
By Donna Calvin
August 14, 2013
Four days ago, Saturday, August 10, 2013, in case you live in a cabin next door to the outhouse, in a middle of a broadcast-free area of radio waves, satellite transmissions and all local TV stations, and you wear a self-styled aluminum shield over your head, let me enlighten you.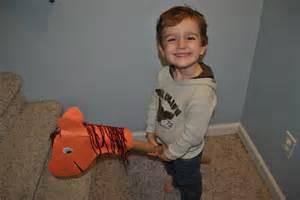 At the Missouri State Fair in Sedalia, a rodeo clown, dressed in a mask that aped Obama riding a broom that descended from his backside. You get the picture – a kid pretending he's on a horse.
We all rode a broom like this more than once in our young lives – at least those of us who lived pre-Bill Gates and Steve Jobs.
Rodeo clowns serve as distractions during bull riding competitions to protect the wrangler. They both risk their lives. Both hope to come out alive after completing the entertainment segment for the pleasure of the roaring, enthusiastic crowd. Clowns and bronco-busters do dangerously insane things rowdy riders do to prove their prowess by outdoing another cowboy with a bull in hot pursuit. In all actuality, clowns are to cowpokes what the Secret Service is to the President.
The Rodeo announcer, Mark Ficken, president of the Missouri Cowboy Rodeo Association and a school superintendent in the Boonville School District, announced there was a special guest to appear: "President Obama."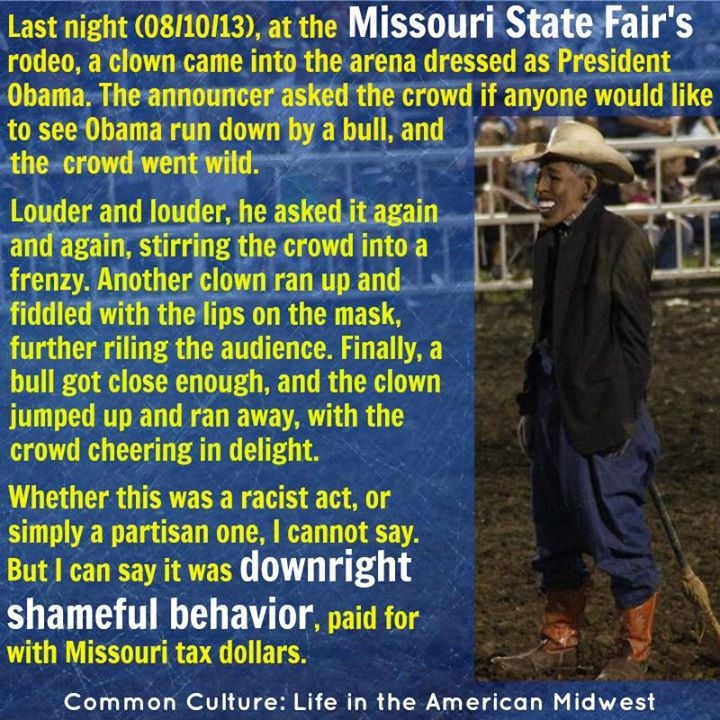 Then another voice, made by a rodeo clown, to whoop up the crowd, for fun and frolic saying, "We're going to stomp Obama now." The second voice continued, "As soon as this bull comes out, Obama, don't you move. He's going to getcha, getcha getcha, getcha." The rodeo clown continued, "Hey, I know I'm a clown. "He's just running around acting like one. Doesn't know he is one."
Well, the stunt got the goat of poor ol' Perry Beam who was subjected to this horrific assault on his senses. Beam claims he came to the fair with his wife and a student from Taiwan to "give him a little piece of Americana."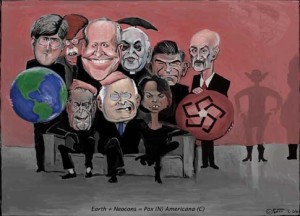 Indeed Beam got a little piece of Americana for sure! You all know, that's what we do in America. Our wise forefathers added the First Amendment to our most honored document in America, the U.S. Constitution, and oh, how we treasure it! We love to exercise our right of free speech. This could have been a perfect teaching moment for the Taiwanese student who may not enjoy the real American sense of humor and Mr. Beam could have ceased the moment to demonstrate the exceptionalism of America. This is how truly a free people live in a Constitutional Republic whose Rule of Law limits the federal government – because "We the people" are who the government is supposed to be subject to, not us to them! This is what real freedom means. We are free to joke about, make fun of, mock, even the most high, in our country and nothing happens to us. Why? Because our forefathers made the best Rule of Law above all other countries in the world and Americans are the freest! Halleluiah! Amen?
Well, that's not what happened, but I'll get to that in a paragraph or two.
First, I want to remind all my readers that in fact, humor and ridiculing presidents and other elected officials has been the means to fame and fortune for hundreds of America's funniest and most beloved comedians over 237 years of American free-spirited, joyful existence, thanks to our U.S. Constitution and the Bill of Rights!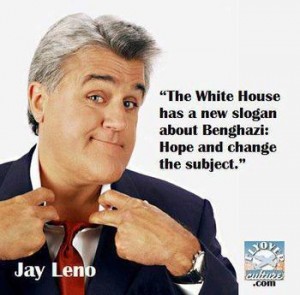 For example, on The Tonight Show, that I watch almost every night, I laughed till I had tears in my eyes in the mid-1990's when Jay Leno ragged on President Bill Clinton who claimed he never had "sex with that woman, Monica Lewinsky." Leno joked more about Clinton's DNA that stained Monica's blue dress than those Clintonian loyalists who must have cringed, but still kept a stiff upper lip and kept the honor and tradition of the First Amendment! We all learned about the famous cigar used in that so-called "non-sexual" relationship as Leno and every other comedian gave the term "oral sex" a brand-new acceptance in the USA. Meanwhile, Leno got paid at least a million dollars a month to wisecrack his way to the bank nightly!
Of course, there have been numerous others in the entertainment industry who have chosen to be anything but funny. Scores of anti-conservatives, anti-free-market, redistribution of wealth socialists that include the progressive far-left wing of the Democratic Party are well funded and can do whatever, whenever. Media moguls who are rich billionaires with a progressive, Marxist communist idealist form of governance in their muddled minds for the U.S.A. exercise the First Amendment with an abundance of imperturbable self-possession, poise, and assurance of that right. They are not anything like the insignificant common man, like the rodeo buckaroos, who selflessly and fearlessly stand resolute risking their own bones and very lives to save injury to the cowhand facing off with a bull.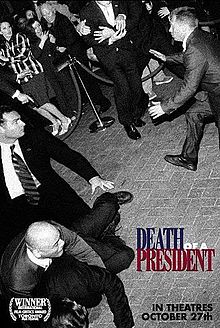 For example, shown in the U.S.A. released on October 27, 2006, in the height of an election season and while we still were engaged in the War on Terror in Iraq, a faux-documentary movie depicted a fictional assassination of our then sitting President George W. Bush, the 43rd President of the U.S.A. The murder of President Bush was to have taken place on October 19, 2007, in Chicago, Illinois, in the graphic depiction of him being shot in the chest in the movie, Death of a President. Our sitting Commander in Chief, with troops in harm's way was shown to have been fatally shot by a sniper after he addressed an economic forum at the Chicago Sheraton Hotel, before which an anti-war rally had taken place. (Sidebar: Not only was this movie made in English, but also Arabic, the language of those we were at war with.)
As far as disrespect and ridicule are concerned, in 2007, TV newswoman Erin Burnett, who then worked for MSNBC, repeatedly referred to Bush as a "monkey" during a report on an economic summit. Burnett, who later apologized, was not banned from television; she is now a prime-time anchor on CNN. (Washington Times)
Burnett was not alone; depictions of Bush as a chimpanzee, in particular, were common on the Internet during those years. And not unheard of on television. In October 2009, after Bush left office HBO's Bill Maher said on his program "Real Time," that, "Barack Obama, an actual college professor, replaced George Bush, an actual chimp." Maher was not banned from HBO; he is still the host of the program. (Washington Times)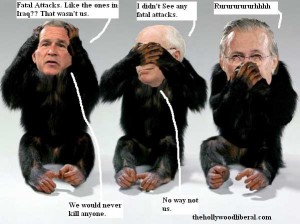 In the 2004 novella "Checkpoint," author Nicholson Baker depicted a conversation between two men planning to assassinate Bush. "He's one dead armadillo," says one character, speaking of the president. The Washington Post was impressed by the book's "fanciful flourishes and fierce, furious fits of anger." Baker was not banned from anything and is still writing and being published today. (Washington Times)
As I said, I'd get to the fallout from the rodeo clown's joking and poking fun at President Barack Hussein Obama and get ready 'cause here it comes (and I'm sure they'll be more reaped upon this clown).
For starters, the rodeo clown has been banned for life from ever working at a Missouri State Fair again! That's a life sentence!!! Handed down in just 4 days! That's as quick as a sentence reminiscent of those dispersed in days of yore from the hanging tree Judge Roy Bean in the old wild west! And they called Bush a cowboy!!! 😉 wink, wink!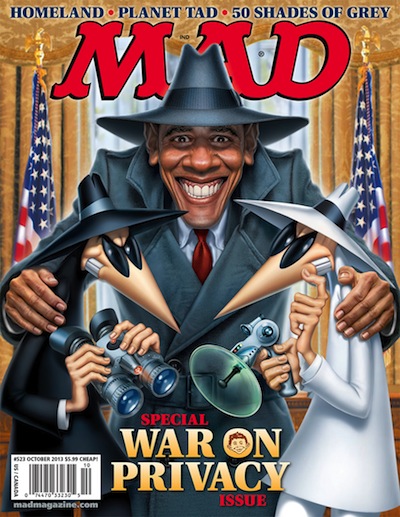 This lowly, insignificant rodeo clown has been ordered to take sensitivity training. OMG!!!
In a press release Monday, the State Fair said, "the statements and actions Saturday night were inappropriate and not in keeping with the Fair's standards. The Missouri State Fair apologizes for the unconscionable stunt."
Say what?
Even the Governor of Missouri Jay Nixon apologized. For what? He wasn't even there!
And here's the Lt. Gov. of Missouri Peter Kinder adding his thoughts for revenge.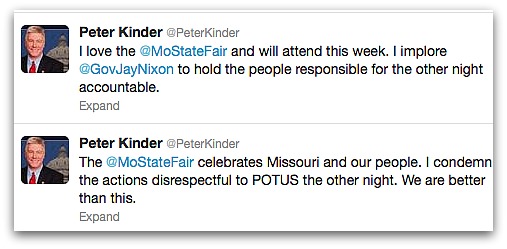 But that's not the end.
The rodeo announcer, Mark Ficken, resigned and said that his resignation from the group is not an acknowledgment of wrongdoing on his part but rather a protest that the association has not banned the rodeo clown from its membership.
Why?
Ficken's attorney, Albert Watkins, said, "When he found out that the association had no plans to remove the rogue clown from its membership ranks, (Ficken) felt that the better part of valor – given what was said – was to resign from the association."
Ficken's resignation from the rodeo group comes as he tries to hold on to his job as superintendent of the Boonville School District. The school system announced Monday that it is hiring an investigator to look into whether Ficken was involved in any "inappropriate conduct."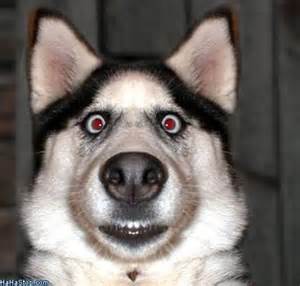 Ficken's lawyer told KSDK News that Ficken "is shaking like a small dog passing razor blades."
I can't say totally I blame Ficken hearing of the enormous pressure he has been getting that has been reported to local news media, but these are not times for cowards to cower. We must stand and fight!
The rodeo clown's name has been put out in the press for all the world to learn so they can harass him and his family. BUT! I will not put it here! Why? For the same reason that George Zimmerman and his parents are fearing for their lives! The race baiters and the terrorist group, the New Black Panthers, just might put a bounty on a clown's head like they did on George Zimmerman for $10,000 "Wanted Dead or Alive!" FYI, the Zimmerman family has been getting 400 Tweets an hour threatening them, including serious death threats.
Likewise … I won't announce the clown's name, for the same reason that Paula Deen's life and career have been ruined even though she has been exonerated by a judge this week as never having acted like a racist towards the person who sued her and started that "N-word" train wreck.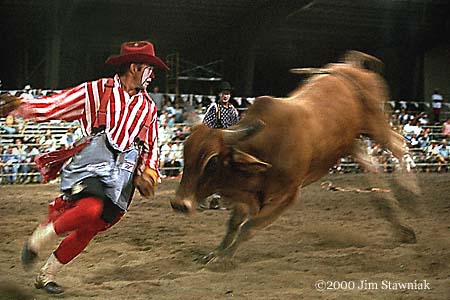 But that's still not the end of what's already in line for the poor clown.
The Missouri chapter of the NAACP appealed to the U.S. Department of Justice. They want the Secret Service to launch an investigation and open a federal case against the rodeo clown – that you, the taxpayer, shall foot the bill for. (And we all have already witnessed what Attorney General Eric Holder views are on subjects like this one.) God help the clown!
And there you have it, my friends, at least for now. But then again, it's only been four days for this hapless victim of the race baiters and race haters! Paula Deen's and George Zimmerman's excoriation has continued on and on and still isn't over!
This is what Rush Limbaugh said on his radio program today:
It's "no different than those countries reacting freakishly when there were cartoons of the Prophet Muhammad. This is no different than what happened in all those countries that had the cartoons of the prophet and militant Muslims had a cow over it, went nuts. We have a president who's above criticism, above being mocked, above being laughed at? We have not just a president, we have an entire Democrat political party and the American left which thinks that they are so damn special that they cannot be mocked, they cannot be made fun of.

Limbaugh added about Obama who is not trying to put a stop to the witch hunt, "If I were the president of the United States and this was happening in the country that I was president. I would put a stop to this … The next time I was on TV, I'd reference it. I'd have a smile on my face, I'd laugh about it, and I'd have everybody calm down…It is as though President Obama is a messiah or is a god and this little thing that happened at the Missouri State Fair is a defamation, a denunciation, almost a religious sacrilege that took place."
So here we are at Watchwoman, standing by, folks, 'cause we know it ain't over yet!