Watchwoman's Response Follows Article – Please do not miss a prayer suggestion I've added at the end of this article that I found on the Net! And never forget – [Hosea 4:6] My people are destroyed for lack of knowledge: because thou hast rejected knowledge, I will also reject thee, that thou shalt be no priest to me: seeing thou hast forgotten the law of thy God, I will also forget thy children. (Emphasis added) – Donna Calvin – August 7, 2013
+†+
Massacre in another public school & discovery of bullets in the bathroom of her children's school prompts Mom to pray.
!!!
BUT! An atheist group has succeeded in getting a school to ban from their property a mom who, concerned for the safety of her children and other students, has been praying for them.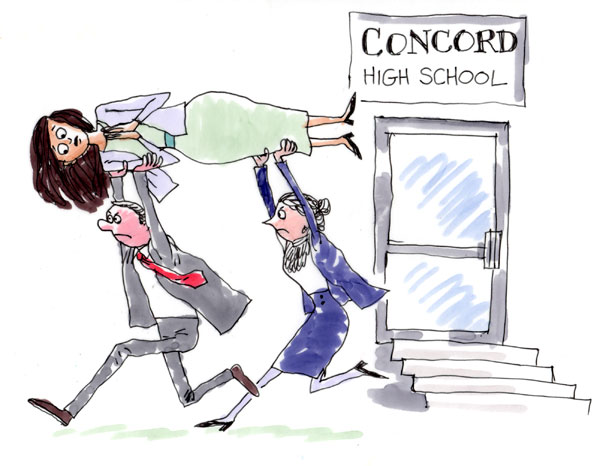 by Bob Kellogg (OneNewsNow.com) Thursday, August 01, 2013
In light of last year's Sandy Hook Elementary massacre and the discovery of bullets in the bathroom of her children's school, Lizarda Urena of Concord, New Hampshire, began praying aloud on the steps of Concord High School each morning. Matt Sharp of Alliance Defending Freedom explains how Urena initiated her vigils in February.
"She actually contacted the principal just to say [she would] like to start praying for the students before school begins, not disrupting or interfering with the school work or anything like that – and the principal saw no problem with it," says the attorney. "And that's exactly the right way she should have approached it: get permission to do so."
The Freedom From Religion Foundation objected, stating in a letter: "It is the duty of the secular public school system to protect vulnerable children, not to expose them to pressure and prayers. The exercise of religion must be left to the individual and religious education left to the family."
After receiving FFRF's letter, school officials decided Urena's praying will no longer be allowed when the new school year begins – and the president of the school board supports that move, saying "the best mode of action was to tell her to cool it." But Sharp says they legally cannot do that.
"My understanding here is that the school had a visitor's policy that anyone can come on campus and sign in, let the school know, and be able to go on campus," he explains. "So as long as she's following that, the school has to treat her speech neutrally and cannot specifically target her because she's engaging in religious speech."
Urena has stated she will continue praying at home or a nearby gas station for the students' safety. In the meantime, Alliance Defending Freedom is investigating the situation and has reached out to the mother to see if they can help.
See more at: http://onenewsnow.com/education/2013/08/01/mom-banned-from-campus-for-praying-out-loud#.UgLlZKzLp8E
PRAY! PRAY! PRAY! PRAY! PRAY! PRAY!