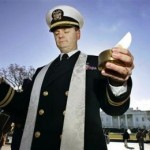 Calvin's Commentary: Please take a few minutes and view Gordon James Klingenschmitt's excellent, informative video below. It might give you more hope than the obamanation ever extended to you and change things in your life and America that need changing! I know Gordon James Klingenschmitt, and I know he knows that there is no such thing as "gay marriage"; however, I am certain that he uses the term merely to let the low-information voters and the biblically illiterate understand what he's talking about.
Let me explain, why there is no such thing as "gay marriage."
First, because God has already ruled that marriage is between one man and one woman in the First Book of the Holy Bible in Genesis and the New Testament as well. [Need proof read: Genesis 1:27-28, Genesis 2:18, Genesis 2:24, Genesis 2:21-25, Genesis 29:22-23, 1 Samuel 17:25, 1 Samuel 18:20,21, Judges 1:12, Hosea 2:19, Malachi 2:14-15, 1 Corinthians 7:2, Hebrews 13:4.]
What the politically correct perverted world calls "gay marriage" is sodomite civilly legalized fornication, but it is not marriage.
Can man make civil laws that are wrong?
Certainly!
It was legal to gas millions upon millions of Jews and Christians in Nazi Germany in the holocaust.
In Muslim countries, Sharia Law allows for a raped woman to be beheaded or stoned to death by her family while the male rapist can be forgiven and excused without consequence because the woman's mere existence tempted him and he just couldn't stop himself.
In the most recent and continuing holocaust, done legally right here in the U.S.A., doesn't make God say it is okay to murder an unborn baby, yet we murder 3,000 babies every day in filthy, bloody abortion mills en masse. We have murdered more unborn babies since 1973 when abortion was legalized than the number of people living in Canada.  We have legally aborted more babies than the entire population of Canada!
Not too long ago sodomy was outlawed in the USA until the Supreme Court said it was no longer illegal.  In the 1950's the Military Code forbade sodomy and an offending soldier could be court martial for having male on male sex with a possible sentence of death. Today men can fornicate with men, women with women, in the U.S. Military with the blessing of evildoers from the army tents in the Middle East to the Pentagon to the White House.
Nevertheless, calling God's Institution of Marriage – "gay marriage" is the same as saying water is dry, the Antarctic is a tropical paradise, hell is filled with cool drinks, not raging flames, and that Satan is a nice guy who loves you and will provide a mansion in eternity for you.
What God calls an abomination (sodomy and lesbianism and all the other sexual perversions) is not the least bit gay no matter what the psycho-babblers in the psychiatric field call it. [Need proof read: Leviticus 18:22, 1 Corinthians 6:9-11, Romans 1:26-27.]
Sexual perversion leads to nothing but misery, disease, and death, no matter how it's done and with whom. Adultery leads to misery and eternal death. Fornication leads to misery and eternal death.
How do I know that?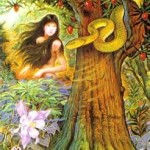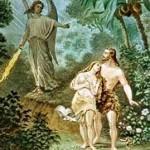 Because SIN leads to nothing but misery, disease and eternal death. Sin is how death entered into the world and that ended Adam and Eve's right to live forever on Planet Earth. Mankind was forever cursed to get sick, to die and then spend eternity with whom they have served during their lifetime, either Jesus Christ in Paradise or Satan in everlasting torment.
God is the same yesterday, today and forever. [Need proof read: Hebrews 13:8]. He never changes, and He never will.
Beware!
If you believe anything else, you are in critical danger of eternal damnation yourself.
If any of this offends you, please know that I am ONLY telling you this because the Holy Bible warms me that I must tell you the truth or I will face serious consequences and your blood will be required of me.
NEED PROOF READ! – Ezekiel 3:16-21: And it came to pass at the end of seven days, that the word of the LORD came unto me, saying, 17 Son of man, I have made thee a watchman unto the house of Israel: therefore hear the word at my mouth, and give them warning from me. 18 When I say unto the wicked, Thou shalt surely die; and thou givest him not warning, nor speakest to warn the wicked from his wicked way, to save his life; the same wicked man shall die in his iniquity; but his blood will I require at thine hand. 19 Yet if thou warn the wicked, and he turn not from his wickedness, nor from his wicked way, he shall die in his iniquity; but thou hast delivered thy soul. 20 Again, When a righteous man doth turn from his righteousness, and commit iniquity, and I lay a stumblingblock before him, he shall die: because thou hast not given him warning, he shall die in his sin, and his righteousness which he hath done shall not be remembered; but his blood will I require at thine hand. 21 Nevertheless if thou warn the righteous man, that the righteous sin not, and he doth not sin, he shall surely live, because he is warned; also thou hast delivered thy soul.
So if anyone has a problem with what I have written here, take it up with God because it is with Him With Whom you have a problem!
Consider yourself warned! I am no longer responsible for your blood!
HOW TO BE SAVED FROM ETERNAL DAMNATION AND HELL'S ETERNAL FLAMES!
For more information on SALVATION, please read. . .
"Inspirational. Do you know for sure?"
http://blog.beliefnet.com/watchwomanonthewall/?p=4928
 ▬ Donna Calvin ▬ Tuesday, August 20, 2013
~+~
Christian Quotes About Marriage
"Marriage is an exclusive union between one man and one woman, publicly acknowledged, permanently sealed, and physically consummated." ~ Selwyn Hughes
"The monstrosity of sexual intercourse outside marriage is that those who indulge in it are trying to isolate one kind of union (the sexual) from all the other kinds of union which were intended to go along with it and make up the total union." ~ C.S. Lewis
"A man doesn't own his marriage; he is only the steward of his wife's love." ~ Edwin Louis Cole (Ed Cole)
"God created marriage. No government subcommittee envisioned it. No social organization developed it. Marriage was conceived and born in the mind of God." ~ Max Lucado
"Fifty-fifty marriages are an impossibility. They do not work. They cannot work. In marriage someone has to be the final decision maker. Someone has to delegate responsibility, and God has ordained that this should be the husband. " ~ Wayne Mack
 To watch the video below, click the large arrow in the center.
Chaplain Gordon James Klingenschmitt Video Published on Aug 13, 2013
Get free e-alerts at http://PrayInJesusName.org/subscribe
1. The Queen of England allows homosexual "marriage" and immediately a gay couple sues the Church of England
2. The District of Columbia is pushing the transgender agenda
3. Fuller Seminary starts a gay student club
(c) 2013, Chaplain Gordon James Klingenschmitt, PhD.
Airs 8/13 on NRB Network, The Walk TV Network, IPoint TV (Roku), Glorystar Satellite TV Network, WBN Revival Channel.