JOCELYN IS HER NAME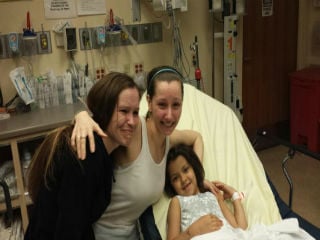 A neighbor told the news that at the time of Jocelyn's rescue the 6-year old little girl was wearing a pink ballet tutu-princess-type outfit.
About a week ago, Castro took the 6-year-old girl to a nearby park, where they played in the grass, said Israel Lugo, a neighbor who lives down the street. "I asked him whose kid was it, and he told me his girlfriend's daughter," Lugo said.
The kidnapped captives escaped the house where the mother of Jocelyn had given birth to her while being held captive.  Amanda Berry was held for 10 years along with Gina DeJesus (held 9 years) and Michelle Knight (held 12 years).
The escape came about after Amanda called 911 from a neighbor's house on Seymour Avenue after breaking out the door when Ariel Castro left the house to eat at McDonald's where police found him a short time later.
Amanda Berry was reportedly wearing pajamas when she escaped the Ariel Castro's Captivity House of Horrors at 2207 Seymour Avenue in Cleveland, Ohio and fled to a neighbor's home at 2210 Seymour.