The third missing woman, Michelle Knight, is the woman whose name you might not recognize. She disappeared Aug. 23, 2002. She also escaped from the house on Seymour Avenue Monday, May 6, 2013.
She was reportedly beaten repeatedly by her captors and suffered hearing loss and damage to some of the bones in her face.
Michelle's 6-year old daughter's name i
.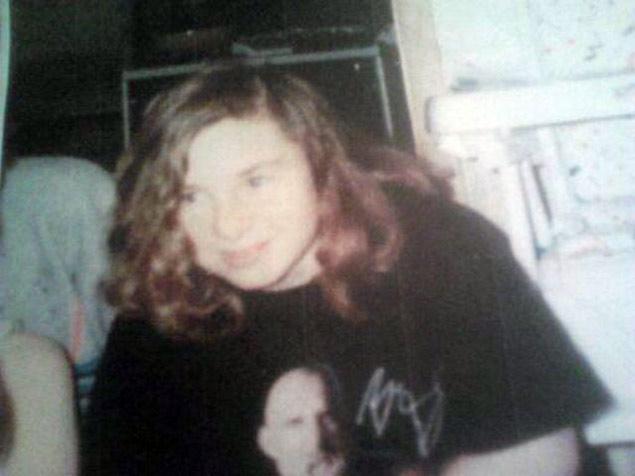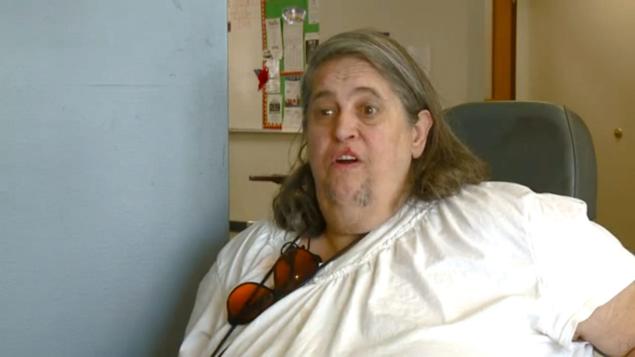 New details emerge about Michelle Knight — oldest of the woman freed from Cleveland hell house
.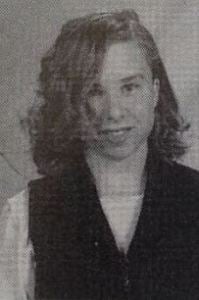 Word that Michelle Knight had escaped from the Cleveland house of horrors came as a double shock Wednesday to her twin brother Freddie.
"I was freaking happy as hell because I didn't know my sister was kidnapped," he told CNN. "My mother never tells me anything."
Freddie Knight said his mom, Barbara, kicked him out of the house when he was 14 and he was estranged from the rest of the family. But the years melted away when he saw his sister at the hospital.
"I hugged her because she wanted a hug," he said. "My sister is going to move on, forget the past …. leave it behind, start anew."
Police have already conceded that they paid more attention to the disappearances of the younger women Knight had been imprisoned with — Gina DeJesus and Amanda Berry.
Knight reportedly had a troubled childhood and dropped out of high school at 17 after she was bullied by classmates.
It was shortly after that trauma, her mother said, that Knight got pregnant and had her baby.
Now she has a 10-year-old stepsister named Katie, who was born while she was in captivity.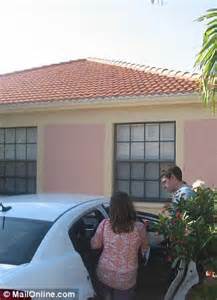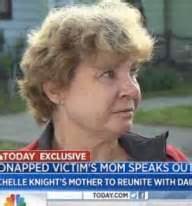 Barbara Knight, whose daughter, Michelle Knight, vanished in 2002, told the Cleveland Plain Dealer she never believed that her daughter ran away, as authorities suggested.
Michelle's grandmother Deborah Knight said her granddaughter remains at a secure location. Fox 8 has confirmed she is still being treated at MetroHealth Medical Center and is in "good condition."
The now 32-year-old was held captive the longest out of the three women. Ariel Castro allegedly kidnapped the then 20-year-old when she vanished in 2002 near the area of West 106th and Lorain Avenue.
Michelle's mother Barbara Knight arrived in Cleveland from Florida overnight Wednesday. Deborah Knight said Monday was the first time she's seen her daughter since Barbara moved to Florida two years ago.
"I turned around and gave her a big hug and kiss and ran over my step son's foot just to get out to see her. Yes, we're all looking forward to seeing Michelle, yeah it's been too long, 12 years."
The family said they are planning a big celebration once Michelle returns home.
Tuesday, Knight's family said they are ecstatic that she is safe, and wonder why police didn't do more to help them so many years ago.
A Cleveland police report confirms the family filed a missing persons report, stating that Knight was last seen in the area of West 106th Street and Lorain Avenue.
Barbara says the report wasn't taken seriously, with police suggesting that Michelle left on her own. A case worker also brushed it off, Barbara told Fox 8′s Dave Nethers by phone.
Michelle was in the midst of a custody battle over her young son at the time. There was speculation that she vanished intentionally.
Cleveland police said otherwise on Tuesday, citing "very few tips" in Michelle's low-profile case over the years. They have released limited details on her case.
Family members conducted their own searches over the years, distributing flyers on the west side of Cleveland and scouring areas where they believed Michelle frequented.
Barbara says when police called her to confirm that her daughter was the third girl found in the Seymour Avenue home on Monday, she was emotional. She is excited to her daughter, but weary of the reunion because of the lost hope over the years.
Sources:
Read More: http://fox8.com/2013/05/08/michelle-knight-in-hospital-in-good-condition/
Read more: http://www.nydailynews.com/news/national/details-cleveland-escapee-michelle-knight-article-1.1338149#ixzz2SjnGlLQm
Read more: http://www.nydailynews.com/news/national/missing-cleveland-woman-mom-gave-hope-article-1.1336931#ixzz2Sjkg3dWA