Every August the Sandusky County Fair comes to our town.  Nothing changes much from year to year accept the grandstand shows and the prices.  One of the major attractions for us, senior citizens, is the food.  I love the waffles and giant onion rings, Rich likes cotton candy and steak .
We have attended this fair since we were both children and much  of it hasn't changed at all.  Of course, all the prices have gone higher.  I used to get waffles for .25 a piece, now they are nearly $1.00 each.  We only got 5 onion rings for $5.50, but they were so worth it.  Steak sandwiches, fries(1 order), and 1 lemonade cost over $15.00 this year.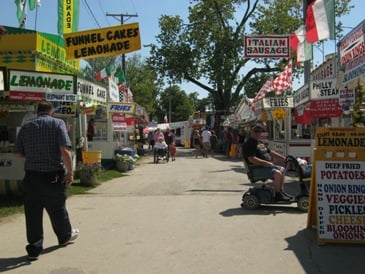 One whole walkway at the fair was almost all food vendors.  They had everything from pizza to sausage sandwiches, ice cream, salt water taffy, and snow cones.  They had deep fried zucchini, mushrooms, onions, potatoes, and cauliflower.  If you have a sweet tooth, try an elephant ear or carmel apple.  If you can't find something yummy to eat at the fair, you can't be hungry.
Of course, they also have all the cattle and horse barns the collections and artwork, the political tents and other organizations pushing their wares.  We checked out the chickens and rabbits, the 4 H building, FFA exhiit and the Girl and Boy Scout tents. But, the food is the greatest attraction for us and boy did we eat.  I guess we could have found a salad somewhere on the fairgrounds, but why would we want to?  We only get this kind of food once a year, so I don't feel the least bit guilty.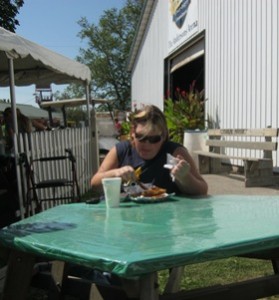 e citizens is the fair food., thnigs that one can only get at the fair or an amusement park.
I love the waffles and onion rings, snow cones and cotton candy.  Rich like the huge steak sanwiches they offer at one of the beef tents.  The waffles were nearly a dollar a piece and the onion rings were $5.50, and there were only 5 onion rings in the dish.  Our steak sanwiches, fries and 1 lemonade cost over $15.  The problem is that these items are " oh so tastey".
These are just the items we like, they have so much more.  This one pathway was almost all food tents.  They had everything from pizza, or suasge to elephant ears and salt water taffy; deep fried mushrooms, zuchinni, onions and cawliflower.