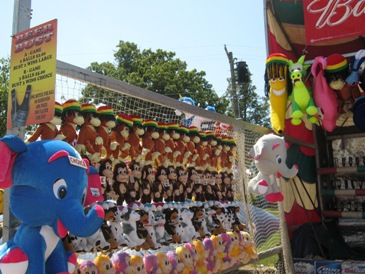 Another big attraction at the fair  is the game strip.  There are all kinds of games from Basketball toss to knock over the milk bottles.  They also usually have one where you race cars and one where you throw darts at balloons.  These games are fun and Rich used to win tons of stuffed animals when he was younger.  Every little kid in the family got teddy bear or  for Christmas.  Now he's just watching as other throw away their money in an attempt to win a big prize.
Years ago you won a nice prize for each game.  Now they start you out with a tiny little thing and you have to keep playing until you have enough to trade in for a large prize.  Most people give up or run out of money before they ever get that big teddy bear they want.
The Bible talks about striving to win  a prize too, but it's not a stuffed dog or pop bottle bank.  In Philippians 3:13-14, Paul tell us, "Brethren, I count myself to have apprehended: but this one thing I do, forgetting those things which are behind and reaching forth to those things which are before, I press toward the mark for the prize of the high calling of God in Jesus Christ."
Now that is a worthy prize!  Paul said we have to forget the past and pursue the future in order to gain this prize.  That is difficult for many because they have such traumatic pasts and hopeless futures.  But, with Jesus, all things are possible.  He can forgive and heal our pasts and show us our futures.  He is faithful to touch our hearts and minds with exactly what we need to enable us to continue the fight.
In 1 Corinthians 9:24, Paul speaks of us as running a race.  We all must run this race called life, but not all will win a crown in the end.  We must learn to be temperate in all things and seek that which is incorruptible.  We must run with purpose and keep our bodies under subjection to His Spirit.  Then when we meet Jesus face to face, we will be given a crown of glory for our prize.
I love teddy bears and other fuzzy little creatures, but what I really desire is to be granted a crown of glory.  You won't find that at the county fair.