Several years ago we went to see the Vietnam memorial in Washington, D.C.  It was quite an emotional experience for my husband, Rich, as he is a Vietnam vet.  He was wounded over there in 1968.  Like most men and women that fought this war, he didn't really want to be there.  The draft board got him and off he went,to serve his country.
These brave soldiers have never really been given the honor and respect due them.  They fought and died for their country just as the men from WWI and WWII, but they got no hero's welcome when they came home.  No one won this conflict and many Americans were quite outspoken against it.  But, our military is not responsible for the failures of our government.  They simply did what they were told.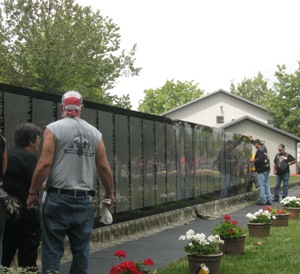 A few weeks ago we had the privilage of seeing The Moving Wall, which is a small portable version of the one in Washinton, D.C.  It states "Our nation remembers the courage, sacrifice and devotion to duty and country of its Vietnam Veterans".  I say, "It's about time!"
We watched as they set in place and polished each panel of the wall.  There were a lot of tears and stories to be told.  Rich even had the honor of carrying and securing two panels into place.  He was so excited to participate.  His eyes sparkled with tears and his pride surged for what he had been a part of.  I have never seen a man so consumed with feelings of love for his country and his fellow soldiers.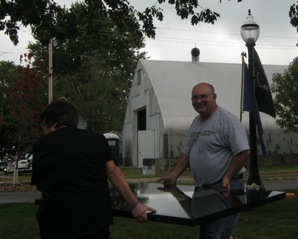 It is a wonderful idea to have this moving wall, as it gives many more people the chance to see it.  Not everyone will make it to D.C.  These men and women need to know that they have not been fogotten.  They need to know that we appreciate their labor and sacrifice.
GOD BLESS AMERICA!! and GOD BLESS OUR TROOPS , wherever they are serving.  We don't have to agree the decisions of our government to support our troops.  Say a prayer for them today.