I have some beautiful hybrid roses.  One of them is a gorgeous purple and the other is a lemon yellow.  Last year the purple one began to have red roses on one side of the bush and purple on the other.  I talked with the people at the greenhouse where I bought the plants and they said it was trying to return to its original color.  They showed me how to cut it back to make it stay purple and it did the rest of last summer.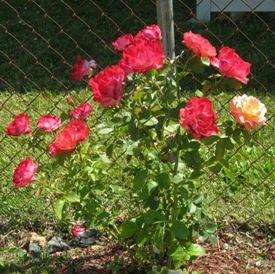 This spring it's back to all red.  My yellow bush is also going back to it's original color.  It has one or two yellow blooms and the rest are orange/red.  I have decided to let it go and be what God created it to be.  The amazing thing is that the hybrids don't have any fragrance, but when the original comes back, the fragrance returns.
People are similer in some ways.  God has created each of us with our own personalities and fragrances.  When we try to improve on God's creation, it changes everything.  For roses it's just the color and the smell, but for people it can changes lots of things.  When we try to by something other than what God designed us to be, we can really mess things up.  Our looks can change, our personalities, our attitudes, our purpose for living, ans even our relationship with Jesus.
God knows best.  He knows what will make us happy and at peace.  We sometimes think we know better than God and try to become a different person.  I did this once many years ago.  I thought I wanted to be a famous author that traveled around the world teaching and prophesying.  When my first book was published in 1979 I set out to make that happen.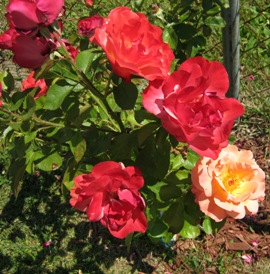 I did do some traveling, but I hated it.  People always expected more than I had to give.  I had a little taste of being famous when I wrote for Charisma Magazine in the eighties.  I hated it!  I used to resent it when people called me a "children's author"; like I wasn't good enough to write or speak to adults.  All this time, I was trying to be something other than what God created me to be.  I wasted a lot of time and energy on these false dreams.
One day I realized that I was happiest when I was teaching children.  They brought life to me.  They didn't expect what I couldn't deliver.  I loved being with them.  I loved telling them stories. I loved writing books just for them.  I just love kids.  What a wonderful revelation, God has called me to children.  Not that I can't write and relate to adults, but my calling is to children.  I know it and the children know it.  Now I live to teach and play with these little guys.  I love them and they love me.
Change is good, like with the roses, but not if you are willing to sacrifice the best.  The best will always be what God has provided for us.  He knows us better than we know ourselves.  Sometimes He will let us try a new avenue just to show us where we belong.  It's sad to say that we may make ourselves miserable before we find our place again.  Our happy place will always be where God plants us.