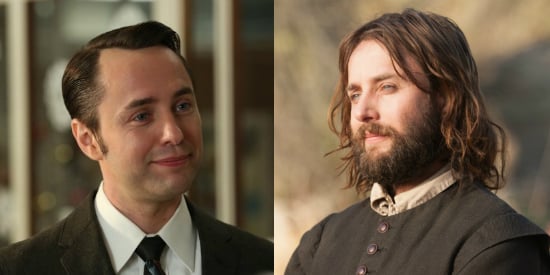 Like so many others, I couldn't stand the character of Pete Campbell in AMC's Mad Men TV show. So, you could imagine my surprise to learn that Vincent Kartheiser has the leading role in Saints and Strangers, AFTER I finished watching the TV production which is airing on the National Geographic Channel. Vincent Kartheiser plays the pilgrim and saintly Mayflower traveler, William Bradford. The two roles couldn't be more dissimilar.
"It was a challenge for me to undertake this role and find that level to play him at because the role is very modest and very devout," Kartheiser told the New York Post "I'm used to playing a character that is much louder and brasher … more reactionary and mischievous and this character is not that."He's steady and thoughtful."
Kartheiser is totally unrecognizable in the role. I'm used to seeing the actor with a crisp and clean look. In Saint and Strangers, he's got shaggy hair and a burly beard. The fact that he can jump from one character to another so completely different, is a great achievement as so many actors typically play a version of themselves in everything that they do.
While I recommend watching the two-part movie/miniseries, pace yourself. It's fairly "talky" and slow moving at times. With that said, by watching it, you really get a sense about what life was like for the pilgrims good and (unfortunately, mostly) bad. Bradford makes for a good leader who learns how to deal with others as he goes. Whether a new baby is born on the ship (yay!) or another passenger dies (boo!) he states that it is God's will. Fortunately, Saints allows Bradford to explore that a bit further and as he does, he becomes more human to the others on this journey.
One of the most unlikely friendships is the one that develops between himself and Squanto (Kalani Queypo). Squanto was native who was taken from his tribe at an early age to serve as a slave to some English explorers. He is the only one who can truly communicate with the tribes and the outsiders. Both Quanto and Bradford feel both a part of this new world and outside of it at the same time.
Saints and Strangers will be presented at the following times. Double check your local listings as they may be different where you live:
November 23 – Part One: 7:00 p.m. and 11:00 p.m. / Part Two: 9:00 p.m.
November 24 – Part Two: 1:00 a.m.
November 26 – Part One: 7:00 p.m. and 11:00 p.m. / Part Two: 9:00 p.m.
November 27 – Part Two: 1:00 a.m.
November 29 – Part One: 9:00 a.m. / Part Two: 11:00 a.m.
November 30 – Part One: 3:00 p.m. / Part Two: 5:00 p.m.
December 3 – Part One: 3:00 p.m. / Part Two: 5:00 p.m.