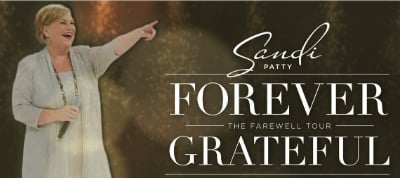 Adding to the list of legendary singers who have gone on to perform farewell tours, (with many of them changing their minds after they were over), is Christian music icon, Sandi Patty. Her "Forever Grateful: The Farewell Tour" will begin on February 11, 2016 and will blaze through more than 90 cities worldwide.
"What a privilege it has been to share my story and faith through song for so many years," says Patty. "My heart is full of gratitude for so many who have been along this journey with me. I could never have imagined my career taking me to so many amazing places and meeting so many people who have changed my life forever…. My desire is to use this next season and the "Forever Grateful" tour as an opportunity to say 'thank you' to as many people as possible!"
Using the word "icon" to describe a Christian singer may seem as an improper choice of words, but Patty has had an influence in music genre since her debut and is the most-awarded female vocalist in gospel music history. She has won five Grammy® awards, four Billboard Music Awards, three platinum records, five gold records, over forty Dove awards, and twelve million units sold.
As a classically trained singer, she is not everyone's cup of tea, but just about everyone has a Sandi Patty song that appeals to them. Some enjoy her Christmas albums, for others, the song, "Via Delarosa" holds special meaning. Patty has sung duets with many Christian artists including Amy Grant, Michael W. Smith, Kathy Trocoli, but perhaps the most successful was one that she sang with Wayne Watson, "Another Time, Another Place." Watching the 1991 music video, it is amazing how much this song (minus Watson's mullet) holds up.
The Forever Grateful Tour is sponsored by World Vision with a lineup of special guests including Veritas and members of Sandi's family. Concert tickets are now available.
Forever Grateful Tour dates:
2/11/2016: Lufkin, TX
2/12/2016: San Antonio, TX
2/13/2016: Houston, TX
2/14/2016: Shreveport, LA
2/20-27/2016: Sandi Patty & Friends Caribbean Cruise
3/3/2016: Amarillo, TX
3/4/2016: Wichita Falls, TX
3/7/2016: Poplarville, MS
3/10/2016: Meridian, MS
3/11/2016: Marion, IL
3/13/2016: Wichita, KS
4/1/2016: Clearwater, FL
4/2/2016: Tallahassee, FL
4/3/2015: Pace, FL
4/7/2016: Raytown, MO
4/8/2016: Tulsa, OK
4/14/2016: Indian Trail, NC
4/15/2016: Richmond, VA
4/17/2016: Aiken, SC
4/21/2016: Nashville, TN
4/22/2016: Hixson, TN
4/24/2016: Anderson, IN
4/29/2016: Longview, TX
4/30/2016: Austin, TX
5/1/2016: Oklahoma City, OK
5/27/2016: Highlands Ranch, CO
5/28/2016: Alto, NM
5/29/2016: Albuquerque, NM
6/9/2016: Shipshewana, IN
6/18/2016: Hattiesburg, MS