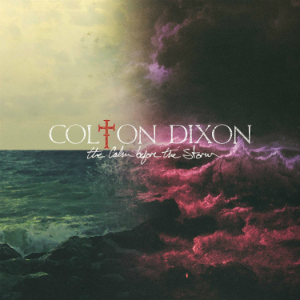 Colton Dixon's The Calm Before the Storm
Former American Idol hopeful, Colton Dixon, never made it past the #7 spot on the show's 11th season in 2012 but like other "idols," he has proved that you don't need AI's permission to be a success.
In October, Dixon won the award for Rock/Contemporary Album of the Year at the 46th Annual Dove Awards for his album, Anchor. Shortly afterward, Dixon created a unique concept in modern music making. He released the dual EPs Calm and Storm. Both are a collection of revamped tracks from his library of previous work with Calm being filled with all mellow tracks and Storm with heavier sounding re-mixed tracks. And then came the third album which is the two combined together creating, The Calm Before the Storm.
Although all the songs on the album are his, they sound distinctly different from what you are used to. This isn't an album to rock out to on you next road trip with a bunch of buddies. In fact, you may not want to listen to it in your car at all. The album is so unique, that it is really a theatrical production for your mind. Seriously. If you have seen Dixon in concert, this is nothing like that.
The Calm Before the Storm is more acoustic, artistic and instrumental in its presentation. It also shows a maturity in Dixon's music that takes him beyond a teen fan favorite. It beckons you to find a quiet spot in the house to lay down, plug in, close your eyes and dream. Listen to the music and see what images come into your head. That might sound a little too "new agey" for some, and if that is you, so be it.
"You Are," which Dixon sings with his sister Schyler, is definitely the best of the bunch. It's a heart-felt praise song that is a lot less celebratory and more reverent. I could listen to this over and over again. It's very powerful. The lyrics include:
When I can't find the words to say how much it hurts, You are the healing in my heart


When all that I can see are broken memories, You are the light that's in the dark
You are the song, You are the song I'm singing.
You are the air, You are the air I breath in
You are the hope, You are the hope I needed.
And when my circumstance leaves me with empty hands.
You are the provider of my needs.
When all my dirtiness has left me helpless.
You are the rain that washes me.
Here is the song line up on the album:
1. Limitless (Acoustic)
2. Never Gone (Acoustic)
3. You Are (Acoustic)
4. Through All Of It (Acoustic)
5. Where I End (Studio Version)
6. More Of You (PRO_FITT REMIX)
7. Back To Life (BLRZ Remix)
8. Echo (Neon Feather Remix)
9. Dare To Believe (JSapp Remix)
10. Anchor (BLRZ Remix)