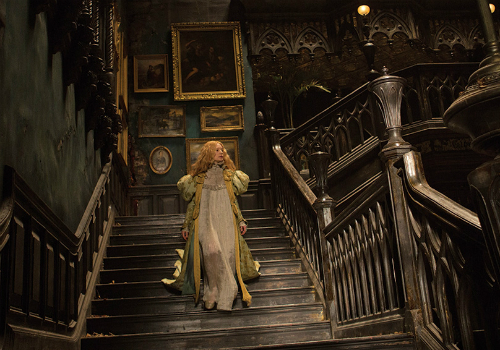 Should a Christian watch a horror movie? Boy, isn't that a loaded question. While many horror movies are nothing more than slasher flicks with a lot of gratuitous violence and have no redeeming value at all, some may surprise you. Guillermo Del Toro's latest film, Crimson Peak, is one of those films. Del Toro is one of Hollywood's most sought after directors who is a stickler for quality. In Crimson Peak, he not only directs the film, but he also wrote the story along with Matthew Robbins. And while the film does features some CGI effects, the director wanted as many practical effects and props as possible. For instance, Allerdale Hall is not some old mansion that they found. It was built specifically for this movie.
Set in 1901, the story's main character is Edith Cushing who is played by Mia Wasikowska who also played Alice in Tim Burton's Alice in Wonderland a few years back. In a way, Edith is another "Alice" in a strange and less friendly "Wonderland." Early in the film she explains that she believes in ghosts and shares a flashback of one that cautions her to "beware of Crimson Peak." She doesn't know what it means and we won't either until much later on in the film.
Edith is an inspiring writer who is having a heck of time getting her story published. One publisher glances at a few pages of her manuscript and asks, "This is a ghost story?" to which she replies that it isn't really a ghost story at all. A ghost is featured in her story, but it is really a metaphor in the story. As the film continues, audiences will notice that this movie too is full of metaphors including the color crimson used throughout. Butterflies and moths are used a lot too.
Edith soon finds herself torn between two men who both have an affection for her. First, there is Dr. Alan McMichael (Charlie Hunnam) who she has known her whole life. The other is Thomas Sharpe (Tom Hiddleston), a foreigner visiting America with his sister Lady Lucille Sharpe (Jessica Chastain) and seeking money from Edith's father for his newest invention. After mysterious circumstances take her father away, Edith finds herself in Thomas's arms looking for comfort. They marry and move to Allerdale Hall, a monstrously huge house that sits on top of a hill of red clay, known by some as Crimson Peak (Duh, duh, duh!) The place is beautiful as it worn. The place is freezing as there is a huge gaping hole in the ceiling. Oh, and Lucille lives there too. This house has been their home since childhood and neither have any intention of leaving.
From here, the adventure begins in this psychological thriller/ghost story/horror movie. Only in her new home for a few minutes and Edith is already seeing ghosts, but Lucille and Thomas don't see anything. The longer Edith stays in this spooky place, the darker the story becomes. Meanwhile, back in America, Alan is trying to piece together what really happened to Edith's father and tries to uncover the mystery behind her new family.
Every scene shot for this film is a beautiful one. The house itself resembles the Haunted Mansion at Disneyland. It's spooky and elegant. The scenery is complimented by the superb acting of its cast. The film is everything you'd want from a haunted house story, but just as Edith is tricked in a way, so is the audience. For the most part, the film is squeaky clean with hardly a swear word or violent image. This will loll you into a space of security. Then WHAM! There is short scene of violence near the beginning of the film and a lot more near the end and when it hits, you are quickly reminded that the film is rated "R" for a reason. Personally, I had to look away during these times and in my opinion is the films biggest fault. A film as grand as this does not need to show the audience every detail.
For a Christian, I believe that the metaphor that we can take from this film is that our world is full of temptations. Some that seem relatively harmless, but in the end can destroy us if we are not careful. Edith finds herself in this position and just like Alice trying to escape the rabbit hole, getting out of Crimson Peak is a lot harder than getting in. By the end of the film, the dark history behind Crimson Peak is exposed. In a way, the history is sort of like seeing what sin truly is and that a life of sin will lead to an eternity in hell. It is equal parts disgusting and scary. But, just like our Christian faith, there is someone watching out for us and will rescue us if we call out His name.