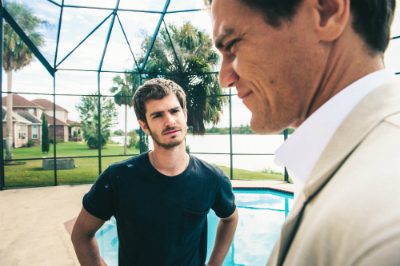 99 Homes is a fictional story with elements that were inspired by true stories of people evicted from their homes. The thriller feels so real, that you will forget that that is really the same guy who played Spider-Man and that's the same woman who used to run away from dinosaurs in Jurassic Park up there on the screen. Only true actors can take you into fictional story and make you believe that it's all real. The photography and music is excellent and feels as if you are watching a documentary. There's a reason for that. Director Ramin Bahrani has done his share of documentaries as well.
Without hardly any setup, 99 Homes whisks you into one family's heartbreaking story and also serves as a cautionary tale as well. The time is 2010. Dennis Nash (Andrew Garfield) is a hardworking construction worker who is having a hard time finding enough work to pay his mortgage on the family home. It was the time when too many houses were up for sale no construction needed to be done. He and his mother and son live in the very house that Nash grew up in. His mother Lynn (Laura Dern) is a hairdresser with a shop set up in the house's living room. His son, Connor (Noah Lomax) is the product of a failed relationship that the film doesn't really get into. The house itself is nothing special. It's old and dated but is kept up nicely and these three love living there. It's a home that many in the audience will be able to relate to unlike so many other Hollywood versions of "real life."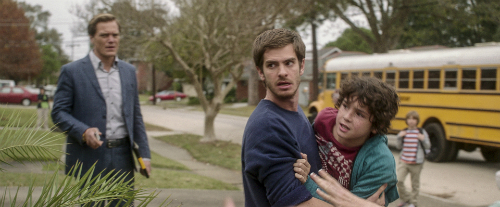 The bad guy in the story is Rick Carver (Michael Shannon) who seems like that rotten person you hated playing Monopoly with who always had to be the banker when you were a child. He's ruthless and appears to be missing a soul. For our purposes, he might as well be the devil.
After going to court about his financial situation with house, Nash is told that he will lose the house but has 30 days to apply for an appeal. The problem comes the very next day when Carver arrives with his crew to evict Nash and his family and literally tosses them out on the street. Apparently, he can still make the appeal, but he can't live in the house while he does so. The scene is gut wrenching as Nash learns that he has no recourse. The three grab what little items they can and move into a local motel where it is filled with other families in the same situation.
It is about here where the story turns. Carver notices what a hard worker Nash is and offers him a job to work with him. Like Satan himself dangling a carrot in front of our hero's eyes, Nash reluctantly takes Carver up on his offer. Nash doesn't speak his mind a lot in the film, so you are not always sure what he is thinking, but you can be pretty sure that he is thinking that he'll just work for Carver just long enough to get himself out of debt so that he can buy back his house. But Carver is one step ahead of him and it soon become apparent, at least to the audience's eyes, that he has been snagged by the spider's web.
We slowly see Nash become the very person he hates. He travels with Carver to various homes to give the owners the same bad news that he had received only days earlier. This is the part of the film where we get to hear real stories of real people and it is sobering.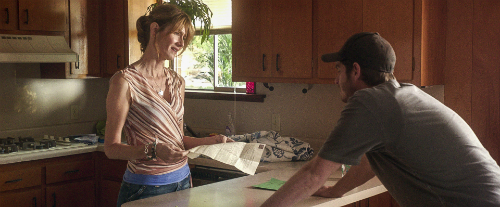 The stress of it all takes its toll on Nash as he starts to drink, lies to the government, lies to his family and maybe even himself. He comes closer and closer to putting his family in danger while he reaches for a dream that is just out of reach. Nash is not a bad person and many of us might end up doing the same thing if we ever found ourselves in the same situation. The Bible says to be wise as a serpent while being harmless as a dove. I can't think of a better example to do just that.
Garfield is perfect for this role as he has a huge range to express his emotions and he pairs very nicely with Dern who is pretty fantastic in everything that she does. The language in the film is putting rough in parts and Carver is like that foul-mouthed uncle that every family has and hesitates inviting him over for Christmas dinner, so we aware of that.
99 Homes moves at a simmer that slowly boils to overflowing at the end of this thriller and will definitely give you something to think about as you leave the theater.