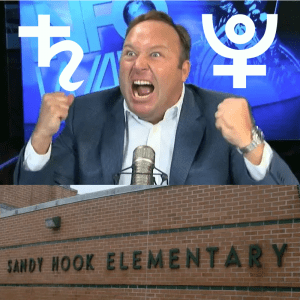 Please note: if you are a fan of performance artist Alex Jones (whom I have written about before: CLICK HERE if you missed it), you are free to be so. If you think that there is a "Deep State" that is putting estrogen into your water so you won't fight back against socialism and that only a pricey bottle of Bacopa Herb Extract from the Infowars shop can save you, knock yourself out. Today, I'm reporting on objective, observable facts.
Alex Jones (born February 11 1974, time unknown, Dallas Texas) has recently been dealt some major defeats in court. If you are unfamiliar with the situation, Alex Jones promulgated the false theory that the Sandy Hook Elementary School shooting which killed 20 children and six adults way back in 2012 (wow, time flies like bullets out of a .223-caliber Bushmaster XM15-E2S semiautomatic rifle, doesn't it?) was a "false flag" operation designed by the Obama administration to take your guns away.
You remember when that happened, right? Oh, it didn't? Anyway…
This false claim has brought with it some baggage: namely, followers of Jones have been harassing survivors and the parents of victims for years now, demanding that they TELL THE TRUTH and admit to being part of an elaborate CONSPIRACY (these things are always better with the caps lock on, aren't they?). Jones has lost two lawsuits against him recently in regard to this, and has been ordered to pay the claimant's legal fees. And there have been more legal defeats of late: more suits are on the way, attempts to block them have been defeated, and now Jones has been ordered to hand over financial and marketing documents about his Infowars operation.
If you were Alex Jones, you'd naturally want to ask your astrologer "when will this all end?" There are two answers to that question.
One: "Well Alex, even without a time of birth, we can tell that transiting Pluto and Saturn have been messing with your Venus at 25 Capricorn for some time now. On top of that, transiting Saturn and Pluto are also going to be square your Moon and Uranus for a while — years, in the case of Pluto. This indicates that there will be major discomforts with your career and your finances for some time to come."
The other, more succinct answer? "Alex, it looks like you're screwed, that's going to get worse in the next couple of years… and frankly you deserve it. Your fearmongering to make a buck has hurt a lot of people who didn't deserve it."
Hey: I may have 25 years experience as an astrologer, but did I ever once tell any of you I have any experience with being "politely diplomatic"?
Want to know how to work with the current and future energy to get maximum benefit? Feel free to write me about it!
CLICK HERE to find out how you can get a personalized, informative, life-changing consultation that will help you take charge of your life in the next year!
CLICK HERE to join the OH MY STARS Facebook Fan Page, and get exclusive content, an additional discount on a reading, and more material on blog entries!